W.S. Tyler Architectural Mesh is frequently used for the striking stainless steel optics it creates. With a large library of brilliant, customizable colors available, the potential for even brighter, more vibrant designs is enormous. These palettes, and the refined techniques used to create them, enable colored surfaces and complex designs to be applied across the entire material if desired.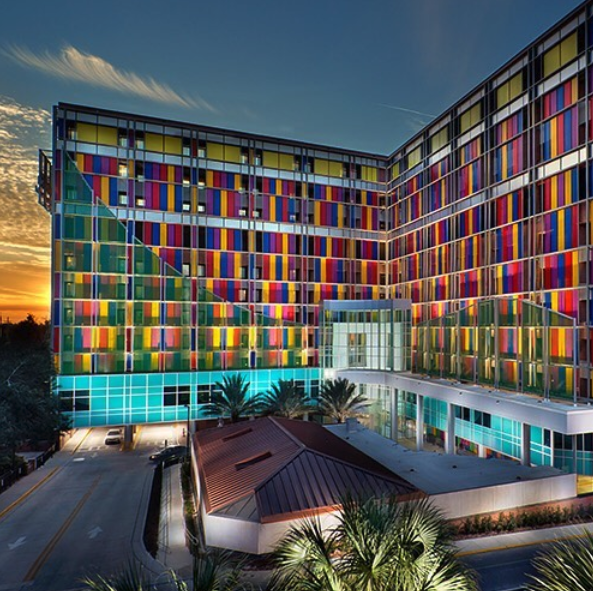 Whether it's a logo or image for a cultural attraction, commercial center, or corporate headquarters, coloring provides the opportunity to create buildings with unique character. And the interactions between artificial light, natural daylight, transparency, and luminance gives the façade the freedom to constantly showcase new, dazzling colors.
Benefits at a Glance:
Painting of Mesh Elements The full or partial painting of W.S. Tyler Architectural Mesh facilitates the customization of durable, stainless steel wire mesh with a wide range of shades. Numerous metallic-effect shades are available together with well-known RAL colors.
Application of Logos A partial painting of W.S. Tyler Architectural Mesh allows corporate lettering or individual logos to be placed on the façade, granting a visible presence from afar. Even large graphics can be set across the façade.
Digital Printing Detailed images can be recreated and represented on W.S. Tyler Architectural Mesh using large-scale digital printing.
Non-Ferrous Metal Mesh Depending on the installation conditions and required material properties, W.S. Tyler Architectural Mesh made of non-ferrous metals, such as copper, phosphor bronze, or brass, can be substituted for stainless steel.
For more information and ideas, you can download our Brochure, or request free samples by contacting us at 1-800-321-6188