Wire mesh has revolutionized the design of parking structures, transforming dim, faceless buildings into well-lit architectural standouts. W.S. Tyler Architectural Mesh, made from high-quality stainless steel, offers various options due to its versatile properties. W.S. Tyler Architectural Mesh isn't just a timeless aesthetic statement. It's a fully functional material, capable of meeting even the most demanding safety, stability, and weather challenges. Regardless of setting, the mesh ensures a bright atmosphere that melds design and transparency in unique, unforgettable fashion.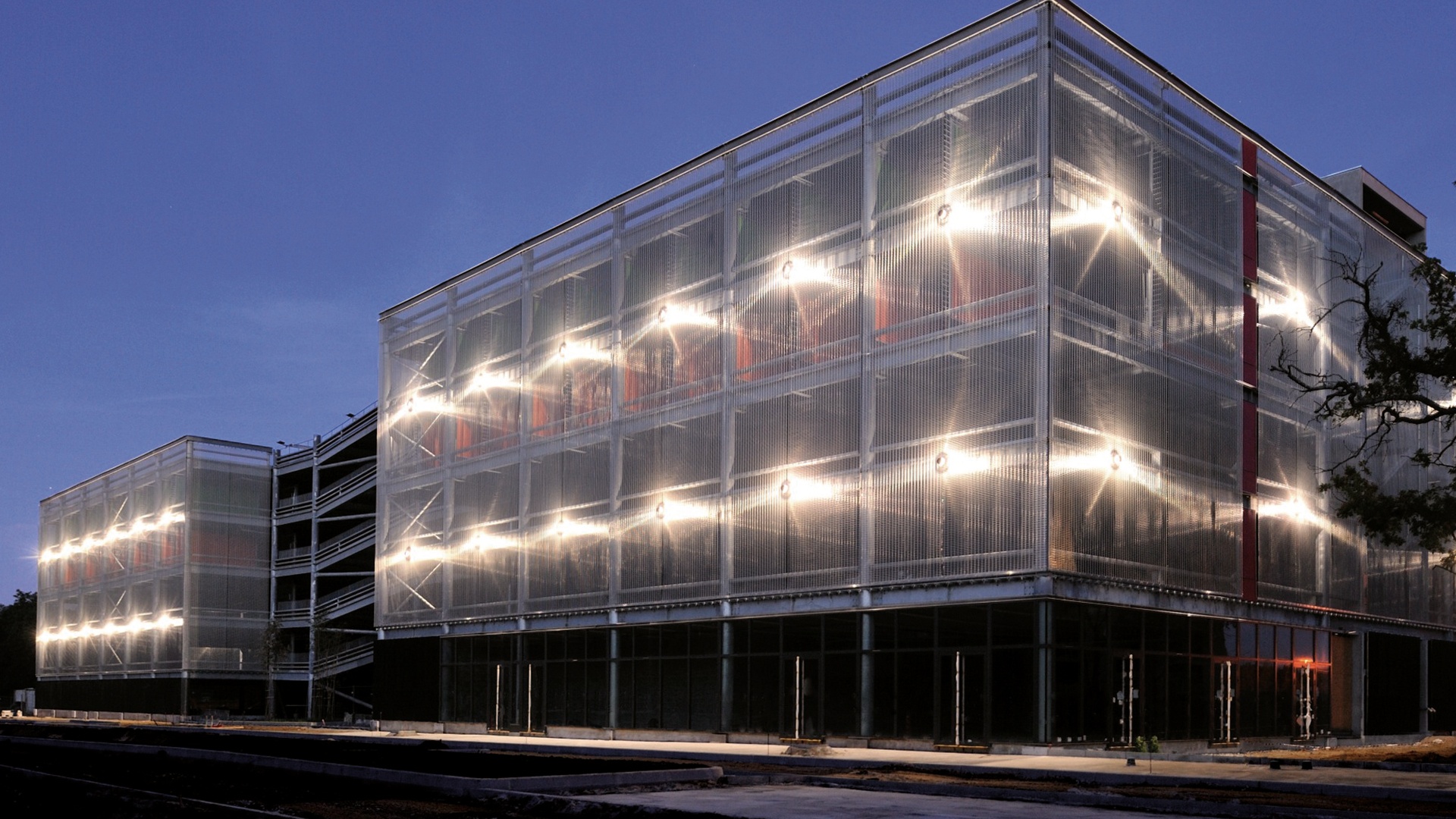 Ventilation and Lighting The transparency of W.S. Tyler Architectural Mesh acts as a natural ventilation system. In addition, open space allows natural light to flow through the mesh and create a vibrant interior. As a result, artificial light sources can be reduced or removed, enabling increased energy savings and solutions
Weather Resistance Whether it is frigid temperatures, scorching heat, frequent precipitation, or strong winds, W.S. Tyler Architectural Mesh thrives in all conditions. Due to its precise, coordinated open areas, the mesh filters the elements, contributing to a more comfortable interior climate. In the summer, the structure of the mesh produces impressive shading, screening the interior from direct sunlight.
Safety W.S. Tyler Architectural Mesh is carefully crafted to remain robust, stable, and durable. As façade cladding or balus trade infill, it is designed to provide effective fall protection.
Individuality With a wide range of different W.S. Tyler Architectural Mesh types and the ability to customize façades with images and logos, the creative design possibilities are limitless. An IMAGIC WEAVE® media façade is a fusion of stainless steel mesh and the-art LED technologies, transforming a parking garage into a dynamic, illuminating canvas for modern communication. The eye-catching IMAGIC WEAVE® media platform can even represent a source of revenue by displaying advertising.
Cost-Effective A solid substructure is the sole requirement for attaching W.S. Tyler Architectural Mesh due to its upper and lower attachment points. Depending on the size of the mesh, this is enhanced by intermediate attachment points. Overall, the cost for the substructure and assembly are significantly lower than cladding façades with framed solutions.
Low Maintenance W.S. Tyler Architectural Mesh is delivered ready-to-install and includes mounting equipment and detailed assembly instruction. Once installed, the façade cladding requires little to no maintenance.
Sustainability The environment reaps some benefits from the use of W.S. Tyler Architectural Mesh. The mesh maintains an average recyclable proportion of at least 60% and, when finished, it is fully recyclable, creating not only an eco-friendly parking garage, but increased sustainability.
For more information and ideas, you can download our Brochure, or request free samples by contacting us at 1-800-321-6188