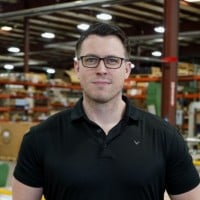 Alpine Air Jet Sieve VS RO-TAP Sieve Shaker
There are quite a few options when it comes to choosing particle analysis equipment. We sell RO-TAP® Sieve Shakers, Computer Particle Analyzers, Test Sieves, and also Alpine Air Jet Sieves. Each of those has quite a few models available as well.
It can be tough to figure out which type of unit is best for your particle separation processes. In this article, we are going to compare the Alpine Air Jet Sieve to the W.S. Tyler Sieve shaker, The RO-TAP.
We will be comparing the two machines in the following categories:
- Material Type and Size
- Cost
- Noise Level
- Installation
- Ease of Operation
- Accuracy
- Time and Speed
- Data and Reporting
- Maintenance
What is the Alpine Air Jet Sieve?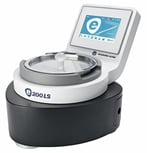 The Hosokawa Alpine e200LS is a vacuum-powered Air Jet Sieve meant for specialized uses in particle size determination.
It utilizes a vacuum's air pressure to push air through a single screen from the bottom, which causes the particles on that screen to crash against the sieve lid, break apart, and the undersized no longer agglomerated particles fall through the screen apertures.
For full details and specs of the Alpine Air Jet check out What is an Alpine Air jet?
What is a RO-TAP Sieve Shaker?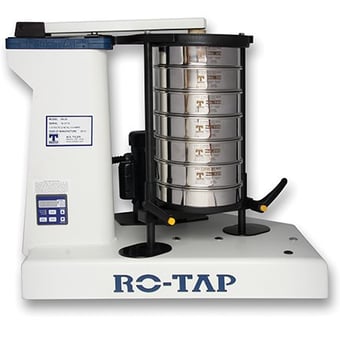 A RO-TAP is a particle analysis machine that is used in all kinds of industries to test and separate
particles.
Oscillating motion is used to shake particles down through a series of different test sieves in a stack. Not sure what a test sieve is? You can learn all about test sieves in our article, What is a Test Sieve?
In short, the machine holds a stack of sieves and then shakes the stack so that the material fall through each sieve and gets collected at the different size openings. The machine was created to get consistent, repeatable results that are more reproducible than hand sieving.
For full details on the RO-TAP Sieve Shaker check out What is a RO-TAP Sieve Shaker?
Material Type and Size
Alpine Air Jet
The alpine air jet e200LS is used for dry sieving, typically fine agglomerated dry particles, down to 10 Micron.
RO-TAP Sieve Shaker
A sieve shaker is able to sieve pretty much any material you need it to. Wet, dry, large, small all the way down to 20 microns. This is all dependent on the sieves you use in your shaker.
Cost
Alpine Air Jet
There are 4 different software levels available with the e200LS, depending on your needs.
Essentially your Air Jet Sieve can cost you anywhere between $10,300 and $18,600
RO-TAP Sieve Shaker
There are lots of different models of sieve shakers, but a good estimate when it comes to cost is around $1,730 to $7,600. This includes the shaker itself and the test sieves that are needed to perform the analysis.
If you want to see all the models of sieve shakers we sell, you can check out our guide to RO-TAP Sieve Shaker pricing here.
Noise Level
Alpine Air Jet Sieve
The e200LS works with an industrial vacuum cleaner, so there is some noise with the operation. Less than that or a RO-TAP however.
RO-TAP Sieve Shaker
Because of the way a sieve shaker is designed, they can be quite noisy. The RO-TAP Sieve Shaker was designed to use a "hammer" to assist in the agitation of particles to help them find the sieve openings. The machine runs at around 85dB.
To help with the noise, you can purchase a sound enclosure cabinet. The noise level can increase depending on the types of material you are testing.
Installation
Alpine Air Jet
The Installation is dependent on the needs of the customer. If it's just a e200LS Basic, you may connect it to a scale, hook up the vacuum and the power source, and start measuring.
If you're doing a full-scale e200LS Security level install it can take up to 2 days on-site to get the device fully connected to the network, program in all of the appropriate users, create your audit trail, and occasionally complete IQ/OQ documentation.
RO-TAP Sieve Shaker
When you purchase a sieve shaker, it is a plug and play unit. An instruction manual is included to guide the set-up but it is nothing a lab technician or operator can't handle. There are a few parts to set up, and then it is as simple as plugging the machine in, adding your sieve stack and you are ready to run your samples.
Ease of Operation
Alpine Air Jet
The Alpine unit certainly would grade as a steeper learning curve for the Administrator, but a very easy operation once properly set up.
SOP's can be programmed into the e200LS (depending on the software level, this can not be done on a basic unit) that will walk operators through how to run test procedures.
They will even reject commands when an operator puts the wrong Sieve on during the SOP because the RFID chip in the sieve will not correspond with the procedure.
All levels of eControl (the Software) are capable of weighing and exporting results, even creating a distribution curve.
RO-TAP Sieve Shakers
Shakers have been around for a long time and they are pretty standard. They are not overly complicated machines that are hard to run. They do have a lot of parts and are still an operating machine, but they don't require a lot of technical skill or experience.
Accuracy/Repeatability:
Alpine Air Jet
Due to the fact that with the e200LS you sieve one screen at a time, and the ability to break up agglomerated particles, the e200LS is extremely accurate.
Given the same material types and representative samples, you will yield repeatable results. As far as repeating the same results with the previously tested materials, that's more tricky.
The undersized particles that fall through the sieve during your analysis will be carried through the Sieve and into the vacuum, to be later disposed of. This makes running the exact same sample material twice impossible.
There are peripheral devices such as the Cyclone which will collect the fine materials after testing which can be added to your e200LS which will remedy this.
RO-TAP Sieve Shaker
One of the main things to keep in mind when sieving, with either test sieves alone or in a sieve shaker, is human error. Even though the RO-TAP is doing the physical shaking and motion, there is still a possibility for human error in reporting or analyzing.
Time and Speed
Alpine Air Jet
While you certainly do save time and human error by calculating results in the eControl software, if you want to determine PSD (particle size distribution) for a large sieve stack, you have to run the material one sieve at a time.
This can be done with the software in two methods:
1. Standard Method
The sample is placed on the finest mesh and run. Then the remainder is transferred to the next largest sieve etc.
2. Swiss Method
The sample is divided into as many samples as you have size classes on your sieves. Each full sample is run on each sieve. This method is more exact but requires a larger sample. The Swiss method takes longer but is more exact.
RO-TAP Sieve Shaker
The average time it takes to run a sieve analysis on a RO-TAP is 8-10 minutes. This is an analysis done with a stack of sieves.
You will need to run a few test analysis first to determine the exact time for your material. This does not include the time of analyzing the results. This is usually fine for people who are not doing more than a few tests a day or who aren't running their machines all day.
Data and Reporting
Alpine Air Jet
The reporting is extremely precise on the e200LS. Depending on your needs and your software level, you can either have the results calculated and recorded in the Air Jet Sieve, you can have every test result immediately printed for record-keeping, or you can have everything archived and e-signed on your audit trail.
RO-TAP Sieve Shaker
When doing a sieve analysis with a sieve shaker, you are getting particle size distribution analysis. You are able to test each of the samples in each sieve. As far as information on each individual particle, you are very limited.
The data recording must be done manually by a technician.
Maintenance
Alpine Air Jet
The e200LS can recognize a screen by it's RFID chip and will count down uses and let you know when it is time to thoroughly clean it.
The screens can be used a little bit longer in between cleanings because the machine is powered by air.
There is also a "sieve cleaning" function that allows you to place empty sieves over the air nozzle and run for some time, dislodging blinded apertures. This is meant for minor cleanings and thorough cleanings will still need done at regular intervals.
That being said, the Air Jet sieve does require a bit of maintenance. We recommend routinely cleaning the Air Jet Sieve after testing and also scheduling a yearly calibration, deep clean, and maintenance routine to make sure the vacuum pressure is within acceptable tolerance and to diagnose any filters or lines that need to be replaced.
RO-TAP Sieve Shaker
These are mechanical machines, with a lot of parts. Those parts do suffer wear and tear over time, and it is not uncommon to need to replace parts or oil the machine. We sell maintenance kits complete with some of the most common parts that need to be replaced because although it happens, usually the problem can be solved in house.
To Sum It All Up
The RO-TAP and the Alpine Air Jet e200LS are two very viable, and reliable methods to determine particle size, and particle size distribution.
If you have very basic needs, and a very agreeable test product, or if you don't have any agglomeration or your test material is wet, the RO-TAP may be right for you.
On the other hand, if you're working with materials that can easily blind screens, if you have standards that require an audit trail, or an agglomerating product that's not falling through your screens, the e200LS may suit your needs best.
If you have any questions about either of these units or anything else related to particle analysis, send us a message and we would be happy to help.
Want all the latest industry trends and innovations sent directly to your inbox? Subscribe to our monthly newsletters today.
About Sam Badger
Sam has been a part of the W.S. Tyler family for three years and is currently a sales manager, overseeing our fabricated parts and customized filters. To help deliver best-in-class solutions, Sam works to bridge the gap between customers, both new and existing, and our engineering team. Additionally, Sam provides on-site servicing of the ALPINE Air Jet Sieve e200 LS, striving to learn your particle analysis operation to resolve any issues you encounter and ensure your equipment continues to produce accurate and repeatable results.