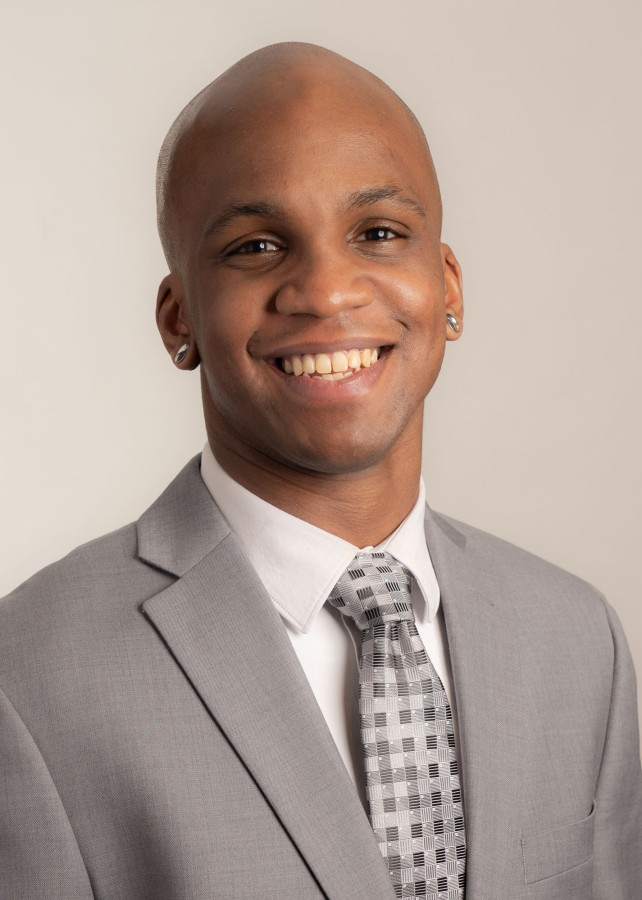 How Architectural Mesh Benefits Fall Protection
There are several factors that architects must take into consideration when planning out their projects. "How is it going to look? What is going to work best for the customer? What material(s) should I use?"
These are just a few of the many questions that make for a successful architectural design process.
That said, all the different elements should be centralized around one thing: visitor safety. By introducing architectural mesh to a project, you create a means of fall protection that can maintain the aesthetic of your vision.
Standing as pioneers of architectural mesh, W.S. Tyler is here to ensure your design is both aesthetically pleasing and, more importantly, safe.
With that, this article will establish:
What fall protection is
Why fall protection is so important
What makes architectural mesh a great fall preventative material
How fall protection affects cost
How architectural mesh compares to other materials
What Is Fall Protection?
The term fall protection refers to the measures taken to prevent visitors from either falling or jumping off a structure. In terms of applications, fall protection is mainly referring to parking structures, as these structures are very open and accessible.
That said, when referencing architectural mesh this term pertains to humans and not larger objects, such as vehicles.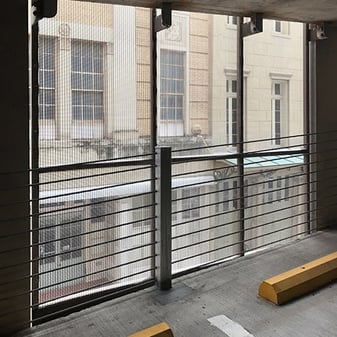 Now, it is important to know that architectural mesh systems simply aid the fall protection of the structure. They are by no means a 100% fall protection solution, so other protective measures should be taken.
Why Is Fall Protection So Important?
The unfortunate reality of tall structures with substantial open areas is that visitors sometimes fall while standing near ledges or seek to jump off of them. This is particularly true with the parking structures of educational facilities, hospitals, and casinos as these are places where bad news is often delivered.
As architects, visitor safety should always be at the top of your priority list. Integrating a design material that features fall protective qualities is just one of many ways you can prevent lawsuits and, more importantly, save lives.
What Makes Architectural Mesh Fall Protective?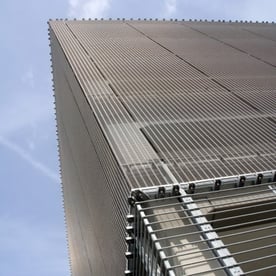 As architectural wire mesh panels can be the full height of the structure and tensioned throughout, the areas in which someone can fall are greatly reduced. Because of the rigidness and tensile strength of the mesh, there is virtually no way someone can even force their way through a panel.
That said, as it is fully tensioned, there is a 200 lbs. impact load per square foot of the mesh.
Additionally, wire mesh panels are positioned so close together (approximately 1-foot gaps) that there is a small amount of distance allotted when a panel is pushed or pulled. In other words, if someone pushed or pulled the wire mesh panel there would not be enough space for them to make it through and around any of the panels.
How Does Fall Protection Affect the Price of Architectural Mesh?
As fall protection is one of the many qualities that a fully engineered system already has, implementing it as a fall protective measure will not affect the cost. That said, you can expect to spend anywhere from $25 to $35 per square foot for an architectural mesh system.
For more information on the cost of architectural mesh, refer to our article: How Much Does Architectural Mesh Cost?
How Does Architectural Mesh Compare To Other Materials Used for Fall Protection?
When it comes to other fall protective design solutions, the biggest difference is the material being used. For example, fabric, chain link and plexiglass are all popular materials used to enhance the fall protection of a structure.
Now, the biggest issue with some of these materials is that they create a completely closed off area. When working with parking structures, in particular, this simply can't be the case as a certain level of ventilation is required by law.
As wire mesh panels are considered an open product that can be customized to adhere to ventilation regulations while providing a one-of-a-kind aesthetic, it stands as one of the most versatile materials that can be used as a means of fall protection.
Additional Protection
It should be noted that the same qualities that prevent visitors from falling and jumping also work to prevent objects from entering the structure. Debris from trees or carried by high winds in storm-like conditions are stopped by the mesh and its 200 lbs. per square foot impact load.
This is especially useful for parking garages as it protects parked cars from being damaged.
Explore the Benefits of Architectural Mesh
Visitor safety is one of the most important aspects of architectural design, especially when designing a parking structure. By implementing a means of fall protection, architects can reduce the risk of visitors falling or jumping.
With an impact load of 200 lbs. per square foot, a customizable open area to accommodate ventilation regulations, and a one-of-a-kind look, architectural wire mesh panels stands as one of the most versatile and practical fall preventative materials on the market.
As fall protection is a feature of all architectural mesh systems, implementing it as a safety measure does not affect its cost.
As W.S. Tyler has helped dozens of architects implement architectural mesh into their design process for over 20 years, we are here to ensure your next project captures your vision while adhering to the many regulations associated with architectural design.
To learn more about the benefits architectural wire mesh panels have to offer, refer to our Architectural Wire Mesh product guide.
About Ronnie Brown
Ronnie is the Content Writer for W.S. Tyler and has four years of experience as a professional writer. He strives to expand his knowledge on all things particle analysis and woven wire mesh to leverage his exceptional writing and graphic design skills, creating a one-of-a-kind experience for customers.