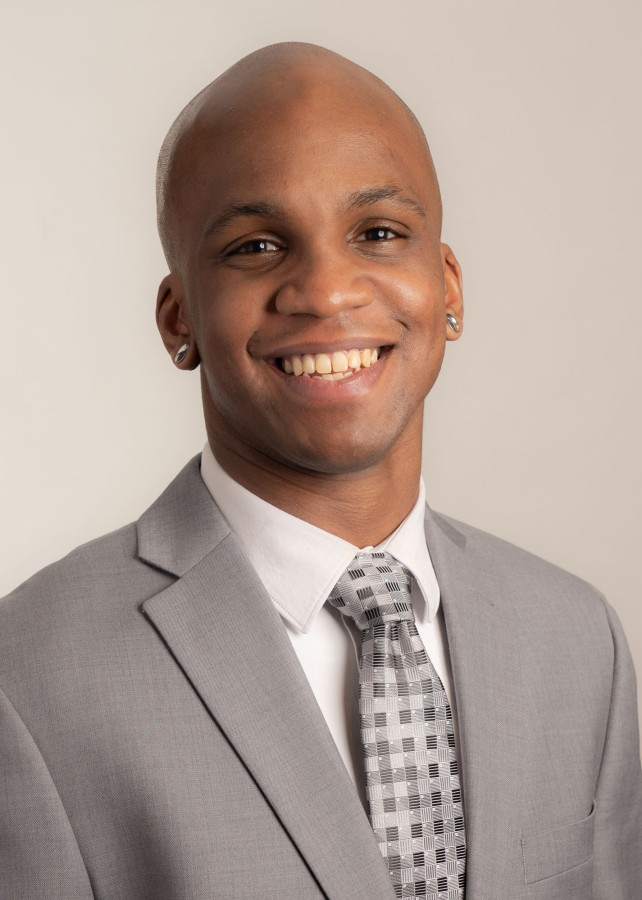 What Is Architectural Mesh Framing? (Definition, Uses, and Cost)
There are several steps that are involved when implementing architectural mesh into your architectural design process. Of these steps, ensuring the mesh panels you want to use fit into the mounting or framing system that your design calls for.
As it allows for easy installation while providing enhanced sturdiness, this is where you must decide if architectural mesh framing is needed. So, you're probably wondering if architectural mesh framing is right for you?
Here at W.S. Tyler, we understand that integrating architectural mesh can sometimes be daunting as it is a unique design material. This is why we strive to use our 20 plus years of experience to help ensure you understand the capabilities of architectural mesh inside and out.
With that, this article provides insight into:
What architectural mesh framing is

When architectural mesh framing should be used

How framing affects the cost of an architectural mesh panel

The risks associated with not having proper framing



What Is Architectural Mesh Framing?
Architectural mesh framing is the hardware used to mount architectural mesh, particularly cut to size pieces, to a mounting or grid system. For the most part, this term refers to two different framing options: an
L-profile frame and a square tube frame.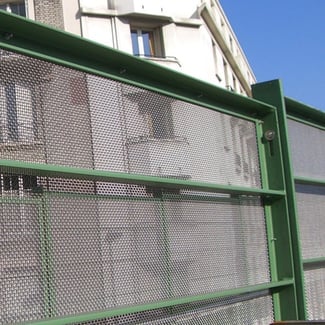 An L-profile frame is a frame that houses mesh panels with an L-profile on all sides. This particular frame is constructed using a miter weld, with the mesh itself being either tensioned over the frame or be place inside the frame (similar to a framed photograph) and secured using a flat bar to sandwich the mesh to the frame.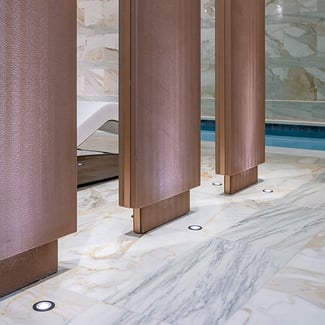 With a square tube frame, the mesh is again stretched over all sides of the miter-welded frame, similar to a canvas being stretched over a wooden frame before being painted.
When Should Architectural Mesh Framing Be Used?
There are a few instances in which implementing framed architectural mesh panels are ideal. For example, if you are looking to conceal an open space, such as a windowpane, a framed architectural mesh panel would allow you to maintain open air requirements and natural lighting.
Railing systems are another excellent application for framed mesh panels, as the framing allows the panels to be mounted onto the system with ease.
Wall cladding is also a popular application for framed architectural mesh. This is because by placing the mesh into a frame, you can make it so the panel appears to be floating, creating a unique, futurist atmosphere.
With that, framed mesh panels are not limited to just these applications. In fact, framed architectural mesh can be applied virtually anywhere throughout your architectural design process.
What you are trying to achieve is what will determine whether it's a good fit or not.
How Much Does Framing Effect Cost?
While fully capable, framing is not something that W.S. Tyler regularly does and, as a result, can sometimes prove to be expensive. This is because there is not enough inventory of framing material kept to keep the framing cost down.
In addition, W.S. Tyler's parent company in Germany handles all architectural mesh framing; thus, freight is another factor that influences the cost.
To put this into perspective, a framed cut to size piece can cost anywhere from $75 to $120 per square foot.
For more information on the cost of architectural mesh: How Much Does Architectural Mesh Cost?
That being said, we can send cut to size mesh panels to a fabricator in your area and guide them through framing architectural mesh. The fabricator would then be able to produce the framing aesthetic at a more budget-friendly cost.
What Risks Are Associated with Faulty Framing Systems?
The most significant risk that comes with not having the proper framing for your mesh panels is having mesh that is not under an adequate amount of tension. This generates slack in the mesh leaves the mesh vulnerable to damage.
Another concern that can result from improper framing is having the mesh panel fall out entirely. This creates a safety hazard for visitors, especially if the mesh panel is used as a fall protection solution.
Select the Right Contractor for the Job
Architectural mesh framing is hardware that is used to attach cut-to-size pieces to structural mounting or grid systems. Whether you choose an L-profile frame or a square tube frame, you will need to understand what the ideal contractor looks like.
Contractor selection is one of the most important steps of the installation process, as they need to specialize in architectural mesh to ensure the mesh is handled and installed correctly. Failure to do so can lead to several safety hazards.
With over 20 years of experience helping architects such as yourself implement architectural mesh, W.S. Tyler is here to guide you through the process needed to adequately integrate architectural mesh into your architectural design process.
To learn more about what characteristics the ideal contractor should have, review our article: How to Select an Architectural Mesh Contractor (Process and Cost).
About Ronnie Brown
Ronnie is the Content Writer for W.S. Tyler and has four years of experience as a professional writer. He strives to expand his knowledge on all things particle analysis and woven wire mesh to leverage his exceptional writing and graphic design skills, creating a one-of-a-kind experience for customers.