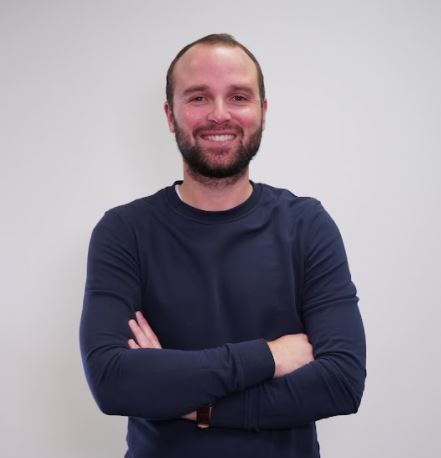 Outfitting an Airport With Architectural Wire Mesh
In the world of architectural design, architects rely on design materials that deliver an aesthetically pleasing look that lasts. Architectural mesh does just that, as it is one of the most durable materials on the market that also provides the customization and flexibility needed to weave your vision into reality.
In fact, its unique characteristics allow architectural mesh to be used to outfit various structures, such as airports. But as they are known to be fairly large structures, how can architects apply wire mesh to future airport projects?
W.S. Tyler has been a prominent supplier of architectural mesh for over 20 years and is here to ensure you make the most of the benefits of wire mesh.
That said, we wrote this article to provide insight into:
What architectural mesh is

How wire mesh can be applied throughout an airport

How wire mesh can be colorized

How much architectural mesh costs
What Is Architectural Mesh?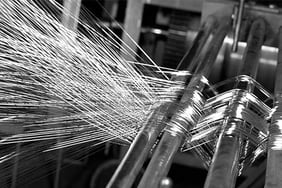 Architectural mesh is best defined as a decorative metallic design material that is made up of a network of individual wires that are interlocked together during a centuries-old weaving process. since we build and design our own weaving looms and equipment and have a 100% integrated engineering, manufacturing, and design approach we can modify and customize every single mesh specifications.
This includes the weave pattern, wire diameter, number of wires in either direction, percentage of open area, panel width, and length.
To that end, it is essential to know that architectural mesh comes in various forms. These forms include woven wire, welded wire, spiral mesh, and cable mesh.
How to Outfit an Airport With Architectural Mesh
There are many applications in which architectural mesh can be employed throughout an airport, ranging from cladding parking garages to interior applications such as drop-down ceiling systems.
Parking Garage
Architectural mesh provides excellent airflow characteristics with mesh specifications ranging from 25% to 75% open area, depending on the mesh spec. This is particularly beneficial as most parking structures require a certain level of natural ventilation to adhere to building codes.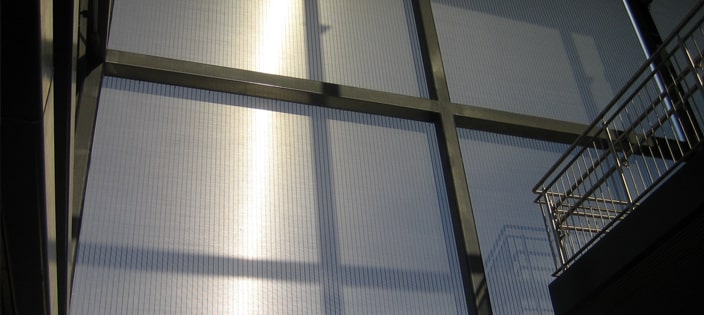 Additionally, architectural mesh can soften the harshness of a Parking Garage. Our mesh specifications are woven out of Architectural Grade T316 Stainless Steel and ultrasonically cleaned after manufacturing to provide a high-end shiny luxury appearance.
Ceiling Design
After a fatal fire in 1996, caused by welding works putting the polystyrene insulation of the dropped ceiling on fire, the Dusseldorf International Airport Organization approached W.S.Tyler/Haver & Boecker to design an incombustible drop-down ceiling system. That was the start for our drop-down ceiling system that is not only fire-resistant but also, besides its unique athletics, allows easy and quick access to the ceiling.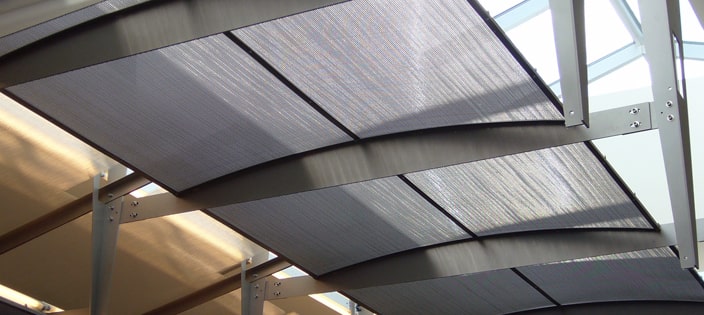 Furthermore, due to its semi-transparent nature, it offers excellent coverage and protection for any underlying technical equipment, but at the same time can be transparent enough to allow for ventilation and sprinkler systems on the main ceiling structure.
Light Systems
Mesh can be Illuminated from the front to create opaqueness and a unique colorful landmark at night. If you apply any sort of backlighting, the mesh becomes transparent, adding additional safety at night.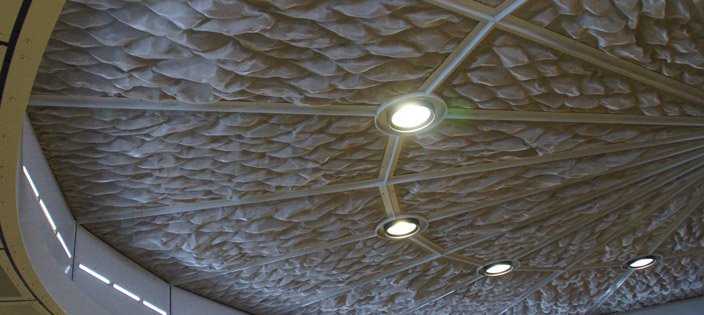 This remains trues even when extremely dense mesh, like the Largo Plenus 2022 (flat wire spec with an open area of 25%), is used.
Radar System Protection
Airport structures must be tailored for radar and instrument landing system use to adhere to air traffic control regulations. This entails using materials that minimize all shadowing and reflection interference that is known to hinder the performance of radar systems.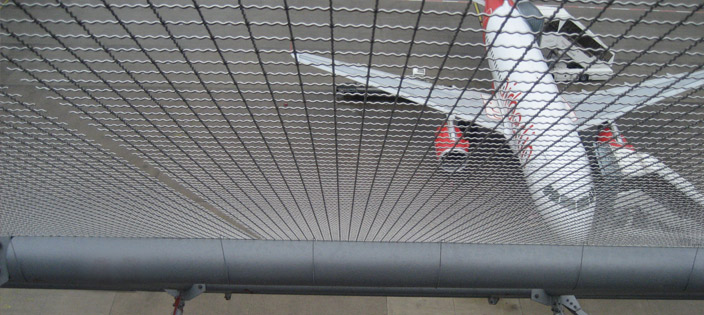 As architectural mesh is both an open and rigid material, it is favorable when design radar system protective elements. This is because the mesh system will deliver a desirable aesthetic while accommodating the technical requirements that must be met.
Colorize Your Mesh
Mesh can be painted to accommodate endless design ideas. We have two different paint options: standard paint and digital print.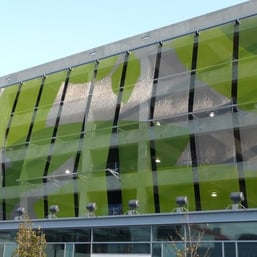 Standard Paint
Based on an automotive wet paint, for excellent weather and UV resistance, designs and logos up to a 2" inch detail can be achieved with our standard paint technology. Comes with a ten-year UV-resistance warranty. Cost dependent on design but range between 10-20 $/sqft.
Digital Printing
Newest Technology, Only mesh company in the world that offers this technology, very detailed high definition and playful designs and objects can be achieved with technology. It also comes with a ten-year warranty, with cost depending on design but ranging between 20-35 $/sqft.
How Much Does Architectural Mesh Cost?
Pricing for a mesh system, including our standard attachment system, ranges from $20 to $25/sqft. Of course, this depends on several factors such as size, application, and mesh specification.
If your requirements call for paint or digital paint colorization, this will naturally increase the overall cost.
Understand How Architectural Mesh Compares To Other Materials
Architectural mesh is a design material that offers the customization needed to truly capture your design vision, delivering the perfect balance of elegance and durability. From the parking structure to interior walls to that radar system, architectural mesh is an ideal material to furnish both the interior and exterior of airports.
But as W.S. Tyler has helped architects navigate the various design material available for over 20 years, it is important to us that you are confident when you select architectural mesh as a solution. To do so, you must compare it to other materials to ensure it is the suitable material for you.
To that end, to learn more about how architectural mesh compares to other materials that are widely used, review the following articles: