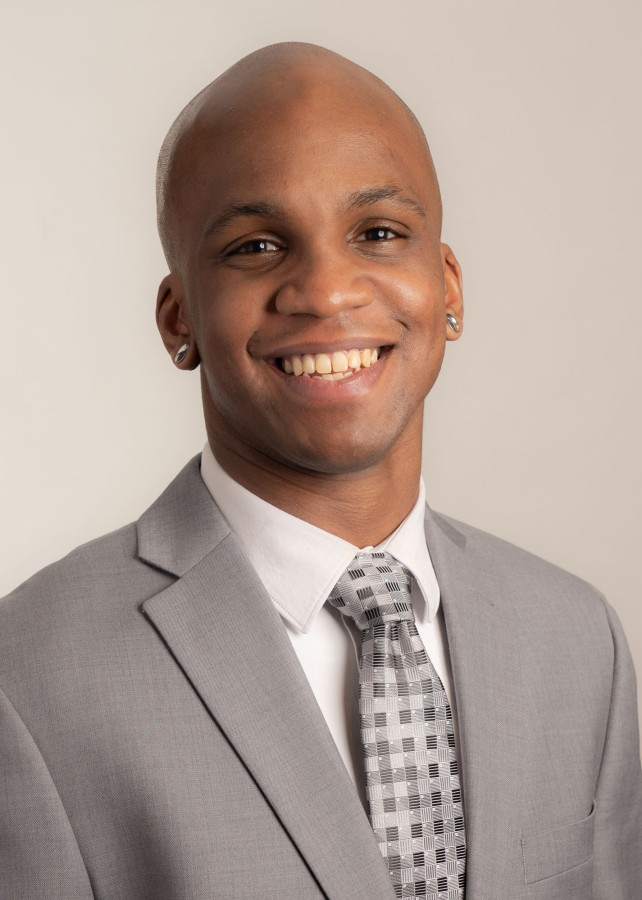 How Sustainable Is Architectural Wire Mesh? (Definition, Process, and Cost)
If you've heard of architectural mesh, you probably know that it is one of the most versatile materials used within the world of architectural design. This is because it offers several beneficial qualities, including natural ventilation, sun protection, fall protection, and vast customization.
As society continues to move towards a more eco-friendly way of living, wire mesh sustainability has become one another critical benefit. But how exactly is sustainable is architectural wire mesh?
As a top architectural mesh supplier, W.S. Tyler strives to provide customers with high-quality products that adhere to the globe's sustainable needs.
With that, this article will go over:
What sustainability means in the world of architectural design
The measure W.S. Tyler has taken to maximize sustainability
The Steps W.S. Tyler is taking to ensure its woven wire mesh products remain sustainable moving forward
What Is Sustainability?
The term sustainability is best defined as the ability to maintain something to prevent the unnecessary use of resources that negatively impacting the ecosystem. In the world of architectural wire mesh; however, sustainability refers to two things: the longevity/durability of a wire mesh system and the impact a wire mesh system has on the environment.
This derives from the misconception that woven wire mesh will not withstand the elements over a long period and require heavy maintenance to last the structure's lifetime. Also, as more and more companies switch to green operation models, architects are more conscious of the material they use. Their designs must now be aesthetically pleasing and eco-friendly to avoid backlash from onlookers.
What Measures Does W.S. Tyler Take To Maximize Sustainability?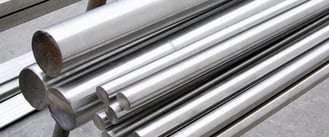 When it comes to the longevity and durability of a wire mesh solution, we determined that 304 and 316 stainless steel provides the best results, which is why most of our wire mesh systems are predominately stainless steel. When you hear stainless when working with architectural mesh, it refers to the fact the steel is resistant to most graffiti and, more importantly, corrosion.
This makes stainless steel mesh the ideal product as it can withstand corrosive applications, such as exterior facades next to saltwater, without the worry of needing to be replaced. That said, it is essential to note that stainless steel wire mesh systems are not 100% corrosion-resistant and, in rare cases, are subject to rust when introduced to harsh conditions.
Now, all of our stainless steel systems are constructed out of 100% recyclable material when it comes to the environment. This includes the mesh itself as well as all the mounting hardware that we provide.
With that, W.S. Tyler offers systems that utilize recycled materials. These systems can contain a post-consumer recycled content range of 65% to 72%.
In other words, everything that is attached to your building can be recycled to save resources.
NOTE: We can, if requested, supply a system that is constructed from 100% recycled material.
What Steps Are Being Taken To Ensure W.S. Tyler Architectural Mesh Is Even More Sustainable in the Future?
Here at W.S. Tyler, we are always testing and researching ways to improve the sustainability of our mesh products better. As new testing methods and industry standards are introduced, you can rest assured knowing that we implement them as soon as they present themselves.
Our everyday operation is always and will always be geared towards providing customers with high-quality products.
How Does Sustainability Affect The Cost Of Architectural Mesh?
As our products are already designed to be sustainable and constructed out of recyclable/recycled material, sustainability has little impact on an architectural mesh system's cost. That said, the level of recycled content of the material may drive the price.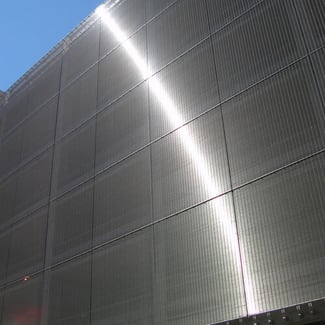 Think of architectural mesh as gold in the fact that 14 karat gold is significantly less than 24 karat gold, as it contains far less pure gold. With architectural mesh, having the standard 65% to 72% post-consumer content in your mesh will cost much more than having a 100% post-consumer content system.
Create The Ultimate Woven Wire Mesh System
In the world of architectural design, architects seek design materials that are sustainable in two ways: longevity and eco-friendliness. As architectural mesh is predominantly constructed from recycled stainless steel, it can adhere to both of these needs while providing a one-of-a-kind look.
When it comes to woven wire mesh systems' lifecycle, the stainless steel makeup allows it to be resistant to corrosive applications, such as exterior facades that are subject to airborne saltwater. When it comes to eco-friendliness, W.S. Tyler mesh systems can be made from materials ranging from 65% to 72% post-consumer steel or made from 100% post-consumer steel.
Regardless, gaining a better understanding of all the benefits architectural mesh presents will allow you to determine if it's right for you.
Having worked in the field of architectural design for more than 20 years, W.S. Tyler is here to guide you towards an architectural mesh solution that will provide optimal results.
To learn more about all the ways architectural mesh can be used, review our articles: Pros and Cons of Architectural Mesh For Exterior Applications and Pros and Cons of Architectural Mesh For Interior Applications.
About Ronnie Brown
Ronnie is the Content Writer for W.S. Tyler and has four years of experience as a professional writer. He strives to expand his knowledge on all things particle analysis and woven wire mesh to leverage his exceptional writing and graphic design skills, creating a one-of-a-kind experience for customers.