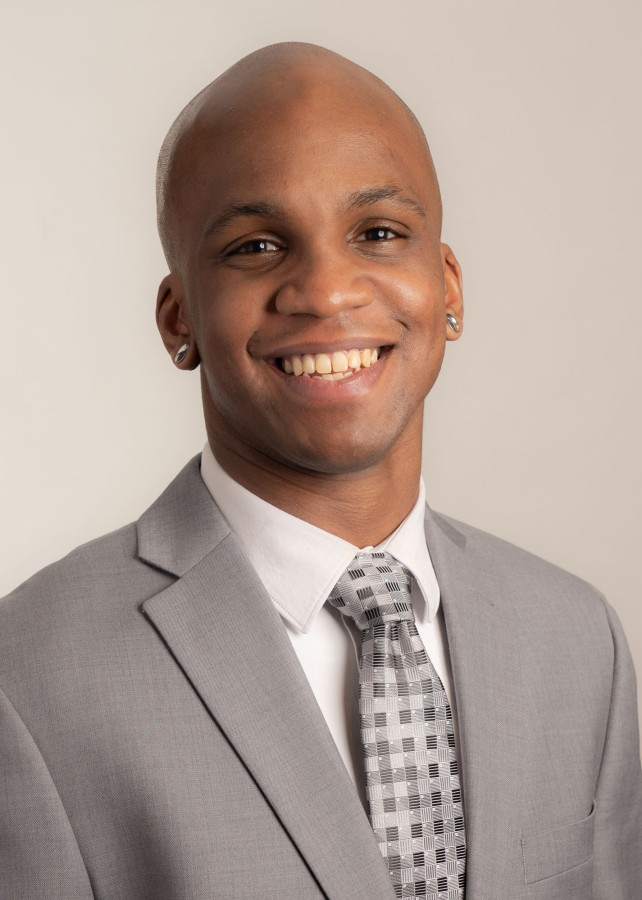 Architectural Wire Mesh vs. Spiral Mesh: Which Is Best?
Architectural mesh is a fairly new material to the world of architectural design. With dozens of different profiles, such as architectural wire mesh and spiral mesh, it can be difficult for architectural designers to depict which one will provide the function and aesthetic that turns their vision into reality.
That said, how exactly do spiral mesh and woven wire mesh differ?
Having provided high-quality architectural mesh solutions for over 20 years, W.S.Tyler is here to guide you to the best material for a project.
In this article, we will define both wire mesh as well as spiral mesh, providing an in-depth analysis of the differences between the two materials.
What Is Architectural Woven Wire Mesh?

Architectural wire mesh is a group of high-tensile, Grade 316 stainless-steel wires that are interlocked together. woven on a specialized weaving loom, the thickness of the wires ranges from 2mm to 6mm on average and are commonly produced from 80% recycled material.
While woven wire mesh is regarded as a rigid material, it is rather flexible when tensioned over a certain length. This allows it to be used in a variety of applications, such as acoustic facades and parking garage canopies.
What Is Spiral Mesh?
Spiral mesh is best described as a belting mesh. It consists of a series of wires that take on a spiral form during the weaving process, interlinked together through the use of a pre-crimped shute wire.
As each spiral wire is produced, a pre-crimped round wire is pushed through it, which is a process that is widely carried out by hand. Each crimp rod is then welded to the spiral wire at each end to ensure the integrity of the mesh holds up over time.
What Are the Advantages of Using Architectural Woven Wire Mesh?
One key advantage rigid woven wire mesh has over spiral mesh is that it can be woven with a combination of round wire and flat wire, or three-dimensional wire with flat wire in the same pattern. This allows for a more customized, one-of-a-kind look that truly stands out.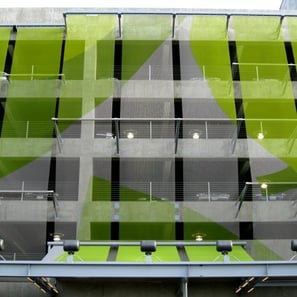 Another major advantage woven wire mesh has over spiral mesh is its ability to be painted. As most of the wires are exposed and close to one another when woven, it can be easily prepped and painted.
Painting spiral mesh is extremely difficult as there are many spots, specifically the pre-crimped rod, that are hard to prep which makes it hard to get paints to properly adhere to the material.
Something else that sticks out when comparing architectural wire mesh to spiral mesh is the wire variety that can be used to successfully form the mesh. The amount of wires that can be used to form a rigid wire weave is vastly larger than the amount of wires that can be used to form spiral mesh.
As a result, woven wire mesh solutions are more readily available and lead times are significantly shorter.
Additionally, with wire mesh, you can change the opening size of the mesh a lot easier, wire diameter in both the weft and warp direction can be customized, flat wire can be used. This level of customization is particularly useful when a project, such as a parking garage, calls for a certain level of air-flow.
What Are the Disadvantages of Using Architectural Woven Wire Mesh?
A disadvantage of woven wire mesh, when compared to spiral mesh, has to do with transport. The diameter that woven wire mesh is rolled into when being shipped has to remain fairly large to avoid bending or warping the wire.
Possibly the biggest drawback of architectural mesh is that there is a limited amount of suppliers that supply it. The availability of looms equipped to weave mesh is far less than the machinery needed to produce perforated panels.
Another key drawback associated with wire mesh is the fact that wire mesh panels are limited to a 10-foot width. This can be concerning when a project calls for panels that exceed this 10-foot limitation to achieve a continuous look.
What Are the Advantages of Using Spiral Mesh?
Possibly the most unique advantage of using spiral mesh is its spliceability. Due to the way in which spiral mesh is assembled, it can be taken apart and put back together fairly easily on-site.
If you're a contractor working with spiral mesh on the side of a parking garage, for example, and you discover that the panel is too long, you can simply break the weld and pull one of the pre-crimped rods out to eliminate how many spiral layers you desire.
On the other hand, if the panel is too short, you can stick another pre-crimped rod through the bottom spiral and add more length on-site.
Another advantage is that the way in which spiral mesh is woven classifies it as a balanced weave. What this does is it allows the mesh to hang straight very easily.
Not only that, but no matter the way the mesh is pulled, it will always pull straight down collectively. Because the mesh repeats itself and evenly distributes pressure, you can cut a hole in it fairly easily.
In addition, when running vertical cables or any other sort of element to address deflection, you subsequently create point loads where those elements are attached to the structure. In these situations, rigid woven wire mesh panels will produce around 1,200-1,500 pounds of point loads.
When using spiral mesh, the panel will absorb a lot of this pressure as it is a lot springier. As a result, point loads can be reduced to about 800 pounds.
What Are the Disadvantages of Using Spiral Mesh?
A major disadvantage associated with the application of spiral mesh is that it is difficult to work with during horizontal applications. Even when a tremendous amount of tension is applied, the properties of the mesh make it hard to control deflection while applied horizontally, such as an acoustic facade on a ceiling.
In terms of dimensionality, it is very difficult to get spiral mesh neatly as flat as woven wire mesh. A lot of designers seek a mesh profile that almost seems as if it's not there, which is nearly impossible to achieve with spiral mesh.
Now, it goes without saying that designers are commonly unfamiliar with architectural mesh, whether rigid woven wire or spiral mesh. With that, spiral mesh is possibly the least known architectural mesh profile to contractors.
While it's still a new concept to the world of architectural design, most metal fabricators can find a way to make rigid woven wire mesh match your vision with little to no issues down the road. If you don't fully understand the physics of spiral mesh, it can prove to be difficult to work with.
How Do the Costs Compare?
When it comes to comparing the price of spiral mesh to rigid architectural woven wire mesh, the differences in price are menial and ultimately come down to the project itself. Both can carry a $15 per square foot price tag under the right circumstance; however, both can also reach prices of $30-$35 a square foot.
This is why it's crucial that, when selecting a material to use, you must always take a step back and think about which wire type will provide the function and the aesthetic you envisioned over anything.
As an architectural designer, you must also remember that, if a project is still a couple of years out, the cost and availability of any particular wire type is subject to change.
Make Your Vision a Reality With Architectural Mesh
As an architectural designer, you must constantly seek to use the best material available to keep up with modern trends. Architectural mesh, although fairly new the world of architectural design, has the capabilities of doing just that.
That said, there are dozens of mesh profile variants, such as spiral mesh and rigid woven wire mesh, that can make the decision of which material to use difficult.
Woven wire mesh is best defined as an assortment of rigid wires that have been woven together to form a sheet of mesh that is interlaced. As it is fully customizable, it is ideal for designs that call for a one-of-a-kind look that require different colors and imagery on the mesh itself.
Spiral mesh is a belting mesh that consists of a series of spiral wires that are interlinked together with a pre-crimped shute wire. This form factor makes it ideal for applications in which the designer may want to expand or reduce the parameters of the mesh system.
Which material will best represent the tone you're looking for? Which material will be able to stand the test of time in this particular environment? Ultimately, these are just some of the many quotations you should be asking yourself when making this decision.
With over 20 years of experience working with architectural mesh, W.S. Tyler understands that picking the right solution can be difficult and is here to help.
If you feel architectural woven wire mesh may be a good fit for your next project and want more information, review our Architectural Wire Mesh product guide.
About Ronnie Brown
Ronnie is the Content Writer for W.S. Tyler and has four years of experience as a professional writer. He strives to expand his knowledge on all things particle analysis and woven wire mesh to leverage his exceptional writing and graphic design skills, creating a one-of-a-kind experience for customers.