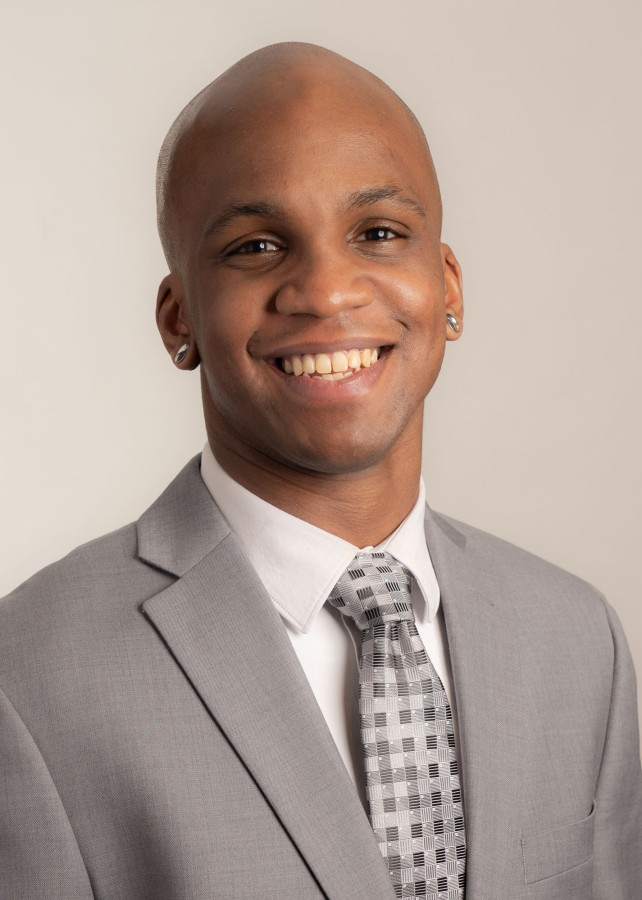 How Architectural Wire Mesh Is Used for Wall Design
Creating a visitor experience that will be remembered for years to come is one of the main objectives of most architects. This involves taking various design materials and applying them in ways that highlight all of their beneficial qualities.
Architectural wire mesh, for instance, is a metallic material that creates an awe-inspiring atmosphere, provides maximum durability, and delivers a dynamic yet modern look. This makes it the perfect cladding material for various interior design applications like wall design.
That said, how does architectural wire mesh benefit wall design?
W.S. Tyler has helped countless architects navigate the world of architectural design for over 20 years and is here to dissect your design princess, learning inside and out, to help you make the most of the benefits architectural mesh has to offer.
To that end, this article will provide insight into:
What architectural mesh is

How architectural mesh is applied to wall design

How architectural mesh benefits wall design

How much architectural mesh costs



What Is Architectural Wire Mesh?
Architectural wire mesh is best defined as mesh sheets, panels, or rolls consisting of a pre-determined number of metallic wires that are woven together to create a one-of-a-kind design material. Prior to being woven, all mesh parameters, including mesh type, percentage of open area, panel size, and wire diameter, are calculated to ensure your vision becomes a reality.
Additionally, architectural mesh is predominantly made of 316 stainless steel to deliver maximum durability and longevity. That said, stainless steel mesh can be painted to look like other metallic materials, such as brass, without sacrificing durability.
How Is Architectural Wire Mesh Applied To Wall Design?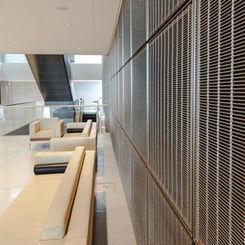 As interior designs aren't subjected to the harsh elements exterior designs sometimes endure, such as severe storms and gale winds, any mesh type or profile can be used to outfit a wall. Having said that, there are several different ways in which mesh can be attached to walls.
A popular method of attaching mesh panels to interior walls is through the use of L-profile framing. This involves taking cut-to-size mesh pieces and tensioning them over the frame or within the frame (similar to a framed photograph), using a flat bar to sandwich the mesh and secure it.
To that end, you can also use two flat bar pieces alone to sandwich the mesh and attach it to a wall without the need for an L-profile frame.
You can also clade walls, top to bottom, using full-height panels to serve as a metallic wallpaper.
Now, this ideology can be used on any sort of wall. This includes applications such as ticket counter siding, reception desk siding, and elevator cabinet siding.
Why Use Architectural Wire Mesh for Wall Design?
The unique characteristics of architectural wire mesh deliver several benefits that architects can leverage when designing interior walls. To that end, aesthetics, equipment protection, ventilation, customization, enhanced acoustics, and fire resistance stand as the most noteworthy benefits to consider.
Aesthetics
As architectural mesh is made of stainless steel, it has the ability to deliver a lustrous atmosphere to any interior environment. When compared to fabrics, drywall, and other various materials, architectural mesh is the ideal design material when durability is needed to withstand high-traffic situations.
Additionally, architectural mesh can be flexed to take on any curvature in the walls of a room. This allows for a heightened sense of movement and direction to help traffic flow.
Equipment Protection
The stainless steel construction of architectural mesh also allows it to deliver adequate protection for the various technical systems, such as lighting and air conditioning systems. But because it's also considered an open product, these protective qualities won't hinder the performance of these technical systems.
Additionally, the flat viewing angle of architectural mesh means that various angles of illumination can be applied to create an opaque, semi-transparent, or fully transparent aesthetic.
Ventilation
Certain projects require a specific level of ventilation to comply with various building codes and regulations. Architectural mesh can easily accommodate these requirements as the percentage of open area of any given mesh panel can be adjusted to allow for adequate airflow.
Custom Panel Sizes
As stated above, architectural mesh can be fabricated with virtually any size specification needed to best fit your needs. Whether you need cut-to-size pieces, mesh rolls, or full-height panels, architectural mesh can fit most design processes.
It's important to know that when placed into a framing system, the mesh pulled into tension and the frame itself carries the load of the tensioning.
However, when implemented as full-height panels, the mesh is tensioned using the flat tension profile and clevis system seen in exterior facades. This requires the wall to have an adequate substructure to avoid the mesh system damaging the integrity of the wall and other elements of the building.
Enhanced Acoustics
There are two wire profiles that can be used to construct architectural wire mesh: round and flat. When a round wire profile is used, sound waves are scattered in various directions once they reach the mesh panels.
Additionally, these waves won't cause any distracting vibration as the tensioning prevents any sort of movement throughout the mesh system. As a result, you are left with an enhanced acoustic experience that is particularly beneficial in larger rooms, such as convention centers and performance arts halls.
Fire Resistance
The stainless steel composition of architectural mesh allows it to adhere to fire safety guidelines as it is non-flammable.
How Does Architectural Wire Mesh Affect Wall Design Expenses?
When it comes to the cost of architectural wire mesh, there are several elements of the mesh that control how much you will spend. Factors such as mesh type, fabrication, panel quantity, aperture, and weight contribute to the overall cost of an architectural mesh system.
Typically, architectural wire mesh systems cost around $25 per square foot on average. On the other hand, cable mesh systems carry an average price of $30 to $35 per square foot.
To learn more about how much you can expect to pay for an architectural mesh system, read the article: How Much Does Architectural Mesh Cost?
Better Understand The Various Mesh Types To Turn Your Vision Into a Reality
Architectural wire mesh is a metallic design material that is designed to provide architects with a means of producing awe-inspiring visitor experiences. The level of customization offered by architectural mesh makes it suitable for a wide range of interior applications, including outfit the walls within a structure.
With that said, it is essential that you fully understand how the various mesh types available compare to one another. Spiral mesh, for example, carries a lot of the beneficial qualities of wire mesh; however, it delivers an entirely different aesthetic.
As W.S. Tyler has helped customers make heads or tails of the various design material used throughout the world of architectural design for over 20 years, we strive to ensure your architectural design process is as seamless as possible.
To gain a better understanding of how wire mesh and spiral mesh compare, read the article: Architectural Wire Mesh vs. Spiral Mesh: Which Is Best?
About Ronnie Brown
Ronnie is the Content Writer for W.S. Tyler and has four years of experience as a professional writer. He strives to expand his knowledge on all things particle analysis and woven wire mesh to leverage his exceptional writing and graphic design skills, creating a one-of-a-kind experience for customers.