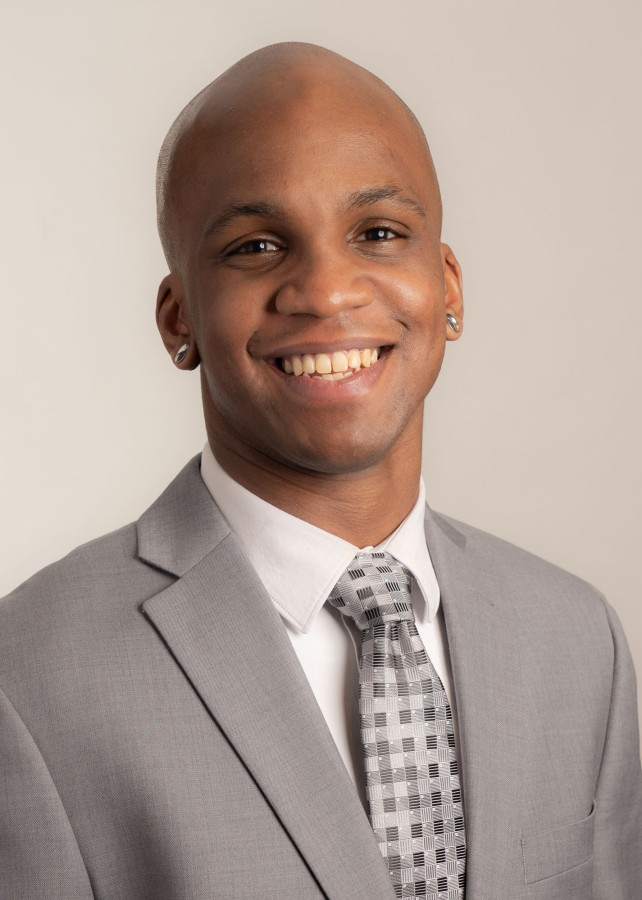 Etching vs Painting Architectural Wire Mesh: What's Best For My Project?
Woven wire mesh is an extremely useful material that is applied to hundreds of applications. One application that is becoming increasingly popular is the use of wire mesh as architectural panels to create an industrious look that onlookers thoroughly enjoy.
From parking garages to the facade of a building, architectural wire mesh creates a dynamic aesthetic that will make your project stand out from its surroundings.
That being said, what types of coatings are used when these mesh panels are meant for more decorative purposes?
Here at W.S.Tyler, we understand that your projects require specific material. We are prepared to use our 25 plus years of architectural experience to ensure your final product best reflects the vision you had.
This article will provide insight into what it means to etch architectural wire mesh, what it means to paint architectural wire mesh, and why you may want to use one over the other.
What is Painting?
Painting is the process in which an automotive-based coating is used to create imagery on the wire mesh panel. As architectural wire mesh panels have to be rolled and unrolled when being shipped and installed, any paint used on the mesh must have a certain elasticity in order to prevent cracks and chips.
This is why Automotive-based paints are preferred over other coatings, such as powdered coatings.
When it comes to the capabilities of paint on architectural wire mesh panels, there really are no limitations. In fact, panels can be any color within the RAL or Pantone color spectrum. As long as you have a vector of the image and the list of colors used, the imagery can be matched down to a 2-inch detail.
When Should My Mesh Be Painted?
Painting mesh can be extremely beneficial for projects that require the wire mesh panels to match corporate logos, colors, and branding. There doesn't have to be imagery for the mesh to be painted. Paint is often applied to simply change the color of the mesh.
So if you are working with a building that has gold accents, you can paint the mesh a metallic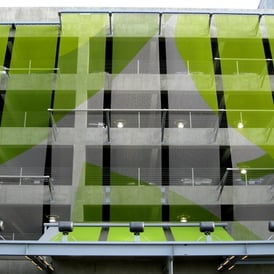 gold to match it. You can even have a panel imitate the use of two dissimilar metals without the risk of having the corrosion that occurs when two dissimilar metals come into contact with each other.
Best of all, the paint won't tarnish, discolor, or form a patina like most metals do.
Painted architectural wire mesh panels are great for exterior applications that need more color and added excitement. The ability to match company branding directly on the mesh also means you can eliminate signage packages and reallocate those funds to other areas of the project.
Painted architectural mesh can be applied virtually anywhere.
What is Wire Mesh Etching?
Etching is the process in which a sandblaster or bead blaster is used to remove the surface layer of the wire mesh and engrave a design or illustration with a shadow-like effect.
In order to have your mesh etched, you must provide your mesh supplier with an AutoCAD file that contains the desired design. This file is then used to create a mask that is placed onto the mesh during the actual sandblasting process.
As the sand or beads collide with the exposed mesh, it rubs away the outer surface. The masked mesh is left unscathed.
When this process is complete, you are left with the desired design. These designs can be virtually anything you imagine: however, etching is usually used to create a unique pattern or design that promotes a business, reflects an iconic figure, or reflects characteristics of the surrounding area.
When Should My Mesh Be Etched?
As the design or illustration is engraved into the stainless steel itself, the effects are permanent. The weather-resistant, durable, and fade-resistant qualities of an etched panel allow for a high-quality, one dimensional image that will not crack or chip over time.
There are several factors that can change the way in which the etched design is perceived. These factors include: how the sunlight hits the panel, the angle in which onlookers pass the panel, and the time of day.
Etching is best observed when used on a larger facade. Ideally, etched panels should be used if you want to create a facade that changes in appearance depending on the amount of daylight it is reflecting and provides a unique experience throughout the day.
That said, the fact that the design is engraved means the inner, raw metal of the mesh is exposed to harsh weather conditions, specifically rain. This leaves the mesh vulnerable to rusting and corrosion, which can eventually cause the mesh panel to become disfigured.
How Does Painting/Etching Affect Cost?
As painting and etching are additional services, applying either to your mesh will add on to the price of each panel that is altered.
When working with one of the flat or solid colors, such as your reds, blues, and greens, you should expect to pay around $10 per square foot. The metallic paints we discussed earlier are more expensive and cost around $15 per square foot on average.
If paint is applied to the project, these costs are only applied to the panels that are being painted and will not include the ones that are not. It should also be noted that these prices remain the same regardless of how many colors are included on the panel.
As etching does not offer multiple colors and dye variants, it generally costs around $10 per square foot. This price remains whether you use the sandblasting or bead blasting method.
Learn More About Architectural Mesh
By either etching or painting your architectural wire mesh panels, you can create an atmosphere that will allow the structure to stand out among the rest.
Knowing which one to use can be confusing but ultimately comes down to the effect you wish to achieve. With over 25 years of experience, W.S. Tyler is here to help you select the right solution for your particular needs.
If you are looking for a more subtle solution that has the ability to change the way it's perceived throughout the day, then etching may be a good fit for your project.
However, if you want a solution that adds color, excitement, and flair to your project, paint will best fit your needs.
To learn more about architectural mesh and its benefits, refer to our Architectural Wire Mesh product guide.
About Ronnie Brown
Ronnie is the Content Writer for W.S. Tyler and has four years of experience as a professional writer. He strives to expand his knowledge on all things particle analysis and woven wire mesh to leverage his exceptional writing and graphic design skills, creating a one-of-a-kind experience for customers.