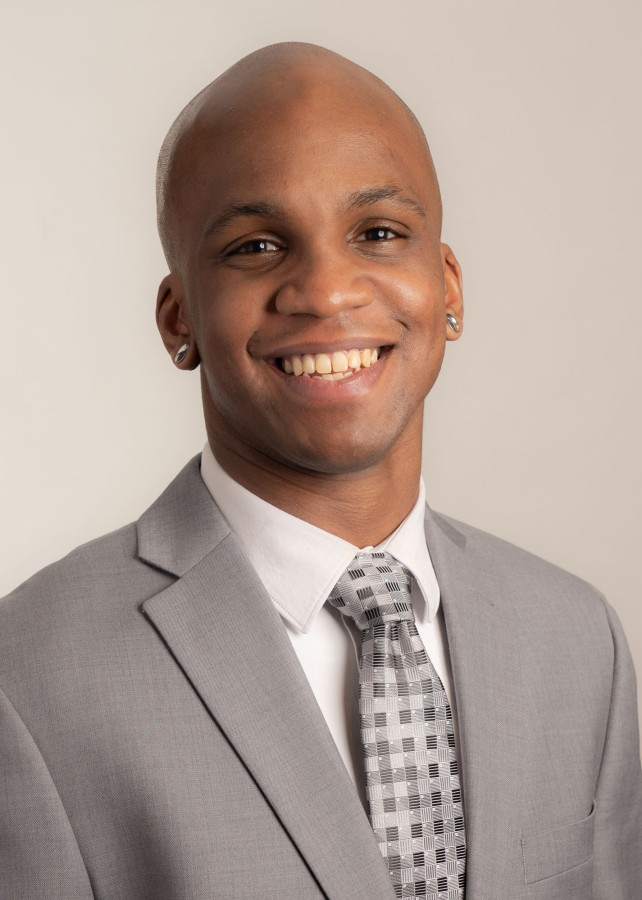 Flat Tension Profiles vs. Eyebolt Attachment Systems: Which Is Best?
From creating a new parking structure with an awe-inspiring aesthetic to retrofitting an existing building to bring it back to life, architectural wire mesh provides versatility and durability that designers cannot achieve with other design materials. But to accurately poetry your vision, architectural mesh must be attached using the correct hardware.
When it comes to wire mesh panel attachment systems, there are two primary choices: a flat tension profile and an eyebolt system. But each attachment system is designed to work in specific situations.
So, what exactly is the difference between flat tension profile systems and eyebolt attachment systems?
W.S. Tyler has architects and contractors navigate the world of architectural wire mesh for over 20 years and is here to ensure your wire mesh panels are properly mounted.
That said, this article will cover:
What a flat tension system is

What an eyebolt attachment system

When a flat tension system should be used

When an eyebolt attachment system should be used

What happens when wire mesh panels aren't attached properly

How flat tension systems and eyebolt attachment systems differ in price
What Is a Flat Tension Profile?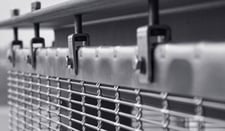 The flat tension attachment system is made up of a 4-inch wide stainless steel bar that is folded onto the mesh panel then folded back onto itself, creating a locking mechanism. Once folded, the face of the flat tension profile is reduced to about one or two inches wide.
Clevis hardware is then attached along the top of the mesh panel, with the bottom being outfitted with several tensioning springs that allow for a minimal amount of giving.
What Is an Eyebolt Attachment System?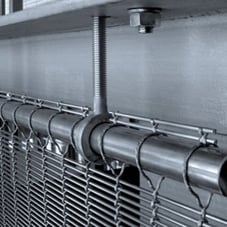 The eyebolt attachment is a standalone attachment system that connects directly to the mesh panel and the substructure. This system requires several shute wire wires at the top of the panel to be removed to install a supportive rod.
Now, while this rod is installed, it is also threaded through the many eyebolts running along the width of the panel. That said, these eyebolts are typically installed in two- to three-foot intervals and 16 inches on center.
NOTE: The attachment eyebolts can be positioned closer than 16 inches on center, but they cannot be positioned further.
When Should I Use a Flat Tension Attachment?
Put simply, the flat tension profile can be used on any of the mesh patterns. The flat tension profile is designed to pull the panel into even tension.
So, for instance, if you were integrating 4'x5' panels into your architectural design process, the flat tension would provide enough structure to pull the panel into tension without the need for additional hardware.
Of course, once the mesh panel reaches a specific size, additional hardware will need to be used to mount and tension the system properly. But as the flat tension profile creates a locking mechanism, the mesh will separate from the profile or attachment hardware.
When Should I Use an Eyebolt Attachment?
The eyebolt attachment method can only be used with cable mesh panels. This is because when cable mesh is being fabricated, the top of each set of cables in the warp direction is spot welded to prevent them from fraying while also securing their position.
This allows the cables to be spread out far enough for the support tubing to be inserted along the width of the panel.
It's for this exact reason that an eyebolt system cannot be applied to wire mesh. When being fabricated, the tips of the solid warp wires of the mesh panel cannot be spot welded then spread far enough to house the supportive tube the eyebolts need for proper installation.
What Happens if Wire Mesh Panels Aren't Attached Correctly?
It is essential to know that full mounting systems, whether flat tension profile or eyebolt, are only used for specific panel systems. As stated above, if a panel is small enough, the panel can be brought into tension with minimal hardware.
That said, if a mounting system is used doesn't capture the mesh correctly, the mesh system will not produce the desired aesthetic. If the cable mesh panel isn't spot-welded correctly or a flat tension profile isn't secured properly, for example, the material of the mesh panel can fray or fail.
What Are the Cost Differences Between a Flat Tension Profile and an Eyebolt System?
The cost difference between a flat tension profile and an eyebolt mounting system isn't dictated by the mounting hardware itself. Instead, the price difference ultimately fluctuates based on the fabrication of the mesh.
Now, because cable mesh must be spot welded at the ends of all the cables, it generally costs more than standard wire mesh panels. It's because of the additional costs of welding that flat tension profile systems are often seen as more cost-effective than eyebolt systems.
While you can use a flat tension profile on a cable mesh panel, the cable mesh will still need to be spot welded to ensure the integrity of the mesh panel is preserved.
Ensure Your Wire Mesh Panels Are Properly Installed
A flat tension profile is an attachment system that consists of a stainless steel strip that locks onto the top of the mesh panel and is designed to secure virtually any mesh type. On the other hand, eyebolt attachment systems are standalone bolts that connect the wire mesh panels directly to the substructure with minimal hardware.
Now, as soon as you identify what attachment system is right for you, you must gain an understanding of what the installation of architectural wire mesh panels look like. This will allow you to ensure your architectural mesh vision is woven into reality.
As prominent suppliers of architectural wire mesh with over 20 years of experience, W.S. Tyler strives to ensure you have the knowledge needed to properly utilize the characteristics wire mesh panels offer.
Read the following article to better understand how architectural mesh panels are installed:
About Ronnie Brown
Ronnie is the Content Writer for W.S. Tyler and has four years of experience as a professional writer. He strives to expand his knowledge on all things particle analysis and woven wire mesh to leverage his exceptional writing and graphic design skills, creating a one-of-a-kind experience for customers.