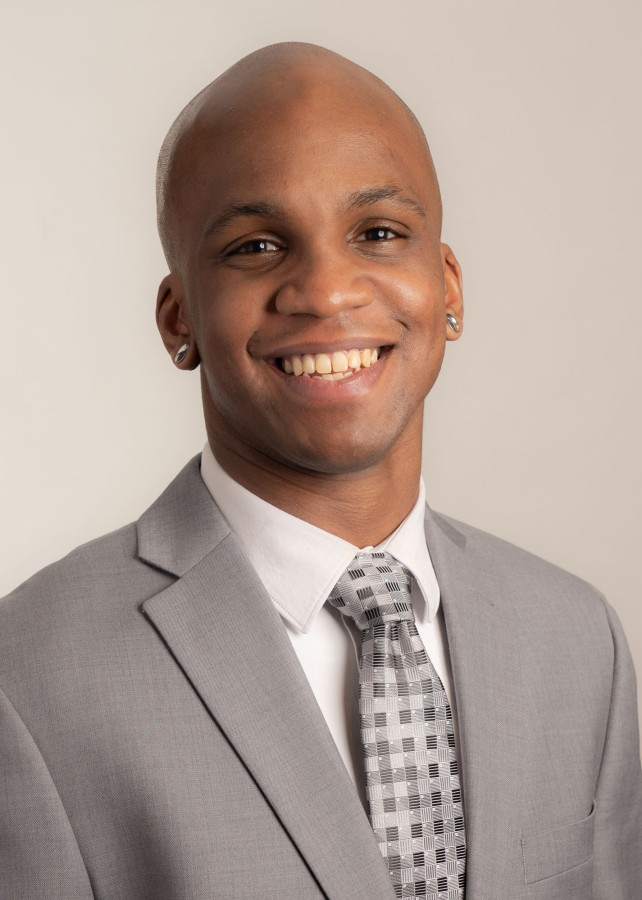 Understanding the Manufacturing and Shipping of Architectural Mesh
There are multiple steps that go into integrating architectural wire mesh. From determining what alloy to use to picking a contractor to install the system, the process can often take several weeks.
But once you have all the parameters set in stone, the only thing left before installation is having the mesh manufactured and shipped. Knowing what the manufacturing and shipping process looks like is just as important as knowing the mesh specifications as they can affect the time frame in which the project can be completed.
That said, what exactly does the manufacturing and shipping of architectural mesh look like?
W.S. Tyler has helped architects incorporate architectural mesh into various structure types for over 20 years and is here to guide you through the process from beginning to end.
With that, this article will cover:
How architectural mesh is made

How long the manufacturing process takes

How architectural mesh is shipped

How long shipping takes

How much shipping costs



How Is Architectural Mesh Manufactured?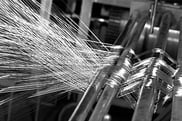 Architectural wire mesh starts as raw wires that are typically supplied by a specialized wire supplier. These wires arrive in spools, are loaded onto a housing unit known as a creel, and are drawn according to the mesh profile being woven.
NOTE: To ensure material uniformity throughout a mesh system, these raw wires are typically ordered all at once per project.
If the wires must be crimped, the wires are run through a specialized die tool that accurately and delicately crimps the wires. Regardless if the wires are crimped or not, the wires are feed through a specialized weaving loom and undergo a centuries-old weaving process.
Depending on the panels, the finished mesh is taken to post-production.
Suppose you are installing a standard tensioned system. In that case, the panels get outfitted with the flat tension profile, the attachment holes are punched out, and the mesh pre-tensioned to the dimension your project will be subjecting it to.
The mesh is then rolled and packed for shipping.
For a more in-depth analysis of how wire mesh is manufactured, review our article: How Is Architectural Mesh Made? (Terminology, Preparation, and Process).
How Long Does the Manufacturing Process Take?
Generally, the architectural mesh manufacturing process takes 8 to 12 weeks to complete. This time range is subject to change and is affected by several factors, including project size, specialized fabrication requirements, and adding finishes like paint or digital print.
NOTE: Any mesh customization will typically add more time to the lead time.
How Is Woven Wire Shipped? How Does It Arrive?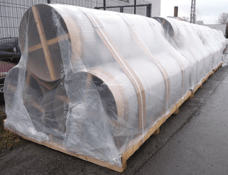 As stated above, once your wire mesh panels are complete, they rolled and packed for delivery. Typically, the rolls of mesh
are packed into wooden crates and get stacked on top of each other in order of how they will be installed.
That said, the mesh supplier will ask you what portion of the project you want to receive first to best accommodate your architectural design process.
For example, if you only have access to the north side of the building because of other construction, you can receive all the pieces for the wire mesh systems being attached to the north side first.
When your mesh system does arrive, everything you need to complete the job will come with it. You will receive:
Crates containing the rolled wire mesh panels

All attachment hardware (packed in a separate container)

Lifting tools that help

the contractors

hoist the wire mesh panels

Intermediated tubes to support the mesh panels of a tensioned system
How Long Does Wire Mesh Take To Ship?
Shipping lead times can vary depending on location, taking anywhere from 3 to 4 weeks up to 5 to 6 weeks. Other external factors such as the amount of traffic going through ocean freight ports and how long it takes to clear customs can also extend shipping lead times.
How Much Does Shipping Cost?
All expenses associated with shipment is generally included in the quote that you receive before the manufacturing process.
Get To Know the Installation Process
During the manufacturing stages of the integrating architectural wire mesh, a centuries-old weaving technique is used to interlock the individual raw wires and form the mesh panels that provide a one-of-a-kind aesthetic. Depending on your project's parameters, this can take anywhere from 8 to 12 weeks to complete.
Once complete, the mesh is then rolled and packed into wooden crates for shipment, usually taking 3 to 4 weeks. To best accommodate your design process, mesh suppliers can segment your project and send you the mesh in the order the project will be completed.
The only other step in the process is to install the mesh. That said, to best communicate project lead times with your customers, it is critical to understand what the installation of architectural woven wire mesh looks like.
Having navigated the world of architectural design for over 20 years, W.S. Tyler strives to ensure you fully understand how architectural mesh is installed.
Review our article on architectural mesh installation for an in-depth analysis of what the process looks like.
About Ronnie Brown
Ronnie is the Content Writer for W.S. Tyler and has four years of experience as a professional writer. He strives to expand his knowledge on all things particle analysis and woven wire mesh to leverage his exceptional writing and graphic design skills, creating a one-of-a-kind experience for customers.