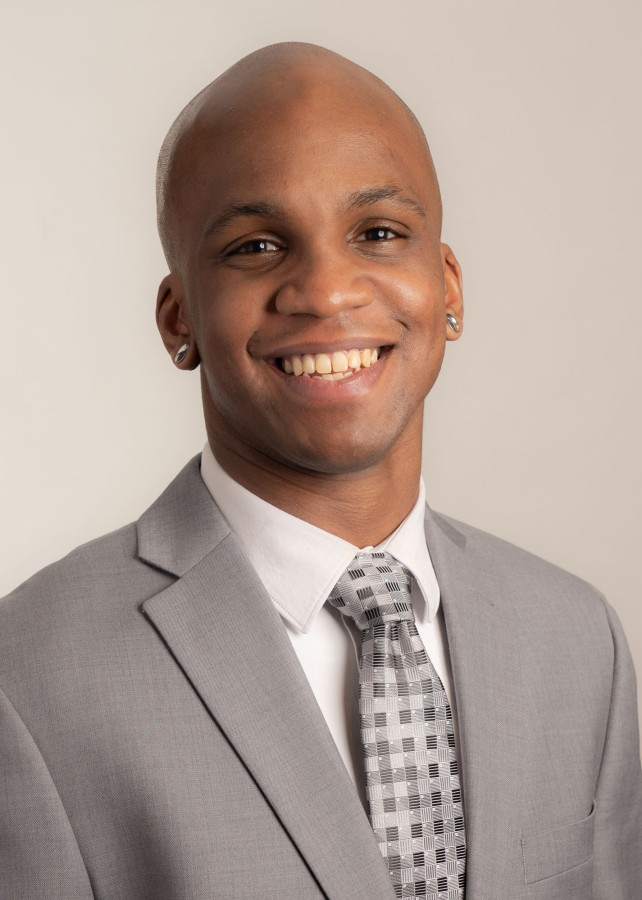 How Ice Buildup Affects Metal Mesh Fabric Panels
When considering what design materials to use, architects must consider the weather conditions the structure will endure. For example, ice build-up is a concern as it can negatively alter the overall aesthetic and safety of the design element.
Metal mesh fabric is an ideal design material for colder climate applications as it can be customized to accommodate the level of ice it will be subjected to.
But what exactly makes metal mesh fabric work well in heavy ice applications?
As leading suppliers of metal mesh fabric with 20 years of experience, W.S. Tyler is here to help you identify design materials that will stand the test of time.
To help you with this journey, this article will provide insight into:
The concerns surrounding ice buildup

Why metal mesh fabric excels when applied in heavy ice applications

How we help architects property implement metal mesh fabric in colder climates

How mesh coatings/finishes affect ice resistance

What weave types you can use when ice build-up is expected



What Concerns Does Ice Buildup Present Architectural Design?
When implementing architectural design concepts in colder climates, one of the main concerns is how potential ice buildup will affect patron safety. More specifically, a fully iced over panel will reduce the ventilation within structures like parking garages, affecting the design's compliance with the many regulations that the design must follow.
But, more importantly, there is the risk of ice falling off the design element and damaging cars, and injuring visitors. This can lead to costly lawsuits.
In terms of aesthetics, architects are generally worried about the ice buildup damaging exterior design elements over time. There is also a concern that certain design elements will be lost under heavy ice, which would take away from the overall design vision during the winter months.
How Does Ice Build-Up Affect Metal Mesh Fabric?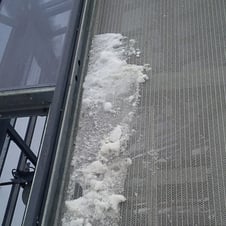 The worries described above are quickie resolved when metal mesh fabric is employed, as they are highly resistant to ice buildup no matter how harsh the weather conditions may be. This is because ice will never fully build up on a metal mesh fabric panel.
When a metal mesh panel is brought into tension, there remains enough slack to allow for slight vibrations that keep the panel in constant motion. Even when elements, such as wind, are absent, the mesh panel will have subtle vibrations throughout.
This means ice will never have the chance to build up on the metal mesh fabric, even if applied as static railing panels.
How Do I Implement Metal Mesh Fabric in Colder Climates?
During the design stages, the metal mesh fabric supplier will help ensure your system is as resistant to ice build-up as possible. This is usually done by calculating the structural calculations of your design for you.
These structural calculations will let you know how much tension is needed, accounting for elements such as how much snow, ice, and wind the mesh will be subjected to. Now, when the metal mesh fabric panels are fabricated, they will be constructed based on the worst-case scenario in terms of weather conditions.
Will Applying a Finish to My Metal Mesh Fabric Affect Its Resistance to Ice Build Up?
One of the most vital steps involved with manufacturing metal mesh fabric panels is the ultrasonic bath that they undergo. This bath helps create a slick, smooth surface throughout the panel, further enhancing its ice buildup resistance.
Now, when a finish, such as digital print or paint, is applied to the metal mesh fabric, this smooth surface is maintained. In other words, applying a finish has little to no effect on the panel's ability to resist ice buildup.
Are There Weave Types That Don't Work Well in Icy Applications?
When it comes to what weave pattern you can use in colder climates, all weave patterns and types have the same ice-resistant qualities when brought into tension with a standard tensioning system. That said, some ice build-up may occur at the bottom of the panels, especially with tighter weaves, may occur.
To that end, this ice build-up is not substantial and metal mesh fabric panels will never be iced over entirely.
Weave Your Vision Into Reality With Metal Mesh Fabric
When designing structures in colder climates, architects must be mindful of the design materials they use, especially when designing exterior elements. This is because ice build-up can not only hinder the overall aesthetic of the design but, more importantly, put visitors in harm's way.
This is where metal mesh fabric panels excel as they effectively prevent ice build-up.
Having said that, it is important to know how metal mesh panels are applied to exterior design elements. This will allow you to fully leverage the capabilities of the mesh fabric and truly weave your vision into reality.
As a prominent metal mesh supplier that has helped architects navigate the world of decorative metal mesh fabric for over 20 years, W.S. Tyler is here to ensure you have the knowledge needed to leverage the capabilities of metal mesh panels.
For more information on how you can apply metal mesh fabric to exterior design elements, review the following article:
About Ronnie Brown
Ronnie is the Content Writer for W.S. Tyler and has four years of experience as a professional writer. He strives to expand his knowledge on all things particle analysis and woven wire mesh to leverage his exceptional writing and graphic design skills, creating a one-of-a-kind experience for customers.