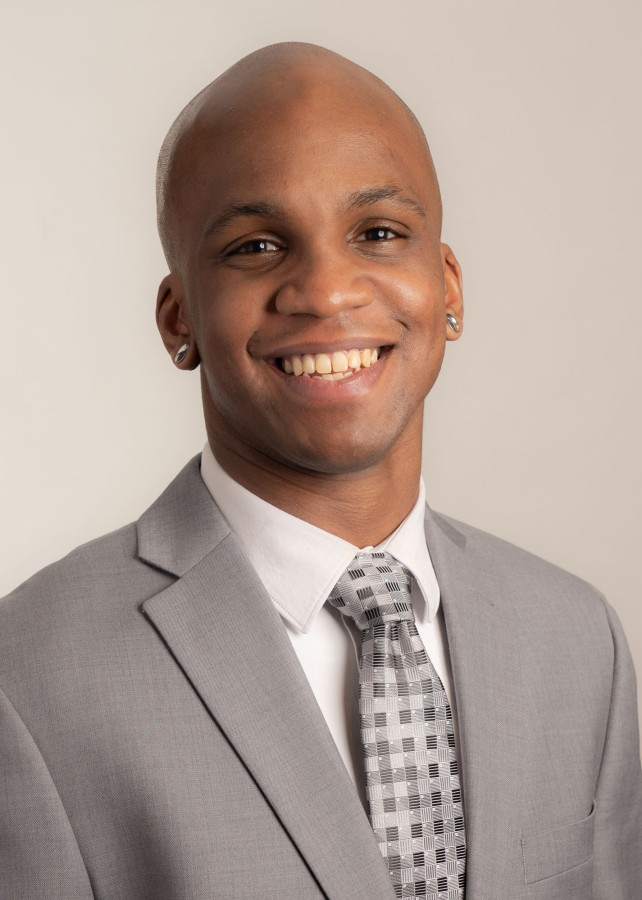 Parking Structure Design With Architectural Mesh
When designing parking structures, architects must find open design materials that will help accommodate the required ventilation level. Even if a material captures your vision perfectly, the structure and, more importantly, visitors will be subjected to hazardous gases if it's too closed off.
Architectural wire mesh works to deliver the perfect balance of ventilation and aesthetics, as it is an open product that creates a unique look that is modern yet industrious. This makes it the ideal material when working on a parking structure.
Having said that, why should you pursue architectural mesh for your next parking structure design?
W.S.Tyler has helped architects navigate through the various design materials used for architectural design for over 20 years and is here to help you better understand if architectural mesh is right for you.
To that end, this article encompasses:
What architectural mesh is

How architectural mesh is applied to parking structure design

How architectural mesh benefits parking structure design

How much architectural mesh costs



What Is Architectural Mesh?
Architectural mesh is a series of raw, metallic wires that are drawn, threaded through a specialized weaving loom, and woven together to form mesh panels that provide a luminous aesthetic. Standing as one of the most customizable design materials on the market, every element of the panels, from the width and height to the wire diameter, can be altered to accommodate your vision and is predetermined before the weaving process.
Typically, architectural mesh is constructed out of stainless steel, as it allows for dynamic designs while also providing maximum durability. That said, stainless steel mesh panels can be painted to resemble other alloys, such as brass, without sacrificing the longevity of stainless steel.
How To Design a Parking Structure With Architectural Mesh?
Architectural mesh provides parking structures with a sense of individuality by providing a one-of-a-kind look and feel. While most mesh facades are installed with a two-dimensional feel, architects can also apply architectural mesh to capture three-dimensional designs.
Having said this, how architectural mesh is applied to Parking Structure Design is driven by the architect's vision. In other words, you come up with the concept, and the architectural mesh provider will work to make it a reality.
That said, there are three main styles in which architectural mesh is applied parking structure design: Vertical cladding, undulating, and panelized systems.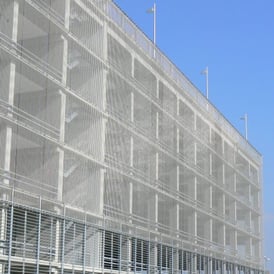 The vertical cladding style is the standard style used for most parking structure facades. Each panel is attached vertically with no change in direction or depth.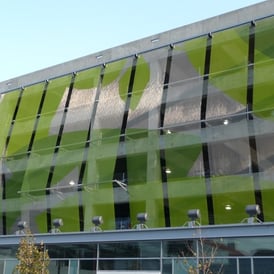 The undulating style involves a mesh installation that results in the distance the mesh panels from the structure are altered, resulting in a design that features an alternating convex to concave form.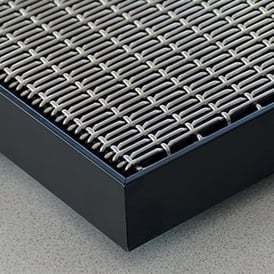 Panelized systems involve placing cut-to-size panels into a framing system to clad any openings throughout the structure.
Why Use Architectural Wire Mesh for Parking Structure Design?
With dozens of mesh patterns that are fully customizable to choose from, the design possibilities achievable with architectural mesh are endless. Regardless of what mesh type or pattern you employ, architectural mesh provides the following benefits:
Awe-Inspiring Experience
Architectural wire mesh provides architects with various mesh patterns, color designs, mesh specifications, and mounting solutions, genuinely making your imagination the only limitation when applying mesh to a design. When appropriately used, architectural mesh a design element that can make virtually any parking structure be a visual representation of the building it's attached to as well as the overall atmosphere of the surrounding environment.
Additionally, the stainless steel composition of architectural mesh provides reflective qualities that allow architects to create a dynamic design that changes throughout the day.
Fall Protection
Parking structures are often tall, open, and accessible. The unfortunate truth about these types of structures is that visitors sometimes fall when standing near ledges or, in some cases, seek to jump off the ledges. With an impact load of 200 lbs, architectural mesh can be used to prevent falls in parking garages, staircases, and balconies when fully tensioned.
Weather Protection
As an extremely durable and rigid product, architectural mesh also serves as a great safety feature that prevents weather elements, such as large hail and airborne debris, from damaging vehicles and hurting visitors in a parking garage. If a severe storm hits the structure, replacing damaged mesh is astronomically cheaper than repairing damaged vehicles.
Mesh systems can also be used to block out sunlight and reduce the temperature within parking structures without hindering the ability to see from the inside looking out.
Natural Ventilation
A significant aspect of architectural mesh is the fact that it is considered to be an open product, which allows architects to adhere to any open-air requirement through natural ventilation. This means the need to incorporate any HVAC systems or exhaust units is eliminated.
Scalability
Architerial mesh carries the ability to be tensioned across the full-height of most parking structures. As a result, architectural mesh facades are generally cheaper than other materials, such as perforated plate.
Having said that, wire mesh panels can be customized to be as large or as small as you need them to better help turn your vision into a reality.
How Much Does Architectural Mesh Cost?
Several factors dictate the overall cost of architectural mesh panels when designing a parking structure. Mesh type, fabrication, panel quantity, aperture, and weight are all factors that must be taken into consideration when applying architectural mesh to your design process.
That said, Cable mesh and wire mesh are the only two mesh types suitable for parking structure design. To that end, the average cost of wire mesh is $20 to $25 per square foot, whereas cable mesh is $30 to $35 per square foot.
To learn more about the overall cost of an architectural mesh system, refer to our article: How Much Does Architectural Mesh Cost?
State up To Code With the Right Percentage of Open Area
Architectural wire mesh is a series of single wires woven together to form a design material that provides parking structures with a sense of individuality. As it is fully customizable, it can be applied in small portions of a parking structure or as full-height panels.
Regardless, you must be aware of the percentage of open area of the mesh profile you choose. This will help to ensure your implementation of mesh does not interfere with any building codes.
With over 20 years of experience working within the world of architectural design, W.S. Tyler strives to learn what your architectural design process looks like to help you make the most out of mesh products.
For an in-depth breakdown of what the percent of open area is, read the following article: What Is the Percentage of Open Area of Architectural Mesh?
About Ronnie Brown
Ronnie is the Content Writer for W.S. Tyler and has four years of experience as a professional writer. He strives to expand his knowledge on all things particle analysis and woven wire mesh to leverage his exceptional writing and graphic design skills, creating a one-of-a-kind experience for customers.