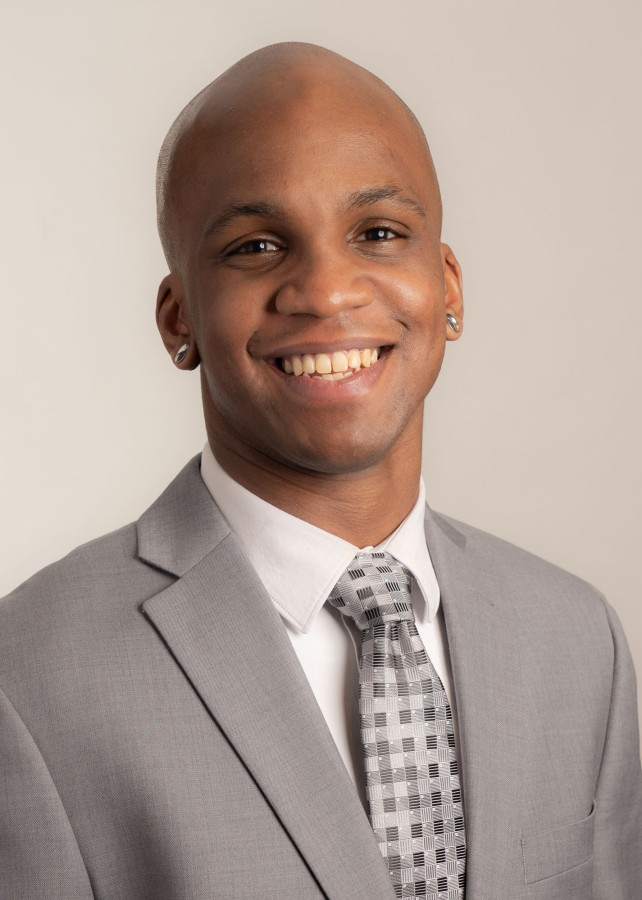 What is a wire mesh façade? (Benefits, Cost, What's Included)
Have you ever worked on a project that needed some extra character to really make it stand out? A wire mesh façade can do just that, providing the dullest of buildings with the wow factor needed to make it stand out amongst the surrounding structures.
But what exactly is a wire mesh façade?
Here at W.S. Tyler, we have over 20 years of experience working with the world of architecture and want to share our knowledge with you to ensure all possibilities are considered during your architectural design process.
In this article, we will define what a wire mesh façade is, the benefits it brings, some drawbacks you need to consider, as well as what is included when you purchase a wire mesh façade.
What Is a Wire Mesh Façade?
A wire mesh façade is a series of rolls of wire mesh that are unrolled, stretched, and tensioned between a top and bottom substructural support. In terms of structure, there are two variants you can choose from: a full-height panel or an infill panel.
Full-Height Panel
A full-height panel is tensioned to prevent any wind deflection that would cause the mesh to bend to a point where repetitive wire fatigue damages the integrity of the façade.
To do so, a tension strip is folded over the top of the mesh and a clevis assembly is used to attach the top of the mesh to the top substructural support. The bottom mounting has a similar tension strip system; however, a spring tension system is installed on the bottom substructure.
We will dive into why these springs are important shortly.
For larger projects, additional support, referred to as intermediate tubes, are installed at specific intervals to preserve the tension of the façade, preventing the mesh from moving and being damaged.
Infill Panel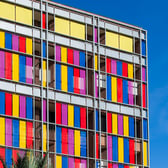 An infill panel consists of a series of individual, cut-to-size wire mesh panels that are typically used for railings. These panels are then fastened to a pre-fabricated frame before being mounted to the structure.
This method allows for a lot of customization options including pre-welded tabs on the mesh for easy installation as well as cut-out designs to add to the aesthetic of the mesh.
How Much Does a Wire Mesh Façade Cost?
Generally, when using full-height panels, the best value is achieved when you implement the maximum width of 10 feet. With that, the density of the material is another key factor that affects the cost of a full-height tension system.
Another aspect of pricing is the amount of customization needed. For example, if you wanted to mount the bottom of a 50-foot panel onto a base that is not level, the mesh can be cut to accommodate this. This level of detail will, of course, include additional fabrication costs.
A full-height tension system carries an average price range of $25 to $35 per square foot. On the other hand, the cut-to-size pieces of an infill panel system carries an average price range of $18 to $25 per square foot.
If your project calls for the façade to be painted, there is an additional cost of about $10 per square foot of painted mesh.
Now, these numbers aren't set in stone and the cost of your façade will ultimately be determined by the size of your project.
What Are the Benefits of a Wire Mesh Façade?
The size customization of a wire mesh façade allows it to be applicable to almost any architectural application.
When doing a full-height panel, the mesh panels are shipped in rolls that are as long as you need them to be and are easily unrolled on-site.
What's nice about this is that the wire mesh panels typically only need significant support at the top and bottom. If you choose to use a panel system that doesn't roll, there would need to be substructure frames for each panel and the overall price of the project would be substantially higher.
To put it simply, working with the longer panel parameters of wire mesh is far more cost-effective than using other solutions that have strict size constraints.
Another key benefit that wire mesh facades offer is its ability to adapt to harsh weather conditions. As the substructure of a wire mesh façade employs a spring system to allow movement, any ice or snow buildup is eliminated as the wind causes the mesh to flex.
This spring system also prevents the façade from being damaged when introduced to gale-force winds.
What Are the Drawbacks of a Wire Mesh Façade?
Generally, wire mesh facades consist of stainless steel wires that have been woven together to form panels that hold a specific pattern and feel. When compared to alternative solutions, such as aluminum or perforated plate panels, the quality of a wire mesh façade cannot be matched.
That being said, the material itself is one of the most expensive options on the market.
Now, it should be noted that the cheaper materials tend to rely on grid systems that carry larger substructural costs than wire mesh facades. At a certain point, these substructural costs allow wire mesh facades to stand out as the more affordable option.
In other words, the cost benefits that a wire mesh façade has the potential of offering will be non-existent if you are working on a small project that is less than 10,000 square feet.
What Does a Wire Mesh Façade System Include?
Typically, the installation of a wire mesh façade is done by a contractor of your choosing and not by the supplier. Knowing that, wire mesh facades are shipped in easy-to-install rolls and come with everything the contractor may need for a seamless installation. When purchasing a W.S. Tyler wire mesh façade you should expect:
On-site delivery
Mesh, mounting system, mounting hardware, intermediate tubes, etc.
Project-specific structural calculations
Shop drawings
Two redline revisions
Full engineering assistance
On-site installation assistance
One of the more noteworthy items on this list are the project-specific structural calculations.
This information will help identify how far the mesh between the intermediate tubes will get pushed back towards the structure. These findings are then used to determine the amount of tension needed in the substructural support springs to prevent the repetitive wire fatigue that was mentioned earlier.
Become an Architectural Mesh Expert With Us
A wire mesh façade is a series of mesh panels used to provide a structure with a unique aesthetic that will make it stand out. These panels can be tensioned at full-length or can be divided into cut-to-size segments that are mounted onto a framing system.
As most wire mesh facades are applied in full-length rolls, the installation process is much quicker than alternative solutions. The flexibility of the mesh also allows it to withstand harsh weather conditions.
Now, you should be aware that wire mesh facades are one of the most expensive solutions available. That said, if the project you are working on is large enough, the material cost of a wire mesh façade will become more cost-effective than a framed panel system.
If you feel a wire mesh façade is right for you, it should be noted that the installation is typically handled by a contractor of your choosing and not the supplier of the façade. However, a façade should include everything needed for a successful installation.
While this was a lot of information to process, you can rest assured knowing W.S. Tyler's team of architectural mesh experts are here to help you every step of the way.
For a more in-depth breakdown of wire mesh facades, take a moment and review our Architectural Wire Mesh product guide
About Ronnie Brown
Ronnie is the Content Writer for W.S. Tyler and has four years of experience as a professional writer. He strives to expand his knowledge on all things particle analysis and woven wire mesh to leverage his exceptional writing and graphic design skills, creating a one-of-a-kind experience for customers.