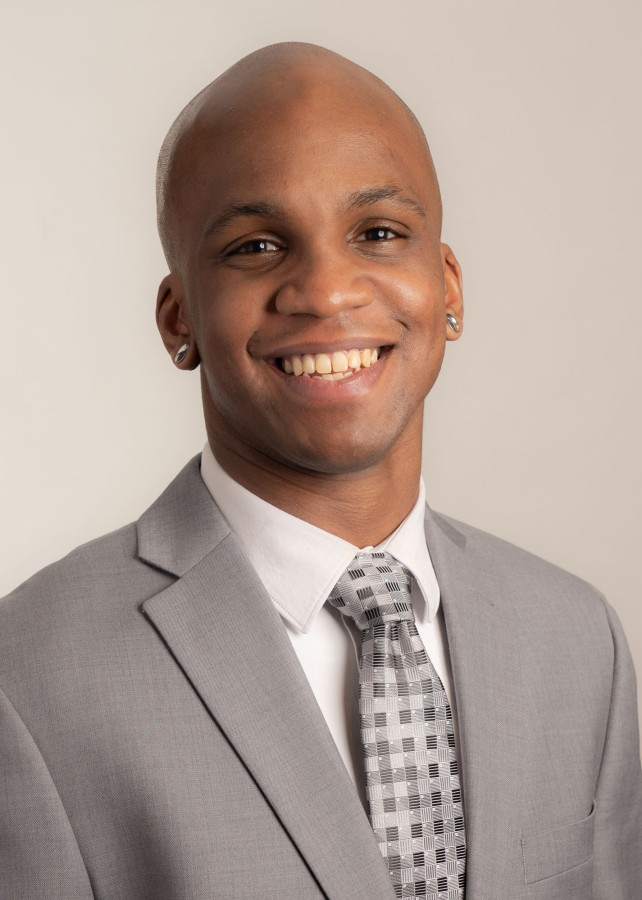 Understanding the Possibilities of Fabricated Parts and Filters
Woven wire mesh is a versatile material that has been used for decades to facilitate a wide range of tasks. Whether attempting to prevent sparks from exiting a piece of equipment or filter out harmful contaminants, woven wire mesh delivers the perfect balance of performance and cost-effectiveness.
That said, it's essential to know that woven wire mesh can be implemented beyond woven wire mesh sheets. The material's pliability allows it to be fabricated into various forms to fit virtually any screening or filtration operation.
As W.S. Tyler has been a prominent supplier of woven wire mesh goods for over 140 years, we have the know-how needed to guide you through the possibilities of fabricated wire mesh parts.
To that end, this article will cover:
What a fabricated wire mesh part is

What fabrication can be applied to woven wire mesh

How much a fabricated woven wire mesh part costs
What Is a Fabricated Wire Mesh Part?
Woven wire mesh is a series of metallic wires that undergo a weaving process to form rigid and precise openings. That said, the term fabricated wire mesh encompasses the process of applying value-added services to a sheet of mesh in order for the mesh to take on a desired shape, size, form, thickness, etc.
What Does a Fabricated Wire Mesh Part Look Like?
From simple spark aerators to complex multi-layer filters, fabricated wire mesh filters play an integral role in a wide range of industries and help facilitate everyday life. That said, while the limitations of fabricated woven wire mesh parts are virtually non-existent, fabricated wire mesh often comes in the form of:
Cut-to-size pieces

Deep drawn parts

Edged solutions

Pressed articles

Cylindrical filter cartridges
Cut-to-Size Pieces
Cut-to-size pieces are wire mesh parts that are cut to take on a specific shape to fit equipment, such as a filter system. To cut the mesh, various techniques, such as a blade system, splitting system, water-jet cutting, laser cutting, plasma cutting, and stamping process, can be used to create the exact size shape specified in your shop drawings.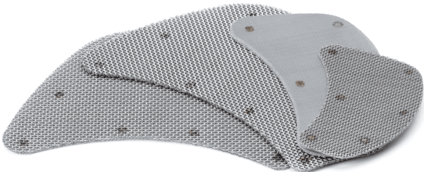 This style of fabrication is widely used in the plastic extrusion industry when designing and implementing woven wire screen packs.
Deep Drawn Parts
Deep drawn parts are wire mesh solutions that undergo a methodic drawing process to create a three-dimensional form. This helps to create a wire mesh piece that delivers an increased filtration surface area.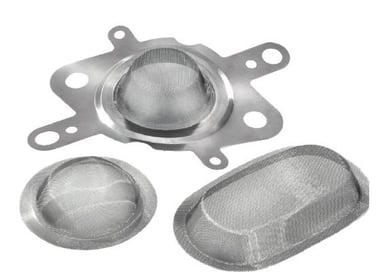 This style of fabrication is often used when creating wire mesh microphone screens, oil filters, and various protective parts. Additionally, deep-drawn wire mesh parts are used to facilitate low-pressure die casting.
Edged Solutions
Edged solutions are wire mesh parts that feature a rolled edge that creates a solid border. This helps to improve the part's ability to be separated from other mechanisms and prevent the wires from moving.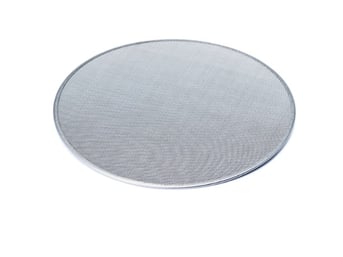 Edged solutions are widely used in medical equipment to filter out contaminants and help disperse medications.
Pressed Articles
Pressed articles are wire mesh pieces that have their edges compressed. This compression increases the sturdiness of the part and helps fix the wires in place.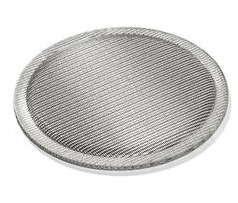 Pressed articles are generally used to enhance the safety of protective media in electrical cabinets and gas detection. That said, it also helps during the production of plastic fiber goods.
Cylindrical Filter Cartridges
Cylindrical wire mesh filters are wire mesh components rolled into a cylindrical form and welded to maintain their shape. Much like deep drawn parts, the elongated profile of cylindrical filters provides an increased filtration surface area, allowing users to achieve optimal performance.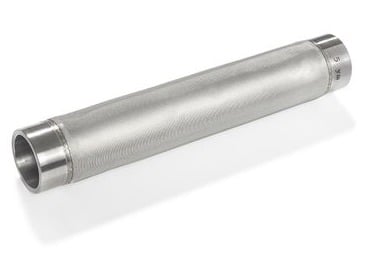 This form of mesh fabrication is often implemented when screening and filtering various substances, such as water or oil and gas.
How Much Does a Fabricated Wire Mesh Part Cost?
The cost in which you can expect to pay for a given fabricated wire mesh solution depends on the parameters of the part. This includes the layer configuration, mesh specifications, size, shape, and quantity.
To that end, the quantity of parts being ordered will significantly influence the cost of the part(s).
This is because the mesh supplier must set up the tooling used to fabricate the part. Depending on the part, this can be very labor-intensive and take several hours.
This is why the price of a fabricated part decreases as the quantity of parts increases.
Heat Treat Your Wire Mesh for Optimal Results
Fabricated woven wire mesh parts prove to be a practical addition to virtually any screening or filtration process. The pliability and rigidness of the mesh allow engineers to form it into various shapes and sizes without impacting the integrity of the mesh specifications.
But to ensure your fabricated mesh holds its form over time, you must identify and apply a heat treatment option that is right for the applications. This is because heat treating woven wire mesh can improve its pliability, strengthen the properties of the mesh, and even create a more permanent bond at each wire intersection.
W.S.Tyler has proudly supplied its customers with high-quality woven wire mesh solutions for over 140 years and is here to ensure your mesh parts meet and exceed your expectations.
To learn more about the heat treatment techniques that are typically applied to woven wire mesh products, review the following article:
About Ronnie Brown
Ronnie is the Content Writer for W.S. Tyler and has four years of experience as a professional writer. He strives to expand his knowledge on all things particle analysis and woven wire mesh to leverage his exceptional writing and graphic design skills, creating a one-of-a-kind experience for customers.