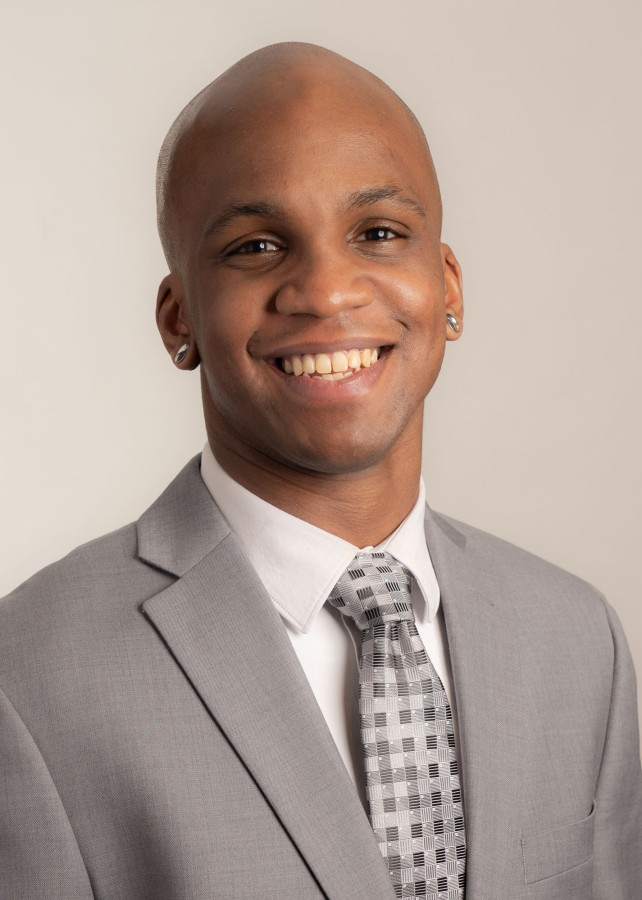 Epoxy vs. Solder: Which Is Best for Your Test Sieves?
No matter what your particle analysis process consists of, gathering accurate results is key. Obtaining accurate results is heavily dependent on the test sieves in which you use.
From the diameter of the sieve frame to the mesh count of the screen, every specification of your sieves can make or break the accuracy of your process. That being said, the bonding agent used to affix the mesh to the frame, whether it's epoxy or solder, is an element often overlooked.
When it comes to both bonding methods, there are a lot of questions that can be asked. Which one is right for me? Does one cost more than the other? Which one works best?
With over 140 years of test sieve experience, W.S. Tyler's team of experts is here to point you in the right direction.
This article will break down what epoxy and solder are, how they fit into the construction of a test sieve, when you should use one over the other, and the costs associated with both bonding agents.
What Is Epoxy?
Epoxy is a glue-like adhesive used to fill the voids where the mesh and frame meet. This prevents material from getting stuck in the gaps between the frame and mesh, which would skew your results.
As it is the standard bonding agent used by W.S. Tyler, we keep an inventory of various epoxied sieves on our shelves. This allows us to have them shipped to your facility promptly.
What Does the Epoxying Process Look Like?
The application of epoxy is one of the final steps when constructing a test sieve. During this process, epoxy is applied to the area where the mesh and skirt of the test sieve meet.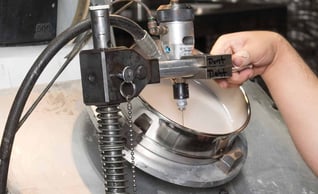 The sieve is then placed into an oven for approximately 30 minutes, allowing the epoxy to cure.
Once out of the oven and cooled, you are left with a complete bond.
What Applications Are Best Suited for Epoxy?
As stated above, epoxy is W.S. Tyler's standard bonding agent when attaching woven wire mesh screens to test sieves.
Epoxy bonded sieves are an ideal solution for a wide range of applications, from aggregate analysis to the food industry. As they prevent small particles from slipping into the crevices where the frame and mesh meet, epoxy bonded sieves also provide the accuracy needed to work with fertilizers, powders, and pigments.
It should also be noted that the epoxy can withstand temperatures ranging from -85 to 320°F (-65 to 160°C), so the applications in which it can be applied are not limited to those listed above.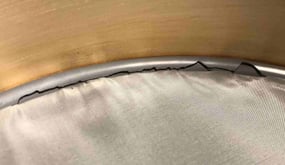 That being said, epoxy is fairly resilient and can facilitate the particle analysis process of most operations. From what we've seen, instances of the epoxy cracking or deteriorating tend to be the result of improper handling, whether it's being too rough when cleaning or dropping the sieve entirely.
What Is Soldering?
Soldering is the bonding process in which a low-melting alloy is used to affix woven wire mesh to the skirt frame of the test sieve.
There are currently two soldering options available: a blend that is completely tin and a blend that is half tin half lead. The 50/50 blend is typically only used to bond mesh to combination and brass sieves, as it is the only way to affix mesh to these particular frame compositions.
What Does the Soldering Process Look Like?
When soldering mesh to a test sieve, the mesh is first folded over the skirt to create the tension needed to produce accurate results.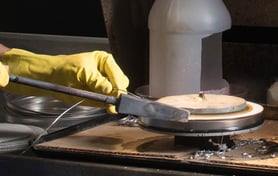 Flux is then applied around the edge of the area where the skirt and mesh meet, serving as a primer of sorts. The solder is then applied using a solder gun, creating a robust bond.
This process is universal and remains the same regardless of the soldering blend you choose.
What Applications Are Best Suited for Solder?
While many believe a solder bond is more durable than an epoxy bond, this is typically only true when a test sieve is mishandled.
The solder bond can sometimes become soft over time, especially if your process includes placing the sieve in an autoclave that exceeds 400°F (204°C). This can result in a loss of tension in the woven wire, which will cause skewed test results.
In other words, there are very few tasks that a solder bond will outperform an epoxy bond.
Are There Any Health Hazards Affiliated With Epoxy/Solder Bonding?
For the most part, there are no direct health hazards connected to either bonding methods.
Implementing a sieve that uses the 50/50 solder blend can be worrisome, as there are many health concerns associated with the use of lead. Fortunately, the amount of lead used in this blend is no more than what's seen in the appliances, electronics, and equipment that you use on a daily basis.
It should be noted that neither the epoxy or solder used by W.S. Tyler is FDA approved. This means any material that is run through our test sieves should be discarded and not reintroduced with the final product.
How Do Epoxy/Solder Affect Sieve Price?
The price of both bonding agents is the same and is included in the overall price of the test sieve.
Now, having said that, there is a longer lead time associated with test sieves that have solder bonded mesh. This can delay your process, which, in turn, can have a negative impact on your sales and revenue.


Become a Test Sieve Expert
Using the correct test sieve specifications is a fundamental element needed for any particle analysis process to yield accurate results.
This is why you must keep the bonding agent that is applied to your sieves in mind. With over 140 years of test sieve expertise, W.S. Tyler has the know-how needed to help you pick the best possible bonding agent.
Epoxy bonding is an ideal solution for most situations and can withstand any material, whether its coarse aggregates or fine pigments.
To learn more about the test sieve specifications that will work best for you, refer to our article Guide to Woven Wire Mesh (Cost, Weave Types & Vocabulary).
Want all the latest industry trends and innovations sent directly to your inbox? Subscribe to our monthly newsletters today.
Here Are Some Articles You May Find Useful:
About Ronnie Brown
Ronnie is the Content Writer for W.S. Tyler and has four years of experience as a professional writer. He strives to expand his knowledge on all things particle analysis and woven wire mesh to leverage his exceptional writing and graphic design skills, creating a one-of-a-kind experience for customers.