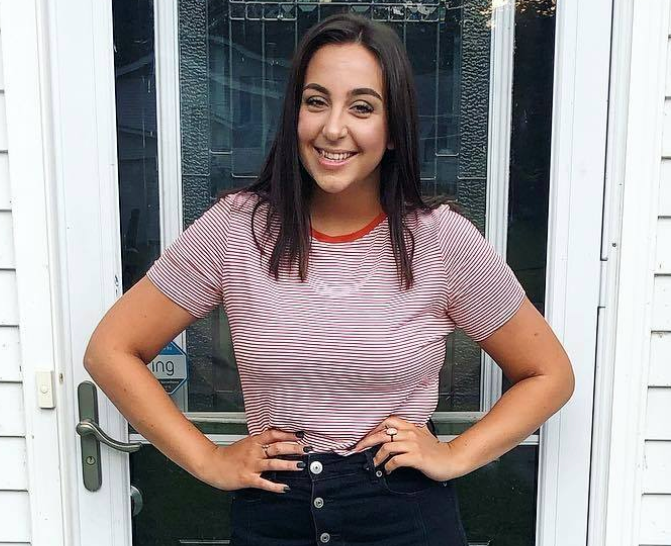 How Much Does A RO-TAP® Sieve Shaker Cost? (Pricing, Factors, & Models)
We get lots of calls from people just like you, asking us how much a sieve shaker costs. We know that cost is important when making any big purchase.
We also know that it can be tedious to call multiple companies for quotes or prices, so we have written this article to help you get a better idea of what purchasing a sieve shaker is going to cost.
When it comes to sieve shakers, there are a few options you can choose from depending on your needs. Some of those factors include cost, type of material being sieved, pan size, and noise.
We added a short description for each machine, but if you need more info on what each one does or which one might be right for you, you can check out our product pages on our website.
Types of Sieve Shakers
There are two different kinds of sieve shakers: mechanical and electromagnetic. This article is separated into two sections based on the two types of sieve shakers we sell.
It is important to understand each of these two types of units so you can choose the right type of machine for your needs.
Mechanical Sieve Shakers
These units operate with a tapping motion during oscillation. A hammer sits on top of the unit and taps steadily on top of the stack of sieves to help particles seek openings in the mesh.
These machines make noise while they are running and are a bit heavier than electromagnetic units. These units cost anywhere from $1,730 to $5,500.
These units also have available accessories and add ons, which we will get into later.
For a more in-depth analysis on mechanical sieve shakers, refer to our article: Everything You Need to Know About The RO-TAP® Sieve Shaker.
Electromagnetic Sieve Shakers
These units operate with 3D motion instead of a tapping motion and have a sleeker design. These units are much quieter than the mechanical units and are considered "low maintenance."
These units cost anywhere from $5,000 to $7,600.
To learn more about electromagnetic sieve shakers, take a moment and review our article: Everything You Need to Know About Electromagnetic Sieve Shakers.
Mechanical RO-TAP Sieve Shakers
RX-29 and RX-30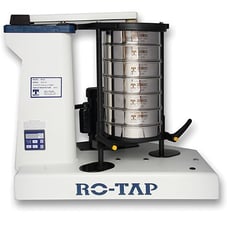 These are the two most commonly used sieve shakers. Each of these models are essentially the same, but the RX-29 is designed for use with 8-inch test sieves and the RX-30 is for 12-inch test sieves.
You can also purchase a conversion kit for this model. This kit allows you to use 3-inch or 6-inch diameter test sieves instead of 8 inch sieves
RX-29: $3,299.03
RX-30: $3,774.27
International Customers: your electrical requirements may vary, call for pricing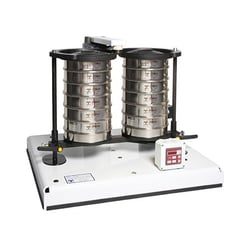 RX-94 Duo
This model follows the same basic design as the RX-29 and RX-30 but has room for two 8-inch sieve stacks instead of one. This means you can run two tests at one time. This model can be used to sieve from 2-inch through 635 mesh.
Cost: $5,462.73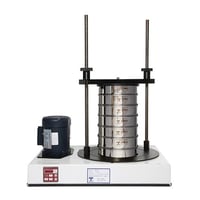 RX-812 Coarse Sieve Shaker
This model is designed to sieve only coarse particles (80 mesh and coarser) such as aggregate including gravel. Both 8 inch and 12-inch sieves work with this machine using an adapter. Only agitation occurs by oscillating of the stack.
Cost: $1,731.99
Maintenance Kits for Mechanical Sieve Shakers
We don't predict you will need to change out any of the parts on your sieve shaker during the first year or so. But after a lot of use, as any machine would, some of the parts will become worn and may need to be replaced.
We have three different maintenance kits available. Each one offers the parts that need replaced most commonly.
These maintenance kits allow you to quickly replace your parts and get your machine back up and running.
Minor Maintenance Kit: $103.25
This kit includes the top six most needed replacement parts for all mechanical sieve shakers.
- 2 Eccentric Discs
- 1 Flange Bushing
- 1 Bearing
- 1 Cork
- 2 Flange Bearings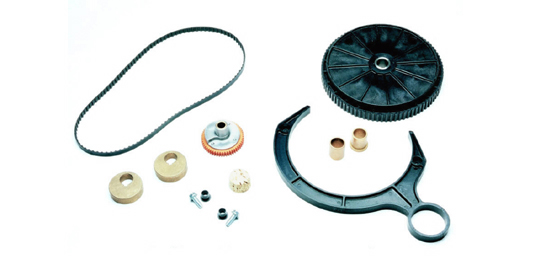 Major Maintenance Kit: $480.55
This kit is for the RX-29 and RX-30 and includes the seven parts from the minor maintenance kit above plus:
- 1 Timing Belt
- 1 Upper Carrying Plate
- 1 Cam Gear
- 1 Timing Belt Pulley
RX-94 Maintenance Kit: $396.30
This maintenance kit is specifically for the RO-TAP RX-94 and includes the same parts as the major maintenance kit except the upper carrying plate.
Sound Enclosure Cabinet and Test Stand:
The Test Stand can be bought with or without the sound enclosure cabinet. You can use just the stand to bolt your machine to.
The sound enclosure cabinet is designed to soften some of the noise of the machine with soundproof insulation.
Test Stand: $382.40
Sound Enclosure Cabinet: $668.75
If you decide to purchase the sound enclosure cabinet and test stand when you purchase your RO-TAP, you will get a 10% discount. This discount only applies if all three items are purchased at the same time.
When purchased together: $3,407.80
Breakdown of bundle costs:
RX-29 $2356.65
Sound enclosure $668.75
Test stand $382.40
Total: $3407.80
Discount amount: -340.78
Electromagnetic RO-TAP Sieve Shakers
RO-TAP E Pure
This model is designed for simple and quick use. It has only two amplitudes for either coarse or fine material. This model is used for dry sieving only and is recommended for standard sieve analysis.
This unit uses 8 and 12-inch test sieves.
8" - $5,774.41
12" - $6,574.60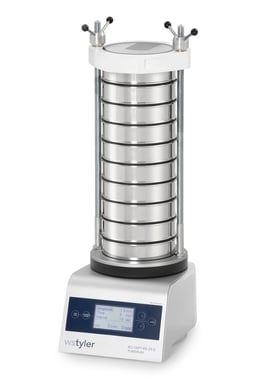 RO-TAP Premium
This model has all the features the Pure offers plus a control panel which allows for the user to set their own amplitude and interval of sieving motion. This model is also for dry sieving. This unit uses unit uses 8 and12-inch test sieves.
8" - $6,806.34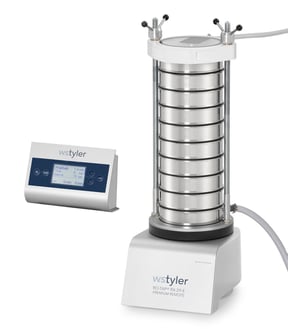 RO-TAP Premium Remote
This model was designed specifically for wet test sieving. It includes two hoses, one for the water line and the other for draining. The control panel has been separated from the model to protect from water damage.
8" $7,624.07
Become an Expert With Us
We hope this helps give you a better idea of what you will be spending if you decide to purchase a RO-TAP or accessories. To learn more about the differences between mechanical and electromagnetic sieve shakers, refer to our article: Electromagnetic VS Mechanical Sieve Shakers.
Want all the latest industry trends and innovations sent directly to your inbox? Subscribe to our monthly newsletters today!