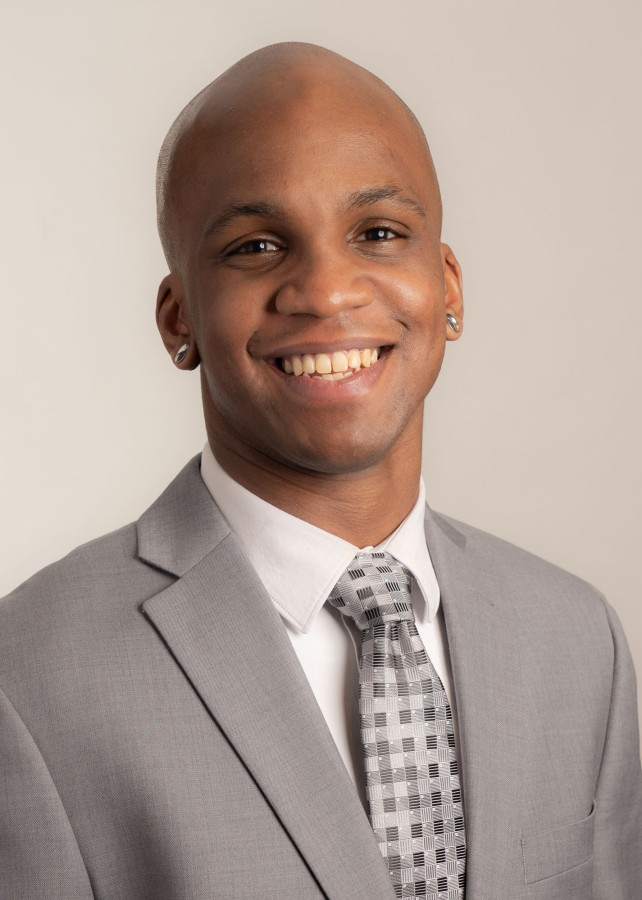 How Much Does A Wire Cloth Vibrating Screen Section Cost?
Fine particles plays an integral role in our everyday lives, whether its the sidewalks and streets that facilitate our daily commutes or the apartments and houses that we live in. In order to ensure high-quality fine particles is produced, manufacturers must integrate premium screen section into their vibrating screening machines.
Knowing that, how much does a screen section cost?
W.S. Tyler has pioneered woven wire mesh products for over 140 years and offers wire cloth screen sections from 4 mesh down to 325 mesh for all types/manufacturers of vibrating screens.
That said, this article will cover the selection process, how much a screen section cost, what warranty options are available to you, and the ordering process.
What Is a Wire Cloth Screen Section
Wire cloth screen sections, also known as aggregate screen cloth, are best defined as a filtration media that are placed in vibrating screen machines and used to separate particles anywhere from 4 mesh down to 325 mesh. Typically, Sections consist of 1 or 2 layers of woven wire cloth and a clamping hook.
Now, vibrating aggregate screening machines employ one or multiple decks to allow for optimal particle separation. Depending on the dimension of your machine, each deck can hold multiple screen sections.
Selecting the right screen section specifications
Generally, aggregate screen cloth specifications are known within your operation. If this is not the case and you are starting from scratch, the supplier can spec out your screens.
This consists of determining the exact mesh opening, layer configuration, and weave type you need. We will dive into weave types shortly.
Something else that the supplier will spec out is the size of the screen section. This involves the measurement of the screen plus the hooks used to attach the screen to the machine.
It is important to know that these measurements can reflect either the length from inside the clamps or outside the hooks. This measurement is particularly critical as the screens must be drum-tight to produce optimal results.
How Much Does A Screen Section Cost?
The price range of aggregate screen cloth is anywhere from $100 to $400. This price depends on the dimension, hook type, and weave type.
Dimension
Having too wide of a screen will result in slack. Not only will this result in inaccurate results, but the mesh will also wear quicker.
A typical sized screen is 48.5" inside/outside hook x 5'. Usually, screens are provided in 5-foot increments.
Having said that, screen sections can be customized to exceed these dimensions. If your operation requires a larger screen, there will be a larger amount of material needed to assemble the screen.
Naturally, this will increase the price.
Hook Type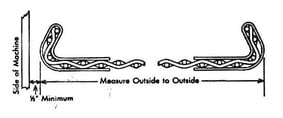 As stated above the hooks of the screen section are used to hold the mesh in place while keeping it drum-tight. These are, for the most part, constructed out of galvanized steel.
That said, they can also be constructed out of stainless steel, though this is considered a specialized order. Requesting stainless steel clamps will not only increase the price, but it may extend lead times as well.
Weave Type
In terms of weave type there are three to choose from: square mesh, TON-CAP, and Ty-Rod. We will now describe all three.
Square Mesh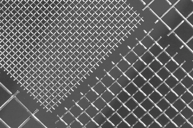 Square mesh is a standard woven mesh profile. This over-under weave style allows for the precise mesh openings needed to accurately sift material.
That said there are several different ways square mesh can be configured.
For example, you can have two wires over in the warp direction and one wire under shute direction. You can also have a mesh opening that accommodates the size of aggregate you wish to separate.
For more information about square mesh specifications, refer to our article: Your Guide To Woven Wire Mesh.
TON-CAP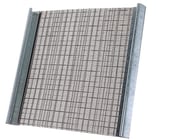 TON-CAP stands for tonnage capacity and is a slotted mesh weave. The concept behind TON-CAP is that you can maintain a square mesh opening while using thicker wire.
To achieve this characteristic, every other wire in the shute direction gets removed. As there are thicker wires, you can increase the throughput of your vibrating machine.
The thicker wires are also what make TON-CAP mesh ideal for applications that call for a durable screening media.
Ty-Rod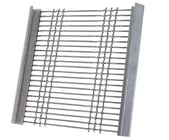 Ty-Rod screen is a specialty non-blinding screen designed with slots larger than TON-CAP screens. In fact, the slot on Ty-Rod Mesh can reach up to two inches long.
These extended slot openings work to prevent particles from becoming lodged in the mesh openings. They also allow for slightly better throughput than TON-CAP mesh.
If you work with finer aggregate and often encounter screen blinding, Ty-Rod mesh can potentially decrease the amount of time spent clearing the lodged particles and increase production time.
With that, the price for typical mesh is low. This is where you will see the low-end price tag of $100 to $175.
On the other hand, TON-CAP and Ty-Rod are considered a specialty weave profile. These weave types drive the price of the screen and where you will see the $300-$400 price tag.
What Warranty Options are Available?
We offer a standard warranty that follows the rule of form fit or function. If the screen is assembled incorrectly, we will stand behind it.
This can include things such as the screen doesn't fit correctly or the mesh openings aren't to spec.
If you notice premature wear on the screen, in particular, you will want to first make sure the vibrating machine itself is operating as it should.
One common error that causes issues with the machinery is failure to properly install the screens into the machine. The clamp strips have holes punched out to house bolts that secure the screen section hooks to the side of the vibrating screen machine.
That said, you can't just tighten the bolts any way. You must use a star pattern, similar to tightening a car tire, in order to create an even amount of tension.
How Do I Order Screen Sections?
If you feel W.S. Tyler's premium screen sections are right for your and wish to order, you can contact W.S. Tyler by:
Emailing us at info@wstyler.com
Filling out the form on the

Contact Us

page
Using the live chat feature in the lower right-hand corner of your screen
No matter which method you use to contact our team, we will do our best to reach out right away. You should have the following information ready:
Mesh opening
Weave type
Wire diameter
Alloy
The direction of slot openings (for TON-CAP and Ty-Rod)
Size and model of the vibrating screen machine
Width and length of the section
Enhance Your Operation With Premium

Aggregate Screen Cloth
When selecting a configuration that will work best, we will help you spec out the right solution. This includes determining mesh opening, layer configuration, and weave type you need.
On average, screen sections for vibrating screening machines carry a price range of $100-400.
Regardless, the price of your aggregate screen cloth depends on several factors including the screen dimension, the material used to construct the hooks, and the weave type of the mesh.
Knowing the importance of accurate mesh opening and dimension, we follow a rule form fit or function. We will address and replace any screen that is not within spec upon arrival.
Having worked in the world of woven wire mesh for over 140 years, W.S. Tyler is here to ensure you have the solutions needed to take your screening operation to greater heights.
If you have any further or wish to invest in premium screen sections, feel free to reach out to our team of experts.
About Ronnie Brown
Ronnie is the Content Writer for W.S. Tyler and has four years of experience as a professional writer. He strives to expand his knowledge on all things particle analysis and woven wire mesh to leverage his exceptional writing and graphic design skills, creating a one-of-a-kind experience for customers.