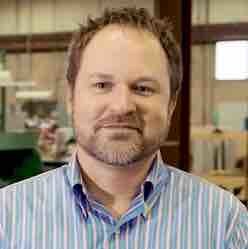 What Value Added Processes Are Available for Woven Wire Mesh?
When we say we are in the business of woven wire mesh, sometimes people have no idea what that means. That's because that sentence could be referring to hundreds of industries and hundreds of different products or applications.
One of the best things about woven wire mesh is that it can be used in many different applications.
We have helped customers integrate woven wire into the battery industry, medical devices, automotive transmission systems, water systems, and even for the NASA space missions.
We like to say it has "endless possibilities" and that isn't just a catchy slogan we use on our website. Our customers are constantly helping us discover new ways that woven wire can be used.
In this article, we are going to dive into some of the things that you can do with woven wire mesh. At W.S. Tyler, we like to call these "added value services."
We are going to talk about forming, sintering, Welding, Pleating, Ultrasonic Cleaning and injection moulding.
What is Woven Wire Mesh?
Woven wire mesh is exactly what it sounds like, individual wires that are woven into a specific pattern and opening size.
Woven wire can have all kinds of uses. It can be used for filtration purposes where fluid is involved. It can be used as a decorative element on buildings or other structures. It is also used inside test sieve and scientific instruments to help separate and analyze particle sizes.
The thing about woven wire is that by itself it can seem like a very basic thing. Even though the material is actually extensive and costly, it is something that is purchased to be made into or formed with something else.
It takes some imagination and know-how to put basic materials to work and turn them into something that is anything but basic.
If the woven wire is used on the side of a building, it has to be cut and added to a mounting system. If it is used in a filter, it may need to be formed into a certain shape or plastic injection molded first.
We have written an entire article on the ins and outs of woven wire mesh: Guide to Woven Wire Mesh. It covers all of the vocabulary that surrounds woven wire, the technical information and what kind of weave types are available.
The things we are going to talk about in this article are all added value services that can be done to any piece of woven wire mesh. There is a lot of technical info and planning that goes into these processes from our engineering team, but they can be customized and done in most cases.
Each type of process serves a different purpose and adds a different type of value to the part of piece it is being done on.
Forming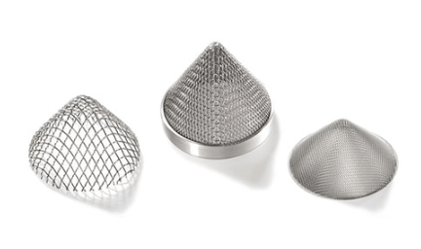 On its own, woven wire mesh is simply a sheet or roll of material and needs to be turned into something in order to be more useful in an application. Since it's metallic, basic metal fabrication techniques are used to take it to the next level.
Wire mesh can be cut & formed into cylinders, irregular shapes, and deep-drawn items through typical fabrication or metal stamping methods.
Most of the time Woven wire mesh needs to go through an annealing process prior to stamping so that the parts will hold their shape through the process. This process makes the wires more malleable so they do not spring back to their original, straight form.
Forming or rolling of basic cylinders typically does not require annealed material since they are held together by various types of welding.
Welding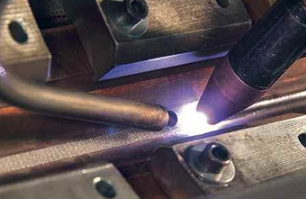 When forming woven wire mesh into a cylinder or combining multiple pieces together, there has to be a step in the process that will make the layers stay together under pressure and movement. Normally some type of welding will be used for this.
For simple cylinders or fabrications made out of a single layer of material, spot welding - otherwise known as resistance welding - will be used.
Multi-layer extruder screens usually employ spot welding to hold those layers together.
If the fabrication is more complicated, or requires a leak-free weld between materials, more-intensive welding methods such as TIG or Plasma will be used. This is especially effective when welding seams of multi-layer sinter-bonded Porostar, or when welding a machined component onto Porostar.
Sintering/Annealing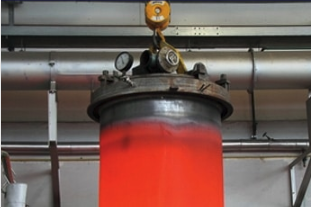 Sintering is a heat treatment process that bonds the individual wires in the woven wire mesh structure together. This makes the material more stable by not allowing the wires to move within the weave while also helping to maintain the pore size.
This process helps reduce the chance of wires being lost on the edges. Sintering is also the process that bonds multiple layers together for our Porostar product or if perforated plate is to be combined with one or more layers of woven wire mesh.
Pleating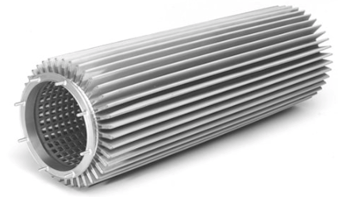 Sometimes the available space is inadequate to fit a filter that would provide sufficient filtration.
Pleating the filtration media can create a greater surface area without making the filter itself any larger in size. Since woven wire mesh can be formed and remain durable, pleating is an excellent option when space is a concern or when an increase of filtration performance is desired.
Ultrasonic Cleaning
The point of filtration is to clean either a substance or application. Because of that, it only makes sense to start with a filter-free of dirt, debris, and oil.
Ultrasonic cleaning can be performed after a filter is fabricated to ensure that the customer receives a product that is free of contaminants and is ready for use.
This process uses a very high frequency to agitate a fluid, which can be water or some sort of solvent. This agitation dislodges dirt and debris from the item being cleaned. If a solvent is being used, grease and oil are also removed from the item as well. The result is a perfectly clean filter that has not been subjected to typical abrasive or damaging cleansing techniques and is ready to be used in your application.
Injection Molding

When it comes to woven wire filters, ease of installation, encapsulation of edges, and added rigidity are important features that are often requirements for customers.
Combining woven wire mesh with plastic injection molding can be the solution to these issues while still maintaining the durability and functionality of the original woven wire mesh.
Plastic injection molding is offered in-house to ensure quality through the entire path of the manufacturing process and helps to eliminate problems often encountered with multiple suppliers. This helps streamline the buying process for the customer while ensuring a superior product.
Calendaring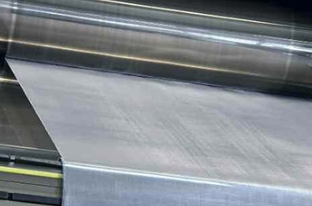 Calendering is another of the many types of customizations or value-added operations that can be performed to Woven Wire Mesh. This process is essentially the flattening of the material in order to reduce the "knuckles" or high points of the weave. This produces a flatter & smoother surface, locks the wires together to provide more stability in the weave structure, and reduces the overall thickness of the material. The flatter & smoother surface has more surface area which allows for more effective bonding when used in our laminated Porostar material.
To Sum It All Up
We covered 7 different added value services we offer for woven wire mesh. There are more out there, just like there are more industries and applications where it can be used.
Woven wire is a precise, durable and customizable metallic filtration material.
When it comes to woven wire, we welcome a challenge. There is nothing more rewarding for us than someone bringing us their challenges so that our engineering team can find them a customized solution.
If you have any other questions about what woven wire can do for you or your business, send us a message and we'd be happy to discuss it with you.
Want all the latest industry trends and innovations sent directly to your inbox? Subscribe to our monthly newsletters today!