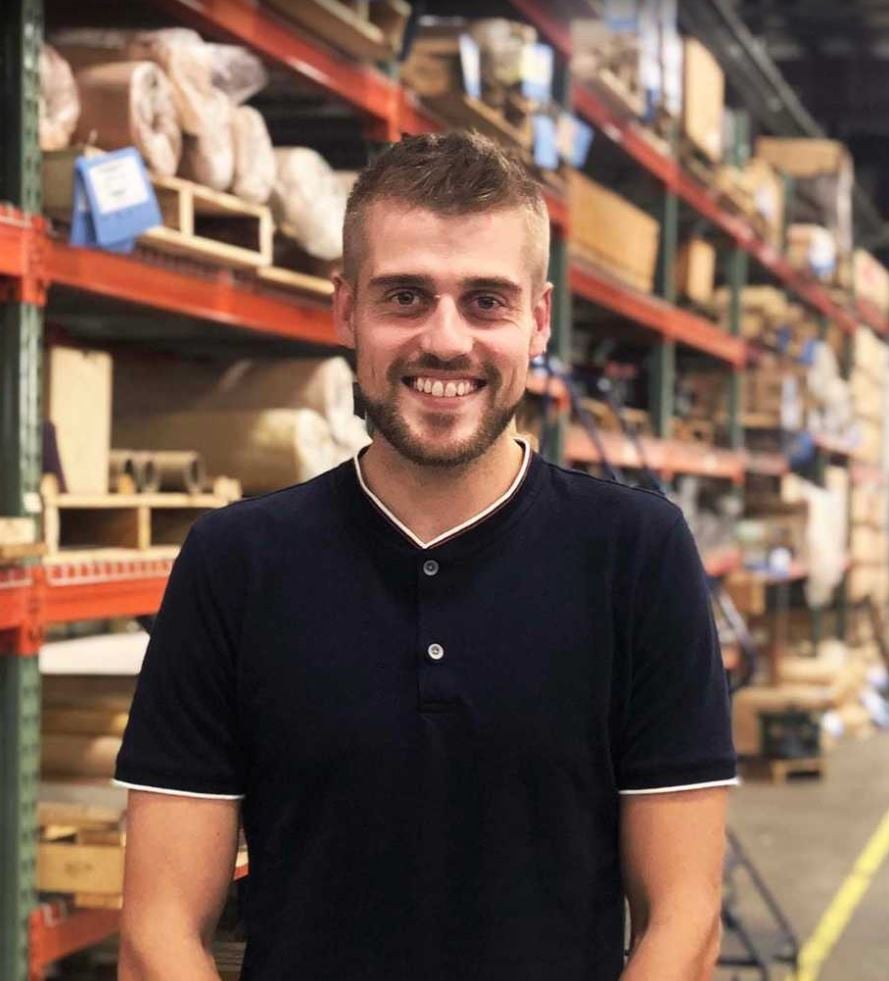 Test Sieve Calibration: Why Did My Test Sieves Fail Certification
Test sieves and test sieve analysis have granted particle analysis labs the means to gather accurate and repeatable results for decades, thus becoming the industry gold standard. But your test sieve analysis results are only as reliable as your test sieves.
Now, there are many factors that can lead to your sieves falling out of spec. This is why it's essential to have your sieves certified/recertified to ensure they are still meet industry standards.
Failure to do so can lead to misleading results and, more importantly, a reduction in quality throughout your production line.
But just because you send your sieves in to be certified doesn't mean you'll be able to continue using them. As the certification process is designed to identify any flaws in your sieves, the certification process can sometimes disqualify the sieve from being capable of producing accurate and repeatable results.
"If that's the case, why might my sieves fail certification inspection?"
W.S. Tyler has been at the forefront of the production of high-quality test sieves for over 140 years and strives to use this experience to help customers understand the certification process to see its true value.
To that end, to help you gain a better understanding of what can lead to faulty test sieves, the following article will cover:
What a test sieve certification is

Why a test sieve may fail certification

What test sieve certificate results indicate

What steps you should take if your sieve(s) fail inspection
What Is a Test Sieve Certification?
To put it simply, a test sieve certification is a manufactured test sieve that has been inspected and verified to perform at a certain level.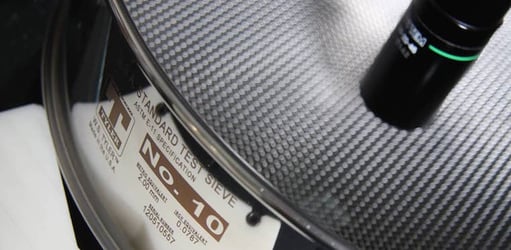 But what are the main reasons to get your test sieve certified? There are two:
Most companies with a quality control program will want to ensure that their end product is of the highest quality possible. The only way to confirm that your sieve is performing to its highest potential is to have it certified.
The second and most common reason to have your test sieve certified is so it can be NIST traceable.
You don't have traceability of a test sieve off the shelf, so the big thing to consider is, "Do I need it to be traceable?" The same is true for any measuring instrument. You have to verify that it reads a gauge. You have to be able to measure it consistently and in a repeatable manner.
A test sieve certification will allow you to verify the quality of your results, trace any problem material back to a specific sieve and give you peace of mind.
So, how do I know if I need my sieves to be traceable?
The first thing you would want to check is your standard. The most common industries that require certification are food and beverage, pharmaceutical, and mining, to name a few.
At W.S. Tyler, we would argue that If you have a quality control system, you need to get your sieves certified. It is the only way to verify the accuracy of this particular part of your production process.
Why Might My Test Sieve Fail During Certification?
You may have some questions about your process and how it could affect a failed certification.
There are plenty of questions that we get, but these are some of the most common:
Would you say that a failed test result from a clogged sieve is the most common cause of sieve failure?

Since we only analyze fine powders, do you think we could rule outstretching of the wire openings?

We analyze abrasive material; is this a cause for sieve failure?
Let's walk through the certification process and where some of these concerns come into play.
The first part of the certification process is the visual inspection. Visual failures could consist of cracked epoxy, wavy mesh, tears in the mesh, or the frame or skirt is cracked. This will cause the sieve to fail immediately.
Once the sieve looks good, it is then placed in the certification optical measuring device. This device takes the average opening size and the average wire diameter. If this average falls out of spec, it will fail.
Another reason a sieve could fail is from smaller particles getting clogged from residue build-up. For example, sugars and clays can very quickly build upon the wires and harden, which will shrink the opening sizes.
Abrasive materials do the opposite to the wire diameters. Materials such as diamond dust, metal powders, and sand have heavy wear and tear on the wire, and this will eventually cause the sieve to fail.
If you know you have these kinds of materials, it is very important to regularly check the opening size of your sieve to have the confidence that you are producing material within your industry standard.
Reviewing and Understanding My Certification Results
To get a better understanding of the test sieve certification results, let's walk through a real example of a 75 micron (or 200 mesh) test sieve:
In the image below, the top section is opening size, and the bottom section is the wire diameter. Both sections need to pass for the sieve to be awarded a certification.
For opening size, "Your actual X opening mean" needs to be between 70.95 µm and 76.85 µm. For opening size, "Your actual Y opening mean" needs to be between 70.16 µm and 75.86 µm. Again, this is for a 75 micron (or 200 mesh). The allowable average opening changes depending on the different test sieve mesh count.
For wire diameter, "Your actual X & Y wire diameter mean" needs to be between 0.043 mm and 0.058 mm.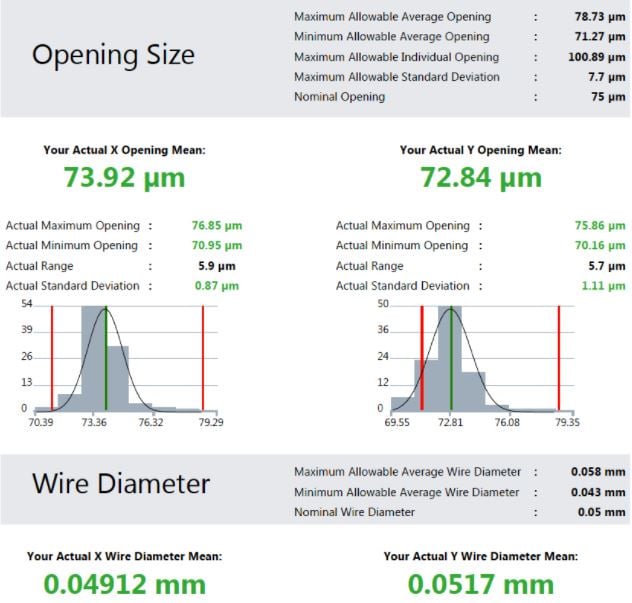 As you can see from above image, this test sieve has passed the certification process, as it falls between all the ranges. For a quick glance at the document, at W.S. Tyler, anything in green means a pass, and everything in red is a fail.
My Sieve Failed. What Should I Do Next?
If you have been notified that your sieve has failed the certification process, most companies will require a documentation process for their quality control programs. Usually, this is the same process to retire all tools from the company.
Once this is complete, you will most likely need another certified test sieve. At W.S. Tyler, if your sieve fails, we have the option to purchase a new sieve and have that certified for no additional cost (at the time of failure only). In other words, the cost of your failed cert covers the cost of the certification on the new sieve.
Know What To Expect When Implementing New Test Sieves
Test sieve certification is a process that is designed to test and ensure your test sieves meet and perform accordingly to industry standards. Now there are many reasons that may restrict your sieves from receiving a passing certificate, including cracked epoxy, wavy mesh, tears in the mesh, or a cracked frame or skirt.
As the only way to implement sieves that comply with industry standards after a failed certification inspection is to purchase new test sites. But to prevent any lapses in your particle analysis process, it is essential to know what variations you can expect from a new sieve in comparison to your older sieves.
W.S. Tyler understands that no matter what your test sieve analysis operation consists of, accuracy is key. This includes achieving accurate results after making changes to your process.
To help you understand the variations that may occur when integrating new sieves into your sieve stack, read the following article:
About Daniel Rosbottom
Daniel is W.S. Tyler's Marketing Manager and has been with the company for over seven years. To create the ultimate customer experience, he is responsible for leading the company's team of marketing specialists, maintaining the marketing budget, working with marketing contract workers, and incorporating the initiatives of the sales force into various marketing campaigns.