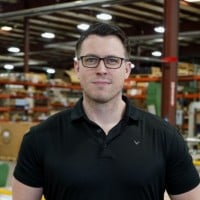 Fabricating Woven Wire Mesh: Laser Cutting
If there is something all woven wire mesh users can agree upon is that it is one of the most versatile screening/filtration media on the market. From its durability to its cost-effectiveness, it can be applied to an almost endless list of applications.
But of all the beneficial qualities that wire mesh brings to the table is the ability to be customized. Now, in order to ensure a wire mesh component fits your machinery's housing, you may need to have your mesh laser cut.
That said, what does laser cutting mean in the wire mesh industry?
W.S. Tyler has been a prominent wire mesh supplier for over 150 years and is here to help remove any concerns you may have when attempting to deliver a product that meets the expectations of your customers.
With that, the following article will break down everything you need to know about laser cutting wire mesh. You will learn:
How laser cutting is defined in the wire mesh industry

Why wire mesh is laser cut over stamped

What it looks like to laser cut wire mesh

The steps you need to take to have your wire mesh component laser cut
What Is Laser Cutting?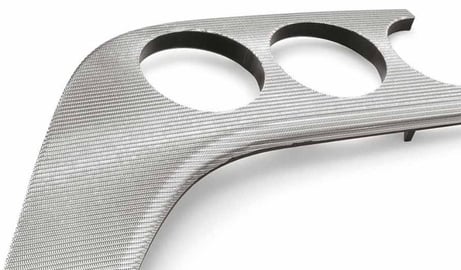 Laser cutting is a post-weaving process that involves cutting woven wire mesh by applying a focused laser. It is used to cut patterns out of sheets of wire mesh without damaging or altering the integrity of the mesh.
When Is Wire Mesh Typically Laser Cut and Not Stamped?
Much like laser cutting, stamping is a process of punching specific shapes out of sheets of mesh. The biggest difference is that stamping is more or less restricted to a standardized shape.
There are many applications for woven wire mesh that require a bespoke shape or a low volume of a non-standard size. These are typically situations where W.S. Tyler's engineering team would recommend laser cutting to form your mesh.
What Does the Laser Cutting Process Look Like?
When laser cutting, you must first send detailed drawings of the part. This should include all specifications of the parts, primarily the various dimensions.
The dimensions of the shape are then programmed into the laser cutting machine. The desired material (In this case, woven wire mesh) is then set up, the shape and quantity are designated, and the laser will cut the mesh into the desired shape.
What Steps Do I Need To Take To Have My Mesh Component Laser Cut?
There are many "standard" sizes that can be stamped as W.S. Tyler already has the capabilities and tools. When faced with a request for a shape that isn't in our library, it may be more practical to laser cut the mesh. There are several factors that go into determining what method to use, outside the previously stated:
What is the volume of parts needed?
Will there be a future need for this part?
If the need is low volume and the tooling is not standard, it could cost much more to acquire the tooling for a low volume of parts, thus being reflected heavily in the price. So, if the request is a one-off order that won't be needed again, it would make much more financial sense to form the piece with laser cutting.
There may be a need to have samples made for a project to determine if a product will work for you. Typically, when forming these samples, the first sample batch will be laser cut rather than stamped. If the results from the samples are favorable and the demand for the new product is established, then it would make more sense to acquire the tooling.
Make the Most Out of Your Wire Mesh Solution With Value-added Services
From samples to a full production run, the method of shaping the mesh may change as it could become more economical for the customer. As far as the quality of the requested piece is concerned, being cut by laser or a die, if it's a shape that can be stamped, the quality of the product will not be affected.
If the product is a bespoke shape, laser cutting would undoubtedly be the go-to method over stamping, regardless of volume.
But when designing the perfect wire mesh solution, it is essential to remember that laser cutting is just one of many ways you can customize your mesh. There is still a handful of other value-added services that you can apply to ensure your wire mesh holds up and performs over time.
With over 150 years of wire weaving experience, W.S. Tyler is here to help you remove the roadblocks that hinder your ability to feel confident in the wire mesh you use.
To learn more about the value-added services you can apply to your next wire mesh solutions, view the article linked below:
About Sam Badger
Sam has been a part of the W.S. Tyler family for three years and is currently a sales manager, overseeing our fabricated parts and customized filters. To help deliver best-in-class solutions, Sam works to bridge the gap between customers, both new and existing, and our engineering team. Additionally, Sam provides on-site servicing of the ALPINE Air Jet Sieve e200 LS, striving to learn your particle analysis operation to resolve any issues you encounter and ensure your equipment continues to produce accurate and repeatable results.