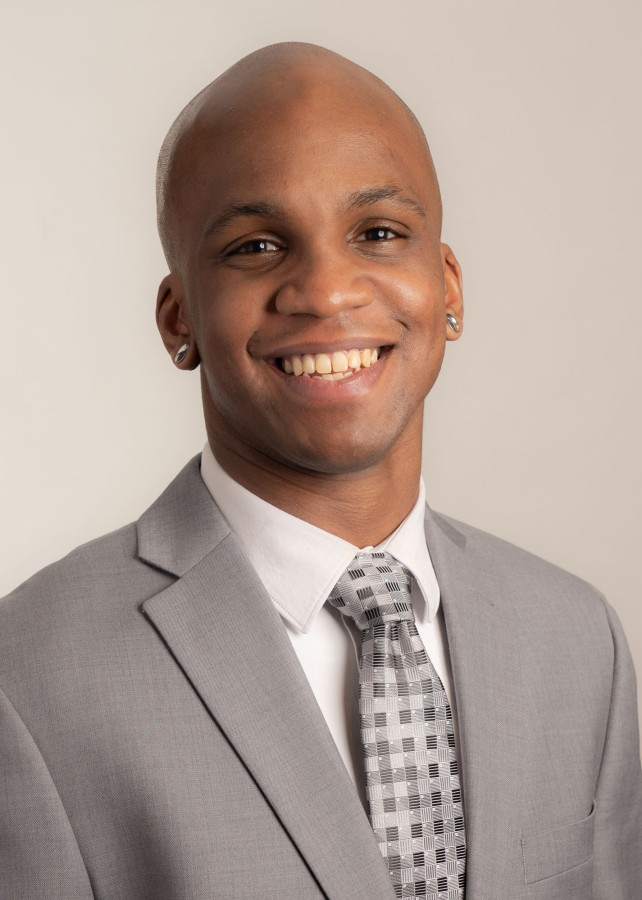 Maintaining Architectural Mesh: How to Clean
Architectural Mesh - Exterior | Architectural Mesh - Interior
Architectural wire mesh is an architectural design material often used for its unique appearance and wide range of beneficial qualities. With the ability to deliver an awe-inspiring atmosphere to both interior and exterior applications, it is one of the most versatile materials on the market.
But as with anything, architectural mesh will become dirty over time, hindering many aspects of the mesh. As it is a notable investment to implement, it's essential to keep your mesh clean.
So, what are the best practices for keeping your architectural mesh panels free of unwanted debris?
Here at W.S. Tyler, we understand the importance of protecting your investment. This is why we continuously implement educational strategies to help architects and contractors maintain and make the most of architectural wire mesh.
To project this initiative, we wrote the following article to provide everything you need to know about cleaning your architectural mesh panels. With that, we will be covering:
How architectural mesh becomes dirty

The importance of keeping your architectural mesh clean

How to clean architectural mesh used for exterior applications

How to clean architectural mesh used for interior applications
What Causes Architectural Mesh to Become Dirty?
To fully understand how architectural mesh becomes dirty, we must examine both exterior and interior applications. This is because both applications are subjected to different elements of unwanted debris.
Architectural mesh used for internal applications, such as wall and ceiling panels, most commonly becomes dirty from airborne dust. If the panels are in high traffic areas, fingerprints and food particles from patrons can also become troublesome over time.
When the architectural mesh is used for exterior applications, such as a parking structure facade, natural weathering like dust and airborne salt from waterfronts are the primary concern. Again, when the mesh is placed in high-traffic areas, debris from human contact/exposure can lead to blemishes on the mesh.
Why Is It Important to Clean Your Mesh?
As architects typically turn to architectural mesh lustrous shine, cleaning is done to maintain desirable aesthetics. To that end, the stainless steel wires use a thin layer of chromium oxide to preserve the corrosion-resistant qualities of the mesh.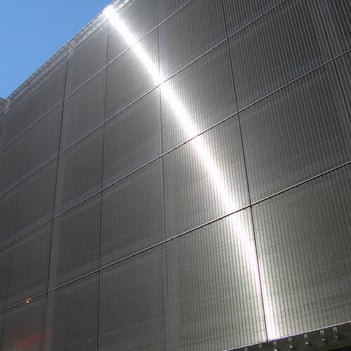 When architectural mesh is subjected to any form of unwanted surface debris, the chromium oxide layer begins to struggle to preserve the integrity of the mesh. As a result, corrosive agents are trapped, and the architectural mesh panels may lose their shine or begin to deteriorate.
Cleaning Exterior Architectural Mesh
The fortunate thing about having architectural mesh on a structure's exterior is that it is exposed to natural rainwater. In most scenarios, this is enough to keep the mesh's surface free of harmful contaminants.
But there are situations where the accumulations of soils prove to be too stubborn to be washed away with rainwater.
The first thing to do with heavy accumulations should be to apply a mixture of deionized water and a mild household cleaner to the mesh while agitating with a lint-free cloth. You may also choose to use a pressure washer for faster cleaning.
However, if these methods are not enough, you can then begin applying cleaners that are specially formulated to deep clean stainless steel safety.
NOTE: Not all cleaners are suitable to use on woven wire mesh. To prevent irreversible damage, you should contact the manufacturer of the cleaner for more information regarding its effects on stainless steel.
Regardless of how you clean your mesh, the fact that the manually cleaned areas will look vastly different from those that are not should be considered. This can significantly affect the visual aesthetics of larger projects over time.
Cleaning Interior Architectural Mesh
The dirt and debris interior architectural mesh is subjected to is, for the most part, not as stubborn as the dirt and debris exterior architectural mesh endures. For that reason, when cleaning interior mesh applications, most forms of unwanted soils can be removed using a household vacuum.
Another standard cleaning method is to wash away debris using deionized water, drying with a lint-free cloth. For more troublesome soils, you can use soapy water or a mild detergent in place of deionized water.
If you choose to use soapy water or a mild detergent, the mesh panels should be rinsed with plain deionized water and dried thoroughly. This is to avoid water stains and ensure optimal shine.
Extend Your Understanding of Architectural Mesh Through AIA Presentations
Archoterual wire mesh is known and used for its ability to provide a unique, lustrous shine. To ensure your panels continue to deliver mesmerizing dynamics, you must keep the surface of the wires free of unwanted and potentially damaging debris.
Now, cleaning your mesh is just one of many steps you must take to maintain the dynamic atmosphere architectural mesh panels deliver. To stay up-to-date on the latest best practices associated with architectural mesh, it's important to investigate AIA presentations that can help you better leverage the possibilities achievable with architectural mesh.
Having helped architects and contractors navigate the world of architectural wire mesh for over 20 years, W.S. Tyler is here to help you select, install, maintain, and admire the mesh panels that will make your next projects stand out.
Review the following article to learn more about the AIA presentations and how you can enroll:
About Ronnie Brown
Ronnie is the Content Writer for W.S. Tyler and has four years of experience as a professional writer. He strives to expand his knowledge on all things particle analysis and woven wire mesh to leverage his exceptional writing and graphic design skills, creating a one-of-a-kind experience for customers.