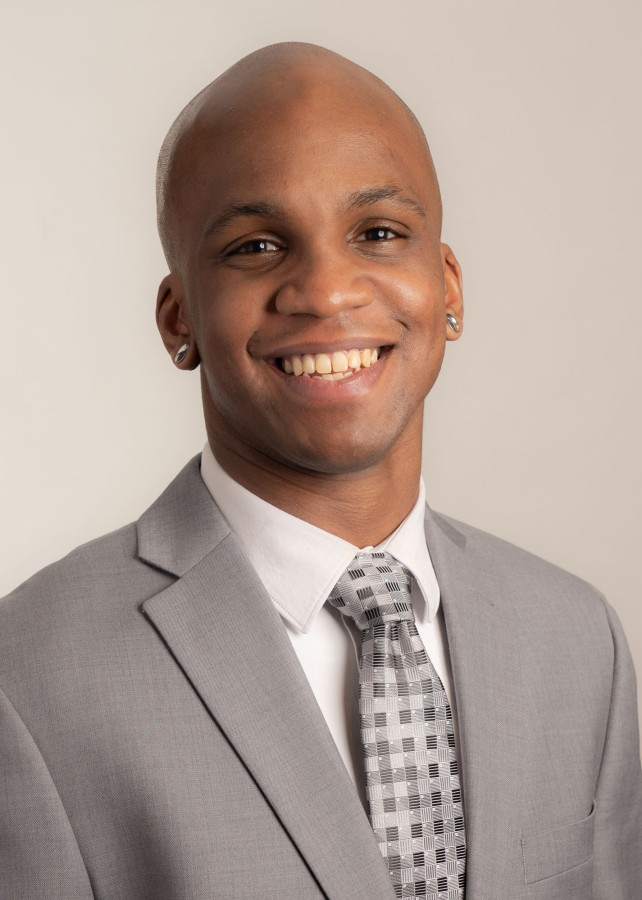 Understanding Wire Mesh Filters: Key Terms and Measurement Methods
Woven wire mesh filter cloth is a versatile filter media known for its durability, high-performing precision, and customization. From extracting a filter cake with a nutsche filter system to removing unwanted contaminants during plastic extrusion, when you identify and work with a wire mesh filter supplier that strives to become an extension of your team, the possibilities of woven wire mesh are endless.
But as woven wire mesh filters are much more than just metallic wires that are interlocked together, there are a lot of technical terms that will be thrown around when interacting with the mesh supplier. To ensure you implement a mesh filter solution you can rely on, it's critical that you understand what these terms mean and how they apply to you specifically.
There are a lot of pieces to puzzle when incorporating woven wire mesh filter cloth into your operation. Fortunately, W.S. Tyler strives to learn your process inside and out and help you make sense of all the pieces so you can develop a filtration process that performs efficiently.
To help you put all the pieces together, the following article will cover:
Critical filter mesh terms you should know

The testing methods used to determine how a mesh filter will perform
Woven Wire Mesh Filter Terms To Know
When designing a wire mesh filter component, there are many facets to how it will perform in your filter system that you should be aware of. This includes the mesh porosity, the geometric pore size of the mesh, the pore diameter of the mesh, the micron retention you can expect, and the pressure drop that can be expected.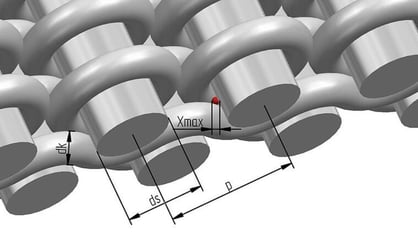 Porosity
Wire mesh porosity refers to the amount of empty, represented as a percentage, space that makes up the entire mesh component. To that end, a mesh's porosity is directly connected to the achievable flow rate.
Geometric Pore Size
The geometric pore size is the diameter of a spherical particle that just passes through the openings of the mesh. As the various mesh specifications, such as wire diameter and mesh count, can be used to calculate other mesh properties, the geometric pore size can typically be identified without the need for tedious methodology.
Pore Diameter
The pore diameter of wire mesh is the diameter that is used throughout the mesh's pore canal. This particular metric provides insight into how the mesh will perform when filtering/screening your materials, especially when the capillary pressure method is employed.
Micron Retention
Micron retention is the mesh's ability to screen and accumulate either unwanted contaminants or a filter cake. This is directly affected by the size and shape of the particles, flow rate, solids proportion when viscous, the properties of the mesh, and other elements of your operation.
To that end, micron retention goes hand in hand with the geometric pore size, as the amount of retention you can expect depends on the largest particle diameter that can pass through the mesh.
Pressure Drop
The pressure drop refers to the pressure variation within your filer system on the input and output ends of the filter mesh the is in use. Pressure drop is reflected as the filter's pressure loss coefficient and is used to assess the mesh's permeability.
Filter Integrity Test Methodology
Whenever you implement a new filter media, whether woven wire mesh or some other filter variation, it is critical that you are confident that it can withstand the workload your filer system throws at it without losing performance. This is why you should understand the many filter integrity testing methods typically applied when fabricating woven wire mesh filters.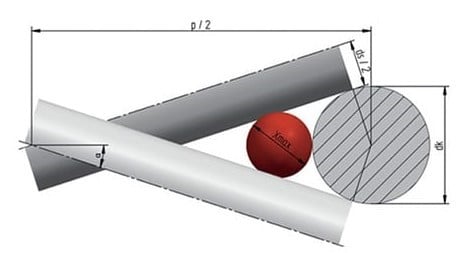 Bubble Point Test
The bubble point test is an integrity test that is widely used to identify the maximum pore diameter. A standard test requires a sample of mesh at a predefined tensioning being subjected to the wetting agent until the mesh openings are filled.
Pressure is then applied to the dry side of the mesh until air bubbles begin making their way through the mesh. This bubble point reflects the maximum capillary pressure and can be used to determine the mesh pore diameter.
Glass Bead Test
The glass bead test is an integrity testing method in which glass beads, that feature asphericity of 1 (approximately), are screened through a mesh sample. The number of particles that pass through the mesh is cross-referenced to the largest particle diameter.
Flow Measurement Test
The flow measurement test is best defined as a test that can be employed to calculate the exact flow parameters of a filter. When working with woven ire mesh filters, in particular, automatic pressure drop equipment is used to gauge pressure drop of the mesh when subjected to laminar sir throughput.
As the results you yield rely on the mesh's permeability, metrics will vary. That said, these metrics can then be used to identify other performance calculations.
Flowrate Porometry
When working to test the integrity of woven wire mesh filters, flowrate porometry goes hand in hand with capillary pressure methodology. It involves taking sample mesh, filling it with a test substance, and subjecting it to an increased volume of airflow.
This is done until all pores exceed the bubble point and allow flow. A state-of-the-art, ultra-fine resolution sensor to determine the air pressure and throughput.
Residual Contamination Analysis
The residual contamination analysis tests how materials accumulate on the surface of the mesh over time. It involves cleansing the surface of the mesh using a specialized solution and subjecting it to test fluid to be filtered.
Using a microscope, the retained particles are counted and categorized by size. The particles are also organized by whether they're metallic, non-metallic, or fibrous using automated residual contamination analysis technology.
Tensile Tests
A tensile test is an integrity test that is used to determine the mechanical characteristics of the mesh. This includes the elasticity, yield point, overall strength, and breaking point.
Get Inspired With Fabricated Mesh Components
Woven wire filter cloth is a science and, as a result, requires you to understand several technical terms to ensure your mesh delivers the performance you need. When looking at the physical makeup of the mesh, you should understand the porosity, geometric pore size, pore diameter, micron retention of the mesh, and the pressure drop that will be created.
When looking to validate the integrity of the mesh, you should understand that there are several testing methods, including glass bead, bubble point, flow measurement, flowrate porometry, residual contamination analysis, and tensile testing available. That said, you should gain a thorough understanding of each, so you know which one is right for you.
Once you can make heads or tails of the technical terminology and methodology you can expect to come across once you reach out to a mesh filter supplier, you should be exploring what fabrication options that are available to you. This will help you begin to scratch the surface of what can and cannot be done and even inspire you to implement the capabilities of wire mesh filter cloth in new, innovative ways.
Its important to us that our customers are confident in the wire mesh filter that they select. To do so, we make it our to help you navigate the various alloys, weave patterns, and mesh specifications, maintaining an open line of communication from initial designing of the mesh to maintaining it once it's in your filter system and everywhere in between.
To that end, review the following article to begin envisioning how mesh filters fit your operation:
About Ronnie Brown
Ronnie is the Content Writer for W.S. Tyler and has four years of experience as a professional writer. He strives to expand his knowledge on all things particle analysis and woven wire mesh to leverage his exceptional writing and graphic design skills, creating a one-of-a-kind experience for customers.