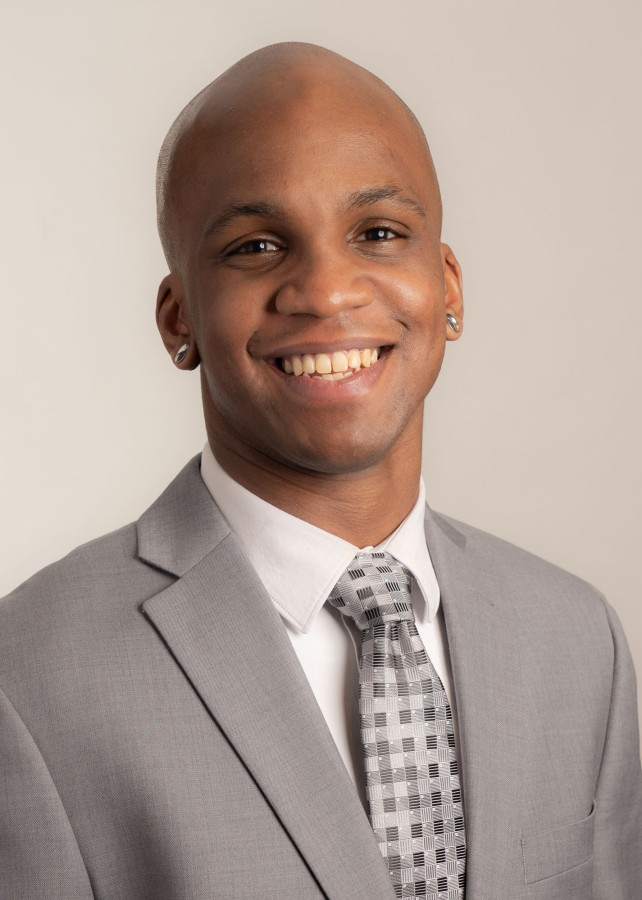 The Benefits of Applying Architectural Mesh as a Privacy Screen
Imagine you are hosting a birthday get-together for one of your friends and decide to invite several friends that you haven't seen in a while to a restaurant. You would want to reduce the chances of being disturbed by the other patrons and create an intimate setting to highlight the event.
To accommodate this, the restaurant sits you in a reserved seating area that is essentially sectioned off from the main room using dividers. While these dividers don't completely close you off from the rest of the establishment, it's just enough for you and your guests to enjoy a nice private evening.
Now that we've illustrated the ideal situation where privacy is critical, you're probably wondering how architectural mesh can be used to fabricate aesthetically pleasing privacy screens.
W.S. Tyler has helped architects like yourself turn their vision into reality with architectural mesh for over 20 years and wants to help you create an experience to remember.
With that, this article was written to exhibit the role architectural mesh plays when establishing privacy throughout a structure and will cover:
What architectural mesh is

How architectural mesh can create a sense of privacy

The applications that architectural mesh privacy screens can benefit

How architectural mesh can be altered to accommodate various privacy levels

The mesh patterns that deliver the best privacy
What Is Architectural Mesh?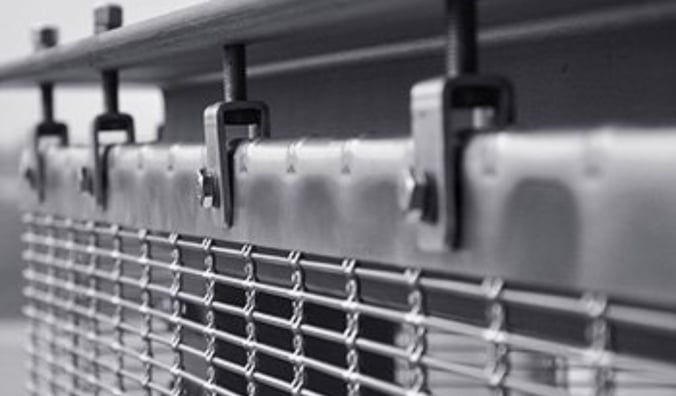 Architectural woven wire mesh is a series of wires woven together to create precise square or slotted openings. It is designed to be used for decorative or ornamental applications.
Often produced from a 316 stainless steel that is 80% recycled, architectural mesh is a relatively flexible material despite having a rigid appearance. That said, to ensure full artistic freedom, architects can customize various parameters of the mesh, including:
Wire diameter

Panel width

Panel length
Architectural mesh comes in many forms. To that end, the most common forms are woven wire, welded wire, spiral mesh, and cable mesh.
How Does Architerual Mesh Work to Create a Private Atmosphere?
When talking architectural mesh, it is first important to know that wire mesh is categorized as an open product. This means it can't be used to create an atmosphere that is 100% private, as in completely blocking visual aspects of sound.
Instead, it can be used as a sort of partition screen or privacy screen used to section off specific areas.
So, if you wanted to divide a room or section, so to speak, you would be able to incorporate the mesh as wall panels or a panelized system. This would allow you to block off the desired areas.
What Applications Usually Call For a Private Setting?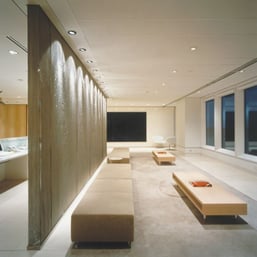 When it comes to applications, wire mesh can really be used anywhere you'd like to divide or section off. Think office partition walls or a sectioned-off room in a spa.
The best way to describe it is to first think of a restaurant setting. When you walk through, you may notice a sectioned-off area for larger parties to have a sense of privacy.
It's still fairly open, and the general public does have access to it. But it gives the effect of being a private area and almost elite.
The customization woven wire mesh provides can be used to accommodate and control the level of privacy you wish to achieve.
How Can I Adjust My Mesh to Improve Privacy?
Depending on the density of the mesh, you can control the level of privacy your mesh delivers. A more open mesh, of course, is more transparent, so it is not extremely private.
To that end, even an open weave pattern would still give the effect of blocking off an area.
Now, because we design and build our weaving looms, one of the great things we can do is change the appearance of the density or even make the material denser. This is done by altering the wire diameter and reducing the size of the openings.
What Mesh Patterns Would You Say Work Best?
Naturally, the architectural mesh pattern you should implement depends on the application.
If we're looking at an interior application where there is not going to be a lot of contact, any of our finer interior mesh patterns deliver a high-density level. This includes our Multiplex, Alterna, and Structura.
On the other hand, any of our flat wire largo weaves would be great for high-traffic privacy screens. An added bonus that the largo weave offers is that its flat wire profile does allow for some sound diffusing.
Other popular weave patterns used for privacy screens are our egla mono 4881, egla mono 5001, egla duo 4222, and largo twist.
Secure Your Architerual Mesh Panels With a Sturdy Frame
Architectural mesh offers a level of customization that not only grants architects complete artistic freedom, particularly when altering the density and transparency of the panel. This makes it the ideal design material to create a sense of privacy in specific sections of a structure.
But as architectural mesh privacy screens are typically cut-to-size panels, it is crucial to understand the framing option available to you. This will ensure your mesh panels are properly tensioned and deliver the aesthetic you envisioned.
Having helped architects navigate the material that facilitates the architectural design process for over 20 years, W.S. Tyler is determined to help you develop projects that you can proudly stand behind.
To gain a better understanding of how architectural woven wire mesh can be framed, refer to the following article:
About Ronnie Brown
Ronnie is the Content Writer for W.S. Tyler and has four years of experience as a professional writer. He strives to expand his knowledge on all things particle analysis and woven wire mesh to leverage his exceptional writing and graphic design skills, creating a one-of-a-kind experience for customers.