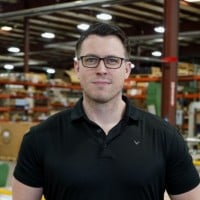 Drum vs Belt Filters: Understanding Wire Mesh Filtration
In the world of filtration, there are many methods of filtering solids from liquids. Over time these methods have been meticulously researched and fine-tuned into the optimized the filtration operations seen today.
Two prominent types of filters that have become widely used today are drum and belt filters. But what exactly are they, and how does woven wire mesh play a role in their performance.
At W.S. Tyler, we know you want to be confident in your wire mesh. Fine-tuning your mesh specifications can be frustrating and leave you uncertain, so our team of experts strive to leverage our 150 years of experience to help you find peace of mind.
To help you better understand how woven wire mesh influences the performance of both drum and belt filters, we wrote the following article to shed light on:
What a drum filter is

The functions of a drum filter

What a belt filter is

The functions of a belt filter

Why you would use one over the other

Why woven wire mesh should be considered
What Is a Drum Filter?
Drum filters are cylindrical filters that fit into a larger assembly, typically used to separate solids from liquids so that the solids can be disposed of. A typical application for drum filters would be wastewater management with a rotary assembly.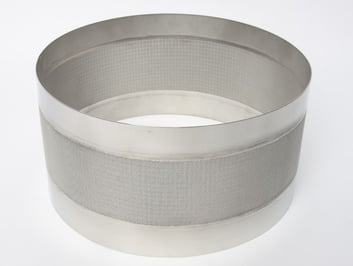 The mesh filter element is fitted to some kind of support layer, be it expanded wire, perforated plate, welded wire, or a supportive woven wire mesh layer in a multi-layer laminate (porostar) mesh. This support layer allows for the wire mesh filtration layer to maintain shape while in operation and extends the life of the filter.
What Are the Functions of a Drum Filter?
The non-filtered material (e.g. wastewater) is introduced into the rotating filter, and the solids will be caught on the rotating screen in the form of a filter cake. An outside force/pressure, such as water jets, will then spray the exterior of the mesh filter, pushing the filter cake down and into some sort of collection device in the middle of the drum.
This will ultimately send the collected filter cake through a separate stream away from the water going downstream.
What Is a Belt Filter?
Belt filters are simply another method of achieving the same goal but with different applications. A belt filter is a long mesh filter that travels along a conveyor, at the top of the belt/stream, the unfiltered material is added to the belt.
What Are the Functions of a Belt Filter?
Along the horizontal belt, outside forces are applied, such as a vacuum under the belt to pull water particles out of the filter cake. This will cause dewatering while simultaneously filtering the water through the wire mesh filter belt.
At the end of the filter belt, there will be a discharge where the dewatered filter cake can simply be collected, while jets will clean the belt after discharge on its return to the beginning of the material flow. This will ideally clear any plugs or material agglomeration prior to the filter belt receiving more material and beginning the dewatering process over again.
When Would a Customer Use One Over the Other?
Typically the applications of these filters are determined by industry and need. Both of these filters are designed to separate liquids from solids but serve different purposes.
A belt filter may be more suited to remove concrete and chemical solids from a slurry, whereas a drum filter may be more effective at filtering out ballast water for ships in port.
Why Use Woven Wire Mesh?
As both drum filters and belt filters are designed to essentially separate solid particles from a liquid, woven wire mesh provides the same beneficial qualities to both filter types. These valuable qualities include adequate flow rate, competitive accuracy, and key durability.
Flow Rate
Whether it be a drum filter or belt filter, maintaining a controllable flow of drainage is key to functionality. With woven wire mesh, specifications such as the wire diameter and mesh count can be altered to ensure you achieve the level of drainage flow to successfully separate the particles from the liquid while keeping your equipment safe from too much backpressure.
Woven wire mesh can even be woven with a three-dimensional profile. This is done by taking two layers of filter cloth and offering them, ultimately doubling the pore openings in the same filtration surface area.
Accuracy
The purpose of both drum and belt filters are to extract a filter cake, whether that be to preserve it or discard it. To ensure you collect each particle successfully, your filter media must be able to host pore openings that are big enough to allow liquid to flow through but smaller than the smallest particle being collected.
The weaving process applied to woven wire filter cloth is heavily monitored under stringent guidelines. This helps guarantee a uniform and precise weave.
Filter media such as perforated plate are unable to reach the pore sizes needed to filter fine particles. On the other hand, filter media such as metal fiber felt feature openings that are too inconsistent, thus making it easy to become permanently plugged.
Durability
As stated above, the wire diameter of woven wire mesh can be altered to accommodate your needs. When durability is a concern, thicker wires can be used to combat various damaging elements such as coarse contaminant particles, variating pressure, varying temperatures, and corrosive chemicals.
Additionally, various alloys can be used to weave wire mesh filter cloth. More often than not, however, wire mesh is fabricated from a 300 series stainless steel.
Learn Everything You Need to Know About Woven Wire Filter Cloth
Drum filters and belt filters are both filters designed to separate solid particles from a liquid, forming a filter cake. While both mechanical operate differently, they both benefit from the flow rate, durability, and accuracy woven wire mesh is proven to deliver.
But with so many filter media out there, finding confidence in one can be daunting. While woven wire mesh is one of the most versatile filter material available, it's not for everyone.
This is why you must do your research and gain a comprehensive understanding of how woven wire mesh fits your operation.
Here at W.S. Tyler, we understand the importance of yielding trustworthy results that are accurate and repeatable. Doing so starts with the material you use.
It's for that reason that we developed a woven wire filter cloth ultimate guide that breaks down the ins and outs of everything wire mesh. To take the next steps and learn how wire mesh can benefit your needs, access the free guide below:
About Sam Badger
Sam has been a part of the W.S. Tyler family for three years and is currently a sales manager, overseeing our fabricated parts and customized filters. To help deliver best-in-class solutions, Sam works to bridge the gap between customers, both new and existing, and our engineering team. Additionally, Sam provides on-site servicing of the ALPINE Air Jet Sieve e200 LS, striving to learn your particle analysis operation to resolve any issues you encounter and ensure your equipment continues to produce accurate and repeatable results.