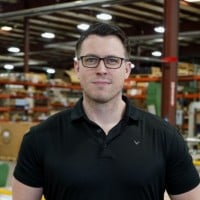 What Is a Wire Mesh Spark Arrestor? (Definition, Fabrication, & Cost)
If we were to blurt out chimney and motorcycle, odds are your initial thoughts would be that these two objects have nothing in common. However, they share one common concern that must be addressed: preventing sparks and embers from escaping into the surrounding area.
Now, this is a concern for a lot of products. As a result, manufacturers must implement various safeguards, such as a wire mesh spark arrestor, to protect consumers and the environment around them.
With that said, how exactly does woven wire mesh fit into the world of spark arrestors?
W.S. Tyler has been a prominent manufacturer of wire mesh goods for over 140 years, and our team of expert engineers is ready to leverage this experience and help you develop a wire mesh spark arrestor that is customized for you.
To provide more insight into what a spark arrestor is and why wire mesh may be a better material to construct your spark arrestors, the following article will cover:
What a spark arrestor is

Why you may want to construct your spark arrestors out of wire mesh

What alloys work best for spark arrestor mesh

Common spark arrestor applications

How much a wire mesh spark arrestor costs
What Is a Spark Arrestor?
A spark arrestor is a mesh screen designed to prevent anything that expels flame or sparks (i.e., an internal combustion engine) from starting fires. They were initially designed for trains that were notorious for starting fires when passing through wooded areas.
The stacks on these trains were fitted with spark arrestors to keep large particles or sparks from escaping while allowing the smoke to pass through.
What Does a Spark Arrestor Do?
Most spark arrestors are made of some kind of wire mesh. This is because the malleable nature of the woven wire mesh makes it easier to form the mesh into the desired shape, as opposed to the expanded wire or perforated plate.
To that end, a wire mesh spark arrestor can be fitted to an exhaust and catch both small particles/carbon and sparks which have the ability to cause a fire. However, the design of the wire mesh allows for the exhausted fumes to still pass through.
Now, while woven wire mesh is the predominant material used to construct spark arrestors, it can also be made of expanded metal or perforated plate.
What Wire Mesh Alloy Works Best for Spark Arrestors?
Typically, wire mesh spark arrestors are constructed from a stainless steel alloy. This is because stainless steel is proven to deliver the perfect balance of cost-effectiveness, corrosion resistance, heat resistance, durability, and pliability.
That said, other alloys can be used to construct woven wire mesh, depending on your needs. To that end, when identifying an alloy to use, you should take the alloy's carbon makeup into consideration, as the amount of carbon in an alloy determines its performance when subjected to high temperatures.
What Are Some Common Applications?
Spark arrestors are mandated for specific internal combustion engines. Specifically, anything used outdoors in wooded areas or any application where there is a risk of starting a fire.
Vehicles such as motorcycles or ATVs require spark arrestors, and in those applications, a wire mesh arrestor would be used due. Chimneys and stoves also can require spark arrestors.
In those applications, you could use a larger spark arrestor made of expanded metal or perforated plate.
How Much Does a Wire Mesh Spark Arrestor Screen Cost?
The cost of a spark arrestor is dedicated by factors such as mesh speciation, size of the part, fabrication needed to produce the part, and the amount of pieces being ordered. To that end, the quantity of parts will have the most notable influence on cost.
This is due to the fact that spark arrestors are parts that are made to order, which requires several hours of setup for a single specification. When dealing with low-volume order, all other factors become inconsequential.
So, while there is no set price for a spark arrestor, a good rule of thumb to follow is the more spark arrestors your order together, the lower the price will be when compared to smaller orders over the same amount of time.
Know What Can and Cannot Be Done When Forming Wire Mesh
A wire mesh spark arrestor screen keeps sparks and embers that expel from various products, such as motorcycles. That said, to ensure the mesh can withstand the high temperatures that it may be subjected to, it is critical that you take the time to identify an alloy that best suits your needs.
Now, while the alloy and the mesh specifications are critical to developing a wire mesh spark arrestor that delivers optimal results, you must also know the limitations associated with forming wire mesh into various engineered products like spark arrestors. This will be the best indicator of whether or not wire mesh is a practical material to use for your spark arrestor dimensions.
For over 140 years, W.S. Tyler has proudly worked to learn the needs of our customers inside and out to deliver wire mesh solutions that genuinely helped them find peace of mind.
To that end, read the following article to learn everything you need to know about forming mesh to better determine if woven wire mesh can accommodate your spark arrestor needs:
About Sam Badger
Sam has been a part of the W.S. Tyler family for three years and is currently a sales manager, overseeing our fabricated parts and customized filters. To help deliver best-in-class solutions, Sam works to bridge the gap between customers, both new and existing, and our engineering team. Additionally, Sam provides on-site servicing of the ALPINE Air Jet Sieve e200 LS, striving to learn your particle analysis operation to resolve any issues you encounter and ensure your equipment continues to produce accurate and repeatable results.