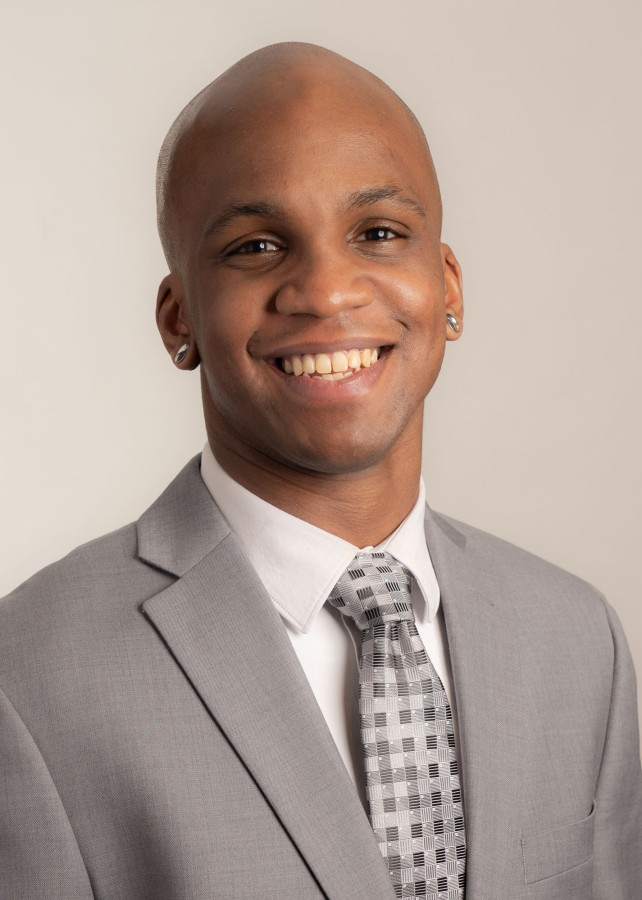 Understanding Architectural Mesh: How to Customize Your Mesh Panels
Architectural Mesh - Exterior | Architectural Mesh - Interior
Architectural wire mesh is arguably one of the most unique design materials available. From its standout luster to its incredible durability, its ability to create jaw-dropping experiences provides architects with a breath of fresh air.
But despite the long list of benefits, the level of customization architectural mesh delivers makes it an irreplaceable asset to the world of architectural mesh. The fact that architects have complete control over the look of their architectural mesh system proves that, with architectural mesh, your only limitation is your imagination.
This probably leaves you curious about how you can customize your architectural mesh panels.
As architectural mesh is a substantial investment, both in time and money, you need to feel confident in the solution you select. W.S. Tyler strives to leverage our 20 plus years of experience to help architects, contractors, and everyone in between navigate the world of architectural mesh.
With that said, we put the following article together to guide you through creating a tailor-made architectural mesh system, educating you on:
What Is Architectural Mesh?
Architectural wire mesh is best defined as a series of metallic wires woven together to form decorative panels. Typically, the individual wires are fabricated using 316 stainless steel, which is 80% recycled material.
Now, it often comes as a surprise that wire mesh panels are relatively flexible when brought into tension. This allows architects to apply them to various interior and exterior applications, including parking garage facades, railing systems, and room dividers.
How Can I Customize My Mesh?
When deciding whether or not an architectural mesh system will fit your architectural design process, you must know about the key customization opportunities that will help make your project stand out. These customization opportunities include adding color to the mesh, altering the mesh's percentage of open area, selecting a weave pattern, and implementing a tailored mounting solution.
Colorization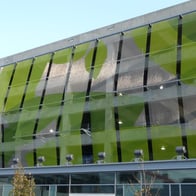 Architectural mesh is widely known for providing a one-of-a-kind look that is dynamic and modern. That said, despite its stainless steel makeup, a colorization process is often used to make the mesh panels really stand out.
By adding color, you can replace the metallic look of the wires with vibrant colors, add imagery that reflects the structure or the environment, or make the stainless steel appear as a different alloy without sacrificing the beneficial qualities of stainless steel.
Some even use colorization for branding opportunities, eliminating the need for costly signage packages.
Now, there are two colorization methods that are predominantly used when working with woven wire mesh: painting and digital printing. The one you should apply depends on the imagery.
If you are going to apply color across several large mesh panels, painting will be the more practical approach. If you are attempting to depict imagery with finer details, digital print will best accommodate your architectural design process.
To learn more about how painting and digital print compare, read the following article:
Percentage of Open Area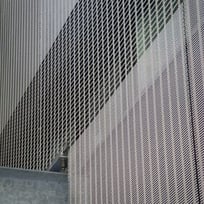 The percentage of open area of your architectural mesh panels describes the amount of surface area taken up by the apertures of mesh. In more technical terms, it's the percentage value of the ratio of the squared nominal aperture width and squared nominal pitch.
One of the best qualities of architectural mesh is that most parameters of a given weave pattern can be customized. It's because of this that valued engineering can be applied to alter the percentage of open area, either throughout the entire system or specific panels.
This means you can have a panel have a more dense in the more visible areas of the panel, becoming more dense in areas where a less dense profile doesn't hinder the overall aesthetic of the mesh.
Weave Pattern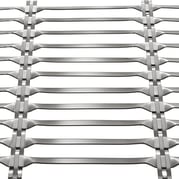 To improve versatility, architectural wire mesh is categorized into four weave types. These include wire mesh, cable mesh, fine mesh, and specialty mesh.
Within these categories are dozens of weave patterns that deliver their own distinguishable characteristics. This abundance of weave pattern variety enables architects to unlock a new level of artist freedom.
That said, it's essential to know that the weave patterns that fall into the fine mesh category are limited to low-traffic interior applications.
Now, the sheer amount of weave patterns available can sometimes be overwhelming. Fortunately, you can request samples of the patterns you are interested in to get a better idea of how they fit into the atmosphere of the structure.
To provide night into how you can get your hands on architectural mesh samples, we put the following article together:
Mounting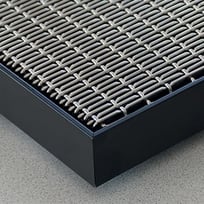 No one architectural mesh system is the same. This includes the mounting system used to attach the mesh panels to the structure.
To ensure the mesh panels are brought into the tension needed to capture your vision, the mounting for your mesh system is customized based on your specific needs.
In terms of hardware, framing, slotted profiles, eyebolt hardware, and edge design are used to determine the best possible mounting solution. For more unique applications, the tensioning system can be altered, and custom cutouts can be made in the mesh panels as well.
For a more in-depth breakdown on customizing your mounting hardware, review the following article:
How Do These Customizations Affect the Cost of Architectural Mesh?
On average, architectural mesh is accompanied by a price tag of $20-$25 per square foot. Now, when you make alterations and custom specs to the mesh, the material and labor that goes into the final system are what will cause the price to fluctuate.
For example, weave patterns that fall under the fine category tend to be more expensive than traditional woven wire mesh weaves. This is because it takes a tremendous of time and attention to detail to weave the increased amount of wires in these patterns.
To that end, this means that when wires are added to reduce the percentage of open area, the price increases as more material is going into the weave. When wires are taken away to increase the percentage of open area, the price decreases as less material is needed to weave the panel.
Additional, adding color, whether through paint or digital print, increases the cost as the ink is an added material, and both processes require additional labor. Solid or flat colors will add an additional $10 per square foot, whereas as metallic colors will increase the cost by $15 per square foot.
It should be noted that these additional colorization costs will be based solely on the panels being painted/digitally printed.
When it comes the mounting, the cost of the hardware is typically reflected in the price of the mesh. Again, as the time, material, and fabrication needed to produce your mounting increases, the more likely it will increase the overall cost of the mesh system.
Know-How Architerual Mesh Compares to Other Materials
Architectural mesh is a network of wires interlocked together using a centuries-old weaving technique, forming decorative panels that can be used for a wide range of architectural design applications. When designing what architectural mesh will look for you, it's important to know color, imagery, percentage of open area, weave pattern, and mounting hardware used throughout the mesh system is up to you.
Naturally, this means the amount of engineering, material, and fabrication needed to produce the system will dictate the cost.
Now, it comes as no surprise that there are many materials that are used in place of architectural mesh. In order to honestly say architectural mesh is the right solution for your project, you must gain an understanding of how it compares to the other solutions on the market.
With over 20 years of experience manufacturing tailor-made architectural mesh solutions, W.S. Tyler understands that woven wire mesh isn't for everyone. We want to help you address any doubts you may have about implementing architectural mesh so your architectural design process can continue to progress.
And with that, we put the following article together to give you a better idea of how architectural mesh stands up against comparable design materials that you may also be considering:
About Ronnie Brown
Ronnie is the Content Writer for W.S. Tyler and has four years of experience as a professional writer. He strives to expand his knowledge on all things particle analysis and woven wire mesh to leverage his exceptional writing and graphic design skills, creating a one-of-a-kind experience for customers.