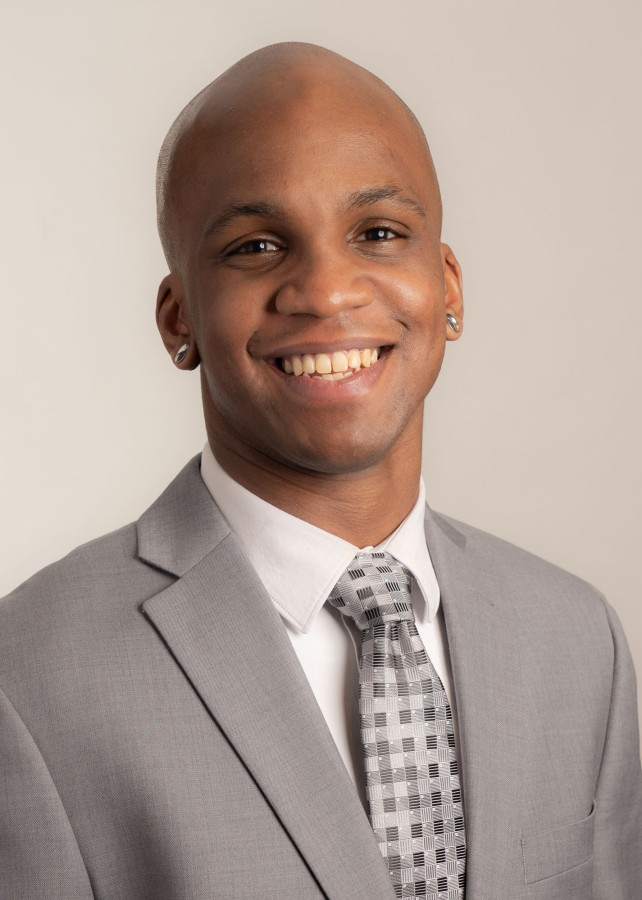 How Architectural Wire Mesh Is Used for Bridge Design
As an architect, you spend considerable time hand-picking design materials you feel will best portray your vision. This can be daunting because, as time goes on, more and more options saturate the market.
Fortunately, when it comes to design materials that bring value, architectural wire mesh offers a level of versatility and multi-function that stands out. This means you can use it to accommodate several aspects of a single project, both internally and externally.
It even offers characteristics that can help you tackle your next bridge design project.
W.S. Tyler has helped architects weave wire mesh into their design process for over 20 years, working to build their condense in the aesthetically pleasing effects it can bring.
With that, we wrote this article to establish architectural mesh's role in a successful bridge design process. It will cover:
What Is Architectural Wire Mesh?
Architectural wire mesh is best defined as decorative panels consisting of individual stainless steel wires interlaced, forming mesmerizing patterns. To create these weave patterns, a centuries-old weaving technique that resembles weaving techniques to weave various fabrics is used.
Each panel can be customized to accommodate requirements such as wire diameter, width, weave pattern, panel length, and percentage of open area. Taking this sense of customization further, architectural mesh is available in various form factors.
These forms include:
How Is Architectural Wire Mesh Applied to Bridge Design?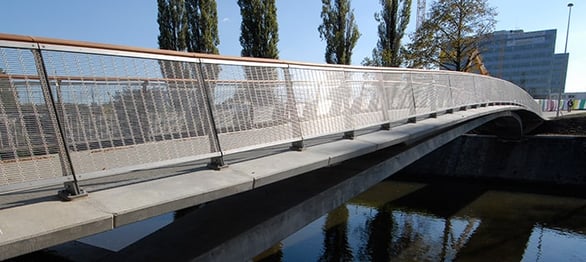 The biggest thing to consider when incorporating architectural mesh into bridge design is that there is limited structure to attach the necessary substructure. Knowing this, you must ensure you have enough substructure to bring the mesh into proper tension.
In more cases than not, this substructure is going to be more substantial than the typical 6" x6" x1/2" angle seen on building facades. This means you will need to work in larger posts that can withstand the top-bottom substructural mesh tensioning without sagging or bowing.
This often leaves you with four-sided frames connected at each post, creating a frame system of sorts. The architectural mesh will then come in the form of panels that are placed inside of the frames.
So while it may appear as a wire mesh facade, architectural mesh for bridge design is more or less considered infill panels.
What Are the Concern Associated With Architectural Mesh in Bridge Design?
When applying architectural mesh to the facade of an office building, there is a wall positioned behind the mesh. This means that there is wind coming from a single direction.
However, when you apply architectural mesh to a bridge, you are going to have wind coming from both sides. This in-and-out movement can cause the individual wires to flex until they eventually snap.
To combat this, you must implement a weave pattern with the tensile strength to withstand the constant wind flexing. You must also ensure you have substructure adequate enough to bring the mesh into proper tension to aid its ability to absorb variating environmental loads.
What Is Recommended?
When applying architectural mesh to bridge design, it is recommended that you use wire mesh. Other wire mesh variants don't necessarily offer the rigidity to withstand the various environmental elements.
Wire mesh has the capability to have a thicker gauge wire, better tensile strength, and is self-sustaining. That said, the following weave patterns have proven to provide the characteristic needed to deliver ideal results when applied to bridge design:
What Are the Benefits of Using Architectural Mesh in Bridge Design?
One of the biggest advantages of using architectural wire mesh is its sheer beauty. Its ability to reflect sunlight to create dazzling effects helps create a genuinely awe-inspiring environment, especially when placed over a body of water.
As it is constructed of architectural grade stainless steel, you also have a heightened sense of durability. This is particularly beneficial when compared to other materials, such as chainlink fencing, as these materials often rust and corrode over time when used for bridge design.
But possibly the most valuable benefit of using architectural mesh for bridge design is its ability to serve as a fall protective barrier. It can be used as a guard rail system that has a reduced percentage of open area, deterring falls, whether accidental or intentional.
What Expenses Are Associated With Architectural Mesh Bridge Design?
Whether you are placing architectural mesh on a parking structure or a bridge, the cost of architectural mesh will remain relatively the same. This is because the fabrication and manufacturing of architectural mesh remain the same regardless of the application.
That said, as material quantity is one of the many key factors that dictate the cost of an architectural mesh system, architectural mesh for bridge design may be more expensive than a parking structure application. This is simply because there is much more raw wire that must be used to complete a bridge application.
But in addition to material quantity, the dimension of the panels, as well as any post-weaving fabrication, will alter the cost of your architectural mesh.
Experience the Capabilities of Architectural Wire Mesh First-Hand
Archirerual mesh is a versatile design material that can be used to furnish most bridge design processes. Typically used in an infill panel system, architectural mesh panels have the ability to provide the durability to withstand variating wind loads as well as the reflectiveness to leverage sunshine to create an eye-catching glimmer effect.
But to truly understand whether or not architectural mesh is right for your design process, it is highly recommended to request a sample. This will allow you to pinpoint the weave patterns that you feel match your vision, work them into your final drawings, and create a final product that will stand the test of time.
Architects such as yourself have turned to the express of W.S. Tyler for over 20 years. We aim to support you through your design process so that, at the end of the day, you are confident that architectural mesh is the design material you need to weave your vision into reality.
The following article will highlight everything you need to do to get architectural mesh samples in your hand so you can take the next step toward an architectural mesh system that turns heads:
About Ronnie Brown
Ronnie is the Content Writer for W.S. Tyler and has four years of experience as a professional writer. He strives to expand his knowledge on all things particle analysis and woven wire mesh to leverage his exceptional writing and graphic design skills, creating a one-of-a-kind experience for customers.