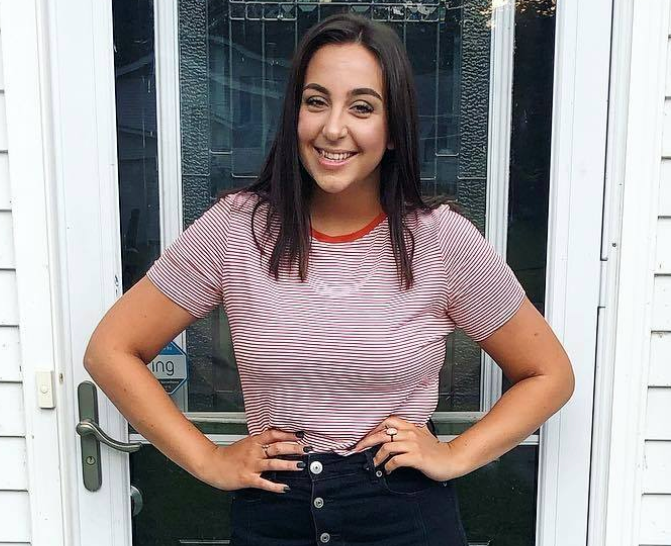 Guide to Woven Wire Mesh (Cost, Weave Types & Vocabulary)
Believe it or not, woven wire mesh is all around us. From the test sieve cloth used to test the particles that go into our medicine to parking garage facades that keep protect us from falling, it is truly one of the most versatile mateirals in the world.
Now, there are a lot of technical terms and information surrounding the world of woven wire mesh. In order to ensure you make the most of your wire mesh solutions, it's critical that you have a basic understanding before initiating conversations with a wire mesh supplier.
W.S. Tyler has been a proud manufacturer of woven wire mesh for over 150 years. We strive to help build your confidence in your woven wire mesh solutions so you can spend more time fine-tuning other aspects of your operation.
We wrote this article to serve as an introduction to woven wire mesh, giving you a better understanding of the product so you can better prepare yourself when reaching out to woven wire mesh suppliers. You will learn:
The fundamental woven wire mesh specifications
The weave types used to categorize woven wire mesh
What alloys you can use to weave woven wire mesh
The forms in which woven wire mesh is available
How you can enhance the performance of woven wire mesh once it's been woven
Understanding Woven Wire Mesh Specifications
When it comes to woven wire mesh, there are some vocabulary/technical terms that you will need to understand in order to implement a solution that works. The most important of these terms are mesh count, opening size, and wire diameter.
At its core, these three specifications are what will control the performance of woven wire mesh.
1. Mesh Count
The mesh count is the number of openings in a linear inch. In other words, the amount of openings within an inch when measured either vertically or horizontally.
The photo below is an example of a 2-mesh square weave. If you count from center to center of wires, you will count two inside of one linear inch.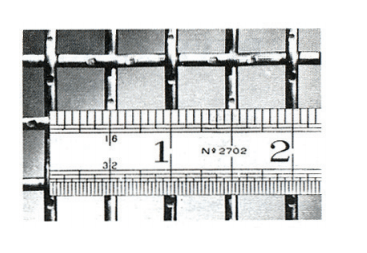 2. Opening Size
The opening size is measured as the distance between two adjacent warp wires. As the mesh opening is what determines what passes through the material and what doesn't, its probably the most important mesh specification to your operation.
Regardless of the type of weave, the opening size must be considered.
To help explain, below are two photos of wire mesh. Figure A is a standard square weave, while Figure B is a dutch-twilled filter cloth weave.
Figure A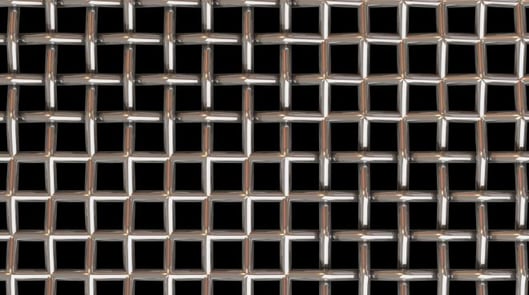 Figure B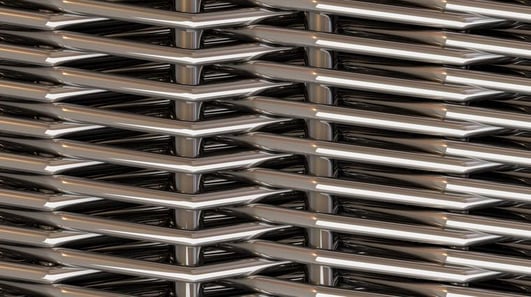 3. Wire Diameter
The wire diameter is the diameter of the wires that are used to weave the wire mesh. The wire diameter can affect both the opening size and mesh count of the weave.
For this reason, the wire diameter must be calculated prior to weaving. That said, the diameter of the wire can be altered during the weaving process, but only slightly.
Weave Types
Woven wire mesh is often categorized by its weave type. The two predominant weave types you will encounter are square mesh and filter cloth.
While they are both woven wire mesh, they are divided into two groups because there is a substantial difference when in terms of engineering, performance, and cost.
We are going to break down each type of mesh so that you can decide which weave type will work best for your needs.
Square Mesh
A weave type is considered square wire mesh when the warp and weft wires feature identical wire diameters. Genreally, these square mesh weaves are less complex than filter cloth weaves, featuring a basic over-under pattern.
Having said that, there are some variations in these patterns as well. For instance, instead of having a single wire in the weft and warp direction, you can have a single wire in the warp direction with two in the weft direction.
Here are some 3D figures of square mesh weave types:
Now, Square mesh is available from 4 mesh down to 325 mesh. It can be used for filtration like minimesh, but it isn't as robust as minimesh would be.
MINIMESH® Woven Metal Filter Cloth
MINIMESH is W.S. Tyler's line of woven metal filter cloth. These weave patterns are highly engineered and designed to deliver finer specifications and greater mechanical strength than square mesh weave types.
For this reason, MINIMESH weave types have been used for over 100 years when accurate filtration is needed.
Filter cloth is generally more expensive than square mesh. This is because these weave types require more time, material, and attention to detail to weave.
In terms of specifications, a MINIMESH filter cloth can be implemented to handle a particle size range of 319 um down to 7um. Below you will find 3D figures of some filter cloth examples, giving a better idea of how their complexity differs from standard square mesh weave types:
If you want to check out all of the MINIMESH weave types, you can view them in our 3-D Minimesh Viewer on our website.
Alloy
In a lot of cases, the material used to weave the mesh is a big cost driver. Stainless steel, specifically 304 or 316 stainless steel, is one of the most widely used alloys used to weave wire mesh.
But sometimes stainless steel isn't suited to handle the job. Fortunately, woven wire mesh can also be woven from materials such as nickel, plain carbon steel, aluminum, hastealloy, inconel, and more.
To learn more about the alloys you can use to weave you next wire mesh solution, review the following article:
Ways to Buy Wire Mesh
Rolled Goods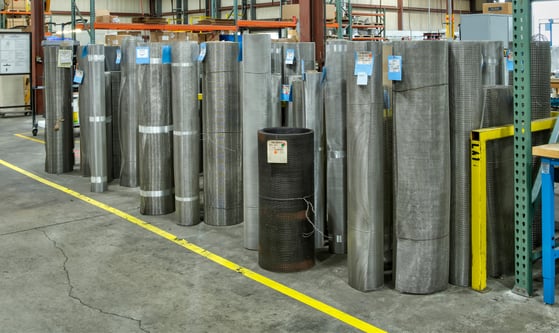 Woven wire mesh is widely available in industrial rolls. In a lot of cases, wire mesh rolls are the cheapest, easiest, and fastest way to acquire woven wire mesh.
They are particularly beneficial to those handling woven wire mesh in-house.
Now, in terms of quantity, wire mesh rolls can be purchased in full and half rolls. A full roll is typically 25 or 30 m long, with half rolls being 12.5 to 15m in length.
Partial rolls can also be purchased, however, partial must exceed lengths of 2.5m.
Regardless if you purchase full, half, or partial rolls, the width of the roll has fixed constraints. The width of a roll cannot be less than the nominal with but can exceed it by 2%.


Strips and Cut-To-Size Pieces
Woven wire mesh can also be purchased in rolled stripes as well as cut-to-size pieces. In both scenarios, dimensions are specified by the customer.
When inquiring about strips, the width should be specified as lengths are standardized. If your strip dimensions are less than the standard, the length can be adjusted to accommodate your request.
When inquiring about cut-to-size pieces, you will want to specify all dimensions of the piece(s). This includes number of sides, side lengths, angles, and radii.
Customized Filtration products
For those that require formed wire mesh but don't have the capacity to handle the fabrication in-house, you can purchase woven wire mesh in the form of customized wire meh components. These components can range from screening media, such as spark arrestors, to heavy-duty filters, such as nutche filters and sand control screens.
That said, this also the most cost-heavy way to purchase woven wire mesh.
For this reason, customized wire mesh components are typically used by those who have very specific needs and their own engineered drawings or documents.
Value-Added Services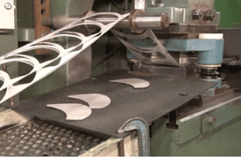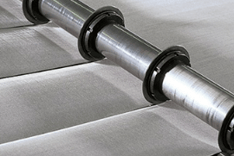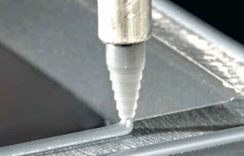 Sometimes woven wire mesh must be altered after being woven to better enhance its performance. When this occurs, fabrication processes, known as value-added services, are applied.
It's important to know that the value-added services you can request varies from supplier to supplier. Here are some of the value-added services W.S. Tyler has to offer:
- Annealing
- Sintering
- Adhesion
- Calendaring
- Ultrasonic Cleaning
- Cutting of any kind (pieces, strips, coils)
- Pressing/Deep Drawing
- Welding
- Straightening or Stretching
- Plastic Injection Molding
- Packing
- Stamping
NOTE: As these services are additional procedures or processes that are done to the mesh in accordance to your specifications, additional cost on top of your material cost should be expected.
To Sum It All Up
Woven wire mesh is a highly versatile material that can be purchased in rolls, cut-to-size pieces, strips, and prefabricated components. It has grown in popularity as specifications such as wire diameter, opening size, and mesh count can be customized to fit your operation.
You can even implement post-weaving services to your mesh to ensure it delivers value.
But now that you understand the basics, your next step is to gain a better understanding of how the various specifications play a role in how your mesh will perform. Having this knowledge will help you leverage the qualities of woven wire mesh to enhance your operation.
Having helped customers weave wire mesh into their process for over 150 years, W.S. Tyler is here to remove the roadblocks associated with woven wire mesh so you can gain confidence in your products.
To learn how the key specifications of woven wire mesh can affect its performance, read the following article: